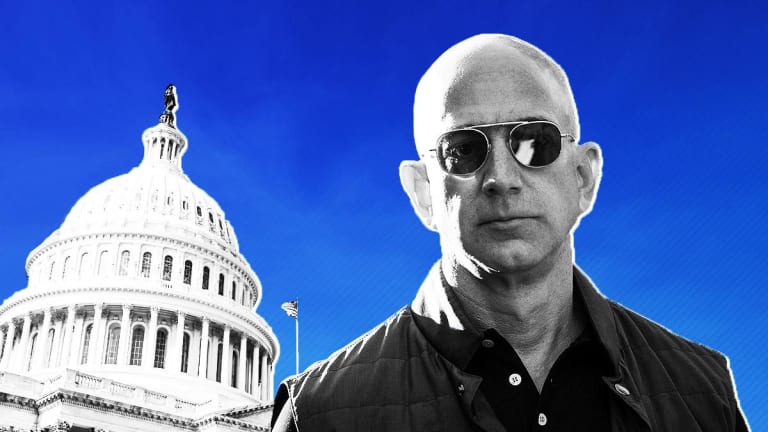 Let the guessing games continue.
At a speech on Thursday evening at the Economic Club of Washington DC, Amazon.com (AMZN) - Get Amazon.com, Inc. Report CEO Jeff Bezos didn't offer any clues to where his company's second quarters (HQ2) would land, despite earlier speculation that the greater Washington area would ultimately win out. But he reiterated that the site of Amazon's second headquarters would be revealed later this year.
Of more than 230 cities that submitted bids to host the tech behemoth's new headquarters, Amazon announced 20 finalists in January. They included Washington DC, Northern Virginia and Montgomery County, Maryland, all clustered close to the District. Amazon estimates that the new facility will generate up to 50,000 new full-time jobs, and a capital expenditure of $5 billion on the project.
Amazon's criteria for choosing a new site include a population of at least one million, a business-friendly environment and potential to draw tech talent and think "creatively" about real estate and other factors. Based on that criteria, Amazon watchers have analyzed everything from internet traffic to flight logs of Jeff Bezos' private jet to handicap where the second headquarters could land.
Other than the nation's capital, here are several other possible contenders:
1. Boston, MA
Back in March, Wells Fargo Securities ran an analysis using its AI system, Aiera. Analyzing public discussions of Amazon's decision-making, the system determined that Boston was the most likely contender. Home to a number of top universities, the city would certainly be a strong contender for its pool of talent. Amazon also has a substantial presence in the city already, having recently added 2,000 new jobs to its tech hub in Boston.
2. Chicago, IL
An analysis by consulting firm Resonance ranked Chicago as the most likely metro area to win out. According to their analysis, the city's solid infrastructure includes a well-functioning public transit system, as well as local university talent pipelines could be attractive to the tech behemoth. And while the city isn't all that cheap, it's downright affordable in terms of labor costs compared to major coastal cities like Washington DC or New York City. And as the nation's third-largest city, it may be more easily able to absorb 50,000 new jobs than smaller finalists such as Nashville or Indianapolis.
3. Austin, TX
Could the wisdom of the crowd offer clues to where HQ2 will land? The online betting site Bovada recently released odds on the top cities for Amazon's new HQ, with Austin ranking third at +400 odds according to the site (first and second place belonged to Northern Virginia and Washington DC). Texas has been cited as an attractive state for Amazon to find a second home, given its business-friendly climate and strong university system. Austin, the fourth-largest city in Texas, is also known as a tech talent hub.
4. Arlington, VA
Bezos may not have announced the HQ2 this week, but that doesn't mean the greater Washington DC area is out of the running. As noted by many observers, Bezos has ties to the area as the owner of the Washington Post, and also owns a mansion in the District. Arlington is just across the river from DC, and Bezos travels there often according to flight logs on his private jet. Much like the neighboring areas of DC and Montgomery County, Arlington offers proximity to the nation's center of power, strong talent pipelines and a bi-coastal presence for the tech giant.
It isn't known what incentives that Arlington has offered in exchange for HQ2 -- in many cases, specific terms of the bids have been redacted -- but a recent spike in traffic from Amazon's internal servers to an Arlington news site has been cited as potential evidence that Northern Virginia could wind up the winner.
Amazon is a holding in Jim Cramer's Action Alerts PLUS member club. Want to be alerted before Jim Cramer buys or sells AMZN? Learn more now.
Start, and end, your trading day right with TheStreet's 'Daily Snapshot' on your favorite smart-speaker. Learn more about TheStreet's market coverage for your trusted smart-speaker here.