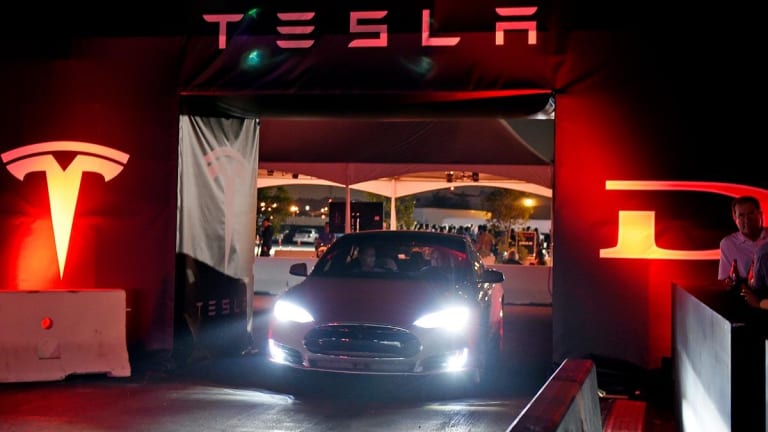 How Far Is Tesla in the Autonomous Driving Race?
Tesla's Autopilot system is one of the more well-known autonomous driving systems today. Its technology is second to none.
Self-driving is still up for grabs. 
The autonomous driving race continues onward. While we're seeing just how disruptive a company like Alphabet Inc.  (GOOGL) (GOOG) can be with Waymo, we know others aren't far behind.
Specifically, Audi, General Motors Co.  (GM) , Ford Motor Co.  (F) , Uber and a number of others have made clear their various intentions in the field. Also given the adaption of machine learning, hundreds of researchers, startups, universities, tech companies and automakers are finding ways to drastically increase the speed in which self-driving car functions are developed.
That's left some wondering, where is Tesla Inc.  (TSLA) in all of this?
Tesla is perhaps one of the most advanced automakers in the world today. Despite announcing it will open a new factory in China, Tesla has struggled with its manufacturing process. Investors don't have to look any farther than the Model 3 to know that's the case. 
Meanwhile, its battery technology is second-to-none based on what we've seen so far. Though others, like Mercedes and Porsche, will be coming after Tesla in a few years, the Fremont, CA-based automaker has garnered recognition from many in the field for its battery technology. Sandy Munro did a teardown of the Model 3 a few months ago and provided a level-headed and unbiased opinion. He critiqued certain design decisions and hammered Tesla on its production-line inconsistencies. However, he warned the Big Three and other automakers not to ignore what this company is doing, based mainly on its technology.
Should Tesla get the manufacturing down, it could mop the floor with its competition.
All of this is to say that despite its current flaws -- financial, manufacturing and otherwise -- Tesla's technology is pretty top notch. So where does that leave it in self-driving technology?
More on Tesla's Future From TheStreet
Tesla's Autopilot program has had its share of controversy in 2018. With several major accidents and fatalities while using this driver assist feature, many have realized there's still a lot of work to be done in this regard. CEO Elon Musk remains optimistic in what can be done, though. On Thursday last week, Musk sent out a tweet of a Model 3 in summon mode, showing the car being "summoned" on its own -- without a driver in the car.
The feature was included in the company's latest over-the-air update, allowing the Model 3 to park itself or pull out of a parking space or garage. A nifty feature that can surely be built on over time. For instance, summoning the car to the front of the office from the parking garage or to the entrance of the mall from the parking lot.
All of this can be done from the Tesla mobile app.
Importantly, Tesla includes an option for buyers to have all of the necessary equipment for a self-driving car -- even though the cars are not fully autonomous at this point. Because Tesla has designed its vehicles to receive over-the-air updates, software enhancements can improve the car's self-driving capabilities over time.
Interestingly, Tesla seemed set on breaking away from Nvidia Corporation's  (NVDA)  self-driving hardware in order to build its own. But it was also hell-bent on creating a nearly fully autonomous assembly line too, a move that hasn't worked out well from its original plan. Given that Tesla's top chip guy, Jim Keller, has left for Intel (INTC) , questions on whether it will develop its own hardware remain up in the air. 
Either way, Tesla is moving forward. Just last month Musk said the company plans to release Version 9 for Autopilot later this summer, likely in August. That could be just a month away and according to the automaker it will allow for many more autonomous driving features.
The biggest question will be safety. Musk is right that autonomous driving is and will be safer than humans. That said, too many accidents occur in scenarios where humans would unlikely make a mistake themselves. Musk is also correct in that these autonomous accidents get far more coverage than a regular accident, assuming the latter gets any at all. My guess? Tesla's Version 9 will have its own accidents and because it's Tesla and autonomous driving, it will get a ton of coverage. 
That doesn't mean the system is inherently dangerous. But Waymo Chief John Krafcik has made it clear that Waymo's first priority is safety. He argues that semi-autonomous systems create too much room for error with humans at the wheel. Given what we've seen so far, that's tough to argue against.
Closing the gap between semi-autonomous and fully autonomous driving is happening faster everyday. So it will be interesting to see what Version 9 brings to the table and whether Tesla can claim the top spot in the autonomous driving leaderboard. 
Alphabet and Nvidia are holdings in Jim Cramer's Action Alerts PLUS member club. Want to be alerted before Jim Cramer buys or sells GOOGL or NVDA? Learn more now.
This article is commentary by an independent contributor. At the time of publication, the author had no positions in the stocks mentioned.