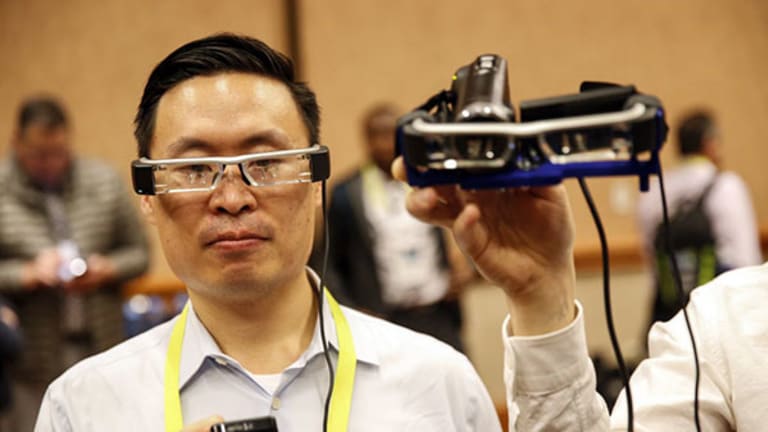 What Will Be the Top Technologies in 2020? Think Everything
Juniper Research looks into the not-too-distant future and sees disruptive technologies in almost everything, mainly in consumer products.
NEW YORK (TheStreet) -- Juniper Research has looked into the future and seen a number of key technologies it believes will become the most important by 2020 and beyond.
The study lists the key technologies it believes will be the most disruptive in five years -- including biometrics, drones, real-time translation, invisible wearables, 5G, wireless area charging and self-driving cars.
Last year, consumers became aware of new technologies like wearable tech and drones, but the majority of these are still in in the "early adopter" phase, according to Juniper's just-released report called "The World in 2020 - A Technology Vision." This report details when new technologies will arrive and what impact they will have.
Juniper finds that what it terms "invisible wearables," are likely to see significant adoption before the end of the decade. Juniper estimates the market will be worth approximately $80 billion annually by 2020 and fashion-first wearables (think Apple (AAPL) - Get Free Report  Watch) will have a much greater appeal than tech-centric devices, as they will blend in with consumers' lives more effectively.
Among the inportant technologies predicted for the future:
Augmented Reality Wearables - Holographic display wearables such as smartglasses from companies such as Epson,Google (GOOG) - Get Free ReportMicrosoft (MSFT) - Get Free Report , Qualcomm (QCOM) - Get Free Report and Sonyundefined .
Invisible Wearables - Smart devices that are indistinguishable from non-smart technology -- such as designer smartwatches from designers including Intel (INTC) - Get Free Report , LG and New Deal Design.
Biometrics - Fingerprint and iris scanning technologies are becoming more secure than typed passwords. Look at companies such as Authentech, Cognitech and Hitachi (HTHIY) .
Consumer 3D Printing - Creating items ranging from toys, to food, to prosthetic limbs and body parts. 3D printing can also provide a cheaper method of production. Companies include Adobe (ADBE) - Get Free Report , Autodesk (ADSK) - Get Free Report , Canon (CAJ) - Get Free Report and Hewlett Packard (HPQ) - Get Free Report .
Drones - Unmanned aerial vehicles for both consumer and enterprise use from companies such as Amazon (AMZN) - Get Free Report , Google and Aliibaba (BABA) - Get Free Report .
Advanced Driver Assistanceand Self-Driving Cars - Under development from auto manufacturers as well as Harmon International (HAR) , Hyundai and Nvidia (NVDA) - Get Free Report .
5G and the Internet of Everything - The interconnection of everything from mobile devices automobiles to homes. Developers include Intel, SamsungSSNLF, Vodaphone (VOD) - Get Free Report and many others.
Some of the other important new technologies to note this decade include the ability to translate languages in real time, wireless area charging, and the groundbreaking field of RNA sequencing (genetics.)
Juniper predicts that by 2020, the category we currently call "mobile" will become "increasingly meaningless" as connected computing capabilities, including call services via VoIP (Voice over Internet Protocol) will be available on a multitude of interfaces, from vehicles to clothing.
- Written by Gary Krakow in New York.
To submit a news tip, send an email to tips@thestreet.com.
This article is commentary by an independent contributor. At the time of publication, the author held no positions in the stocks mentioned.