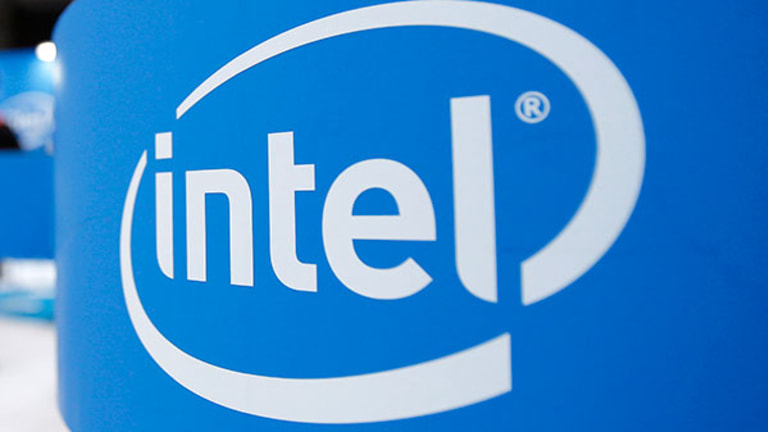 What Weak Numbers From Intel, Micron Mean for HP, Microsoft
2015 won't be a banner year for PC sales, but there are a few signposts investors can follow to avoid the larger pitfalls that will develop in this segment.
NEW YORK (TheStreet) -- As Intel (INTC) goes, so goes the computer business, but this year, what will negatively impact PC manufacturers has less to do with the giant chipmaker's fortunes and more to do with the strong dollar and poor overseas economies.
Intel's recent lowering of its guidance for the first quarter is a clear indicator that the PC industry is on somewhat shaky ground for 2015, but this should come as no surprise to investors, as the computer segment was already expected to struggle this year.
In mid-March, Intel reduced its expectations for the first quarter, with revenue forecast to be roughly $12.8 billion, down from a prior forecast of $13.7 billion. Meanwhile, research firm IDC updated its 2015 PC forecast, predicting PC shipments would decrease by 4.9%, worse than the 3.3% decline originally expected. In 2014, 303 million computers shipped worldwide.
The downturn in the PC market will also impact some component suppliers. Memory chipmaker Micron Technology (MU) also released weakened guidance. Loren Loverde, vice president of IDC's Worldwide PC Tracker Program, said this is to be expected, because Micron's fortunes are directly tied both to the flagging PC market and to tablets, which are also expected to have a rough year.
Micron said it expects third-quarter revenue to come in between $3.85 billion and $4.05 billion, below analysts' consensus expectation of about $4.29 billion.
Loverde said Intel's update was not a shock to the industry, but the chipmaker's report will not impact HP (HP) , Apple (AAPL) or any of the top PC makers in any particular way. In a caveat to this, Loverde notes that HP holds a leading position in the European market, and that regions' ongoing economic problems could therefore hurt HP this year.
In fact, Apple may not even notice the problem. "Apple is its own beast and sells to a more affluent buyer," noted Mark Hung, research vice president for Gartner (IT) .
Despite the negative news from Intel, IDC does not expect a shift in power within the top five computer manufacturers. Loverde believes Lenovo and HP will continue to vie for first place followed by Dell (DELL) , Acer and Apple.
There are a couple of wrinkles Hung and Loverde pointed out of which investors should take note.
The first is that the majority of the sales decline will take place during the first half of the year, with sales during the latter half being stronger, but still down year-over-year. Several factors will lead to a brighter second half.
The holiday shopping season is always a bright spot for tech sales, and the second half of the year will feature the launch of Microsoft's (MSFT) Windows 10 operating system. Loverde said people who have been holding off buying new computers may take the plunge in order to have the latest OS. Conversely, the new OS may have a negative impact on sales because the new OS will be given away as a free upgrade to current Windows 8.1 and Windows 7 owners, thus removing the need to buy a new PC for some people.
Hung pointed to several economic factors investors should keep an eye on when looking at the PC market. Computer makers that have a large presence in the sagging Brazilian and Russian economies are at risk for poor performances this year; however, those that play in the strong North American market are safer.
This article is commentary by an independent contributor. At the time of publication, the author held no positions in the stocks mentioned.