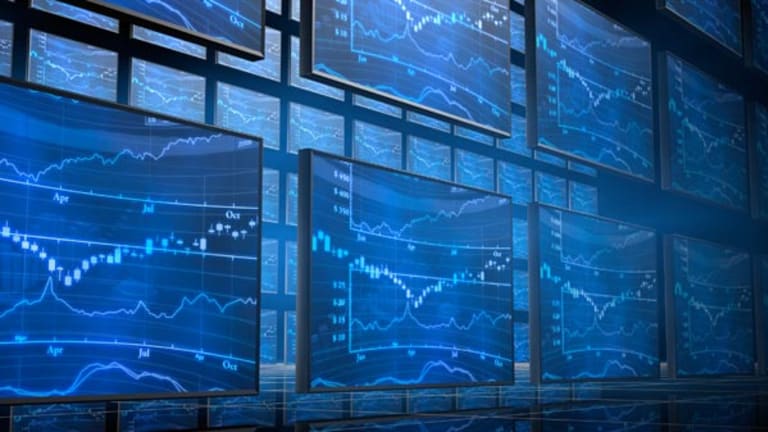 What We Know About the iPhone 5 (Update 1)
With Apple holding a major product launch next week, <I>TheStreet</I> has compiled the latest rumors about the tech giant's next-generation smartphone.
This story originally appear July 25 and is updated with new information concerning the release date.
NEW YORK (
) - Now that
Apple
(AAPL)
has told us when the eagerly-anticipated
iPhone 5 will likely be released
, media, investors and fans are pontificating over what the next device will offer.
Apple sold 35.1 million and 26 million smartphones, respectively, in its recent fiscal
and third-quarters, and many are predicting this release will be the biggest product launch Apple has ever had. CEO Tim Cook alluded to the coming "fall product transition," suggesting the iPhone 5 will be announced then.
The iPhone 5 will have a slew of new features, said Channing Smith, portfolio manager at
Capital Advisors Growth Fund
.
"We expect it to have Near Field Communications (NFC), a larger screen, and a better camera -- we expect it will be done without conceding battery life," he said in a recent phone interview. "Apple needs to continue to improve the competitive advantages it already has -- the way Apple has built its ecosystem is brilliant. They've locked so many users into their ecosystem -- I think that gives them an enormous advantage." Apple is Smith's largest holding in the fund.
Why Apple's Earnings Miss Doesn't Matter >>
There are tons of rumors about what the new iPhone will look like and what it will be called. Half of the fun of an Apple product launch is speculating what will go into the product as the rumor mill churns out report after report about the latest and greatest gadget from Cupertino, Calif.
It's not clear, though, what Apple will even call its new iPhone. The gadget maker has typically numbered its latest offerings, but ditched this nomenclature for the new iPad.
Nonetheless, here's a list of features that might be in the phone, which could be called the iPhone 5, and is expected to be released later this year.
What It Will Look Like
Apple's past two releases, the iPhone 4S and the new iPad, were more evolutionary than revolutionary. This could be Apple's big opportunity to push the envelope in terms of innovation.
Apple has kept the iPhone's design fairly stable, with a 3.5-inch screen size, tweaking it slightly, as it refines the five-year old product. Many now believe the next iPhone will have a 4-inch screen, as it competes with offerings like the
Samsung
S III Galaxy and other 4-inch phones.
The iPhone's screen size has not changed since inception, so this is a slight strategy change for Apple, perhaps a direct result of Tim Cook running the company now.
Nothing to Fear in Apple Call, but No Need to Rush to Buy>>
The next iPhone may also be slightly thinner than its predecessors, as Apple utilizes
. This technology will allow Apple to integrate touch sensors into the LCD, eliminating one layer of the phone. It could also help cut costs and simplify Apple's supply chain even further, according to
The casing of Apple's next smartphone could be aluminum, as Apple looks to abandon the glass backing of the current form-factor. There have been problems with the glass backing scratching, so Apple may look to alleviate that.
data by
Features
It's almost a certainty at this point that the next iPhone will run on Long Term Evolution (LTE), or 4G high-speed networks from
AT&T
(T)
and
Verizon
(VZ)
. This will allow the next-gen phone to consume data at a faster speed and make the browsing and data consumption experience all that more enjoyable.
Usage of LTE has shown battery life to decrease. Apple acknowledged that in its new iPad, when it said the battery would last nine hours on LTE, as opposed to 10 otherwise. Apple could improve the battery life in the new iPhone, as Capital Advisors' Smith suggested.
Given Apple's long-standing relationship with
Qualcomm
(QCOM)
, there is a strong possibility that a Qualcomm chip could be powering the 4G capabilities of the phone. Qualcomm chips feature predominantly throughout the previous versions of iPhones and iPads.
Another major feature which Apple could introduce is Near-Field Communications. Apple started to open up the possibility and potential for the iPhone becoming a "digital wallet" when it
announced Passbook,
as part of iOS 6, its new mobile operating system.
The Digital Wallet's Future is Now
Passbook is a location-aware app that lets users put their discount cards, gift cards, movie tickets and boarding passes into one app. Apple was recently
that could expand its uses, and move Apple towards the digital wallet.
Apple's mobile operating system will have more than 200 new features, including Passbook, enhanced support for Siri, as well as Apple Maps, as it removes
Google
(GOOG)
Maps from the phone. There will also be heavy integration with
Facebook
(FB)
, which the company announced at its recent Worldwide Developers Conference.
Apple may bring FaceTime, its video chat software, to wireless networks. Currently, FaceTime on iPhones can only be done on Wi-Fi networks, but with LTE networks the capability for increased use of FaceTime has expanded. Apple announced this as part of iOS 6 for the iPad, and it's a safe bet that the same will happen for the new iPhone.
Many are wondering whether Apple will introduce a new processor with the latest iPhone. Apple announced the A5X chip when it unveiled the iPad, and given its propensity to release the chip, which is designed from
ARM Holdings
(ARMH)
property, in the iPad first, this is an uncertainty.
There is no doubt that the new iPhone will have some of these features, and others that we haven't thought of. There's always "one more thing" to shock, surprise and amaze the Apple audience. We'll find out in just eight days.
Interested in more on Apple? See TheStreet Ratings' report card for
this stock
.
Check out our new tech blog,
Tech Trends
. Follow TheStreet Tech
.
--
Written by Chris Ciaccia in New York
>To follow the writer on Twitter, go to
http://twitter.com/commodity_bull
.
>To submit a news tip, send an email to: