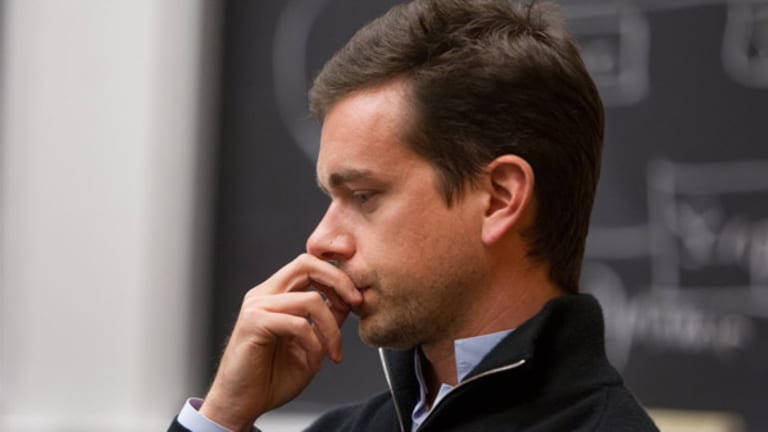 What to Expect From Twitter's Fourth-Quarter Earnings Report
Analysts and investors are getting antsy and want to see more significant user growth.
Twitter (TWTR) - Get Free Report is getting ready to report its fourth-quarter earnings on Wednesday, and analysts and investors are getting impatient.
Last quarter, the San Francisco-based company reported revenue of $569 million, up 58% from the same period a year earlier, with earnings of 10 cents per share.
However, user growth continued to be tepid. Twitter added only 4 million monthly active users in the quarter (including SMS Fast Followers, meaning people who get tweets as text messages), bringing its total to 320 million MAUs, up 11% year over year. Excluding SMS Fast Followers, though, Twitter only added 3 million monthly active users in the quarter, for a total of 307 million, an 8% year over year increase.
Twitter has been launching a bunch of different products, like the more narrative-focused Moments, to spark user growth and engagement. But none seems to have really taken off. Rumors are floating around that the next attempt to turn around Twitter growth may come in the form of a non-chronological, algorithm-based timeline, a controversial move which has already garnered strong opinions from Twitter's power users.
On top of the numbers problems, Twitter has also been having a hard time retaining and attracting talent, with several big executive departures. The company is also reportedly looking to gain some new board members.
According to Thomson Reuters, analysts, on average, expect fourth-quarter revenue of $709.9 million, with earnings of 12 cents per share. In October, Twitter provided guidance of $695 million to $710 million in revenue for the fourth quarter, and earnings before interest, taxes, depreciation and amortization of between $155 million and $175 million.
Twitter shares are down more than 50% since the company last reported in October, and they're down 37% year to date, to below $15.
Twitter is a holding in Jim Cramer's Action Alerts PLUS Charitable Trust Portfolio. 
"We would prefer to see strong results and a sense of a turnaround help drive the stock higher, and the company will get a chance to redeem itself with its earnings report, although expectations remain muted," wrote Cramer and Director of Research Jack Mohr.
Exclusive Look Inside:
You see Jim Cramer on TV. Now, see where he invests his money and why Twitter is a core holding of his multi-million dollar portfolio.
Want to be alerted before Jim Cramer buys or sells TWTR?Learn more now.

Here's what analysts are saying about Twitter:
Youssef Squali, Cantor Fitzgerald (Buy, $45 price target)
"While we expect Twitter to report ad revenue growth among the fastest in the group, much attention will be on MAU growth -- or lack thereof -- and on engagement, the net impact from the launch of new products/tweaks like Moments, and updates on the strategy post changes of several key executives.
"While we're maintaining a BUY rating given the company's differentiated offering, mass audience, attractive revenue growth profile and potential for a take-out, we recognize that the sentiment around user growth is currently negative and that the quarter's results are likely to be too muted to change that short term.
"Given recent departures and channel checks, which show a lack of traction on visitation/engagement, we could see the first negative net adds quarter since Twitter went public."
Bob Peck, SunTrust Robinson Humphrey (Buy, $26 price target)
"We expect MAU net adds of +2M (range of flat to up 3M) vs. 3M last quarter ending 4Q with ~309M core MAUs (324M ex SMS FF). Recall that historically 4Q is seasonally weak for MAUs. While some investors have raised questions about potential impact from continued growth of Instagram (owned by Facebook (FB) - Get Free Report , $97.94, Buy) as well as Snapchat (Private) we continue to see stable trends and engagement.
"We anticipate revenues roughly in-line at $705M with EBITDA of $170M. We saw evidence of increased direct response advertising later in 4Q which we believe supports our call, though competition for social ad dollars is increasing."
Michael Pachter, Wedbush (Neutral, $20 price target)
"We believe positive ad pricing trends drove Q4 revenue towards the high-end of guidance, but user growth likely was stagnant. We believe Twitter likely saw an uptick in ad pricing, with increased engagement (up 165% y-o-y in Q3) offsetting lower CPE to the consumer (down 39%) due to the shift to auto-play from click-to-play video ads. More importantly, we do not think that Moments drove a meaningful increase in users, as much of the content remains outdated or irrelevant. In addition, Twitter remains difficult to use relative to its peers, and a solution does not appear to be imminent.
"Recent executive upheaval suggests that Moments is not having the impact on user growth that was originally envisioned. We believe that had Moments been an early success, the executives would not have left so soon, voluntarily or otherwise."
Michael Graham, Canaccord Genuity (Buy, $25 price target)
"The move was exacerbated by last week's management shake-up, and clearly our BUY rating has been wrong during this period. Further, with continued management turnover and declining engagement metrics in Q4, it is tough to gain any conviction that key user metrics will gain traction in the near term (and we are fairly certain it didn't happen in Q4). Very slow user growth remains the primary negative, and our checks suggest this continued in Q4. Engagement also declined during Q4 on a minutes/user basis for the sixth straight quarter. For these reasons, we are lowering estimates significantly.
"However, we note that Twitter is essentially a media company growing revenue above 30% and EPS above 40% (on our lower estimates), and is trading at ~21x our lower 2017 EPS estimate, and we find this valuation/growth combination compelling, especially if the company can figure out a way to return to user growth later this year."