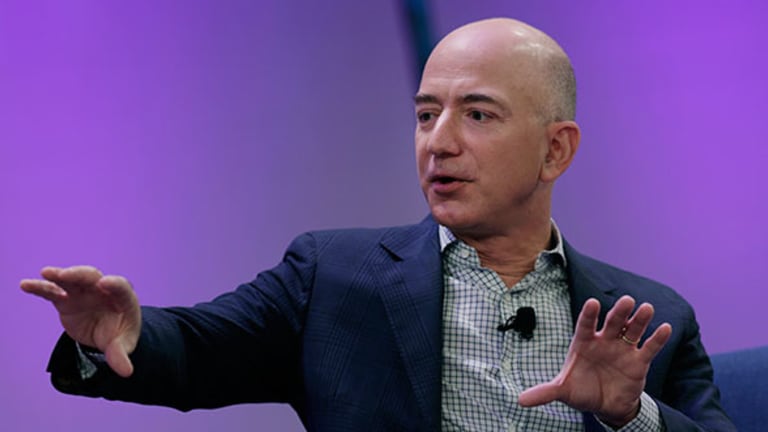 What to Expect from Amazon's Fourth Quarter Earnings
Analysts have high expectations for the e-commerce giant based on its holiday performance and growth in its cloud computing business.
Analysts have high expectations for the e-commerce giant based on its holiday performance and growth in its cloud computing business.
Amazon (AMZN) - Get Report is set to report its fourth-quarter earnings after the close of trading on Thursday, and analysts are waiting to see just how far ahead the e-commerce giant is from the rest of the retail industry.
Analysts are expecting revenue of $36 billion with earnings of $1.58 cents a share, according to Thomson Reuters. In October, Amazon provided guidance of $33.5 billion to $36.75 billion in revenue for the fourth quarter, which would be an increase of 14%-25% year-over-year. The company also predicted an operating income of $80 millionto $1.28 billion, compared to $591 million in the fourth quarter 2014.
In October, Amazon reported earnings of 17 cents a share on revenue of $25.4 billion, marking the second quarter in a row with a surprise profit. 
At a time when the retail industry has been closing stores and reporting lower sales, many are looking to see if Amazon has been the one taking away market share. Just looking at the holiday season, Amazon's same store sales grew 17% year-over-year, according to ChannelAdvisor. Compare that with e-commerce as a whole, which grew 14% year-over-year during the holidays according to comScore, and the overall retail industry, which grew just 2-3%, according to the National Retail Federation.
"Amazon's holiday trends looked strong, reinforcing our view that it will continue to disrupt the retail environment," KeyBanc analyst Edward Yruma wrote in a note Monday morning. "We think that holiday 2015 was a good one for Amazon given its focus on non-apparel goods."
On top of holiday sales growth, Amazon has also been steadily growing its Prime membership program, with a recent report from Consumer Intelligence Retail Partners estimating that Prime now has 54 million U.S. members. Amazon declines to share its own numbers on Prime, beyond saying that it has tens of millions of members, but many analysts seem to think there are between 40-50 million Prime members in the U.S.
Amazon has also been ramping up its investments in both digital content and logistics, two key growth areas for the company, especially with a Prime-centric strategy. During the past year, Amazon spent more than $3 billion on music and video streaming, according to Wedbush Securities, who predicts the number will continue to grow by $1 billion a year. "Prime membership growth continues, driven in part by compelling content," Wedbush analyst Michael Pachter wrote in a note.
On the logistics front, Amazon China has filed to be an ocean freight provider, and Amazon is reportedly buying a French shipping company and testing other methods like air cargo and leasing its own jet planes.
Of course, you can't not mention the elephant in the room--Amazon Web Services, which last quarter generated $2.1 billion in revenue, up 78% year-over-year, and $521 million in operating income. That business continues to gain traction and grab market share from other cloud players.
"The consistent release of new AWS products and features, as well as international expansion, leads us to expect dramatic profit growth in the coming years," Pachter said. "AWS gross and operating margins should continue to grow as revenues ramp, although we expect measured profit growth due to investment in international expansion of data centers and various initiatives to drive Prime membership growth."
All of this adds up to promising prospects for the company.
"Amazon is one of the most disruptive forces in retail and technology today," KeyBanc's Yruma said. "We think it will continue to take share and also benefit as total share accorded to e-commerce continues to grow. Amazon is one of our favorite long-term ideas."
However, outshining the retail industry doesn't necessarily mean that Amazon is risk-free.
"Continued shift of commerce online, strength in the U.S., robust 3P and AWS should drive this performance," Cantor Fitzgerald analyst Youssef Squali wrote in a note. "However, a relatively weak Europe, high investment intensity, and international expansion are likely to keep a lid on profitability, in our view, even as the company grows well in excess of overall e-commerce."