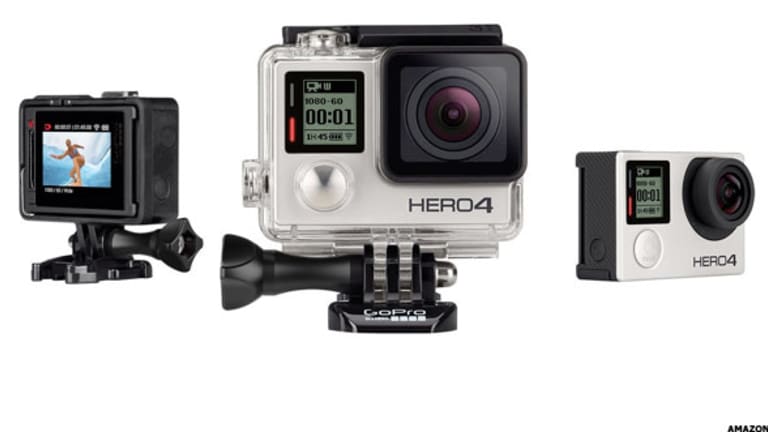 What the Hell Happened to GoPro?
The action camera maker appears to be stuck on the Island of Misfit Toys.
Updated from 11:18 a.m. to include comments in the sixteenth parapgraph.
As the holiday season approaches, most are dreaming of being on a warm tropical island with loved ones, getting away from it all, reflecting on the year past and pondering the year to come.
For GoPro (GPRO) though, it's a much different holiday tune -- the company appears to be stuck in a hellish nightmare, surpassed by the competition and seemingly trapped on the Island of Misfit Toys.
Last year, the high-flying action camera maker led by CEO Nick Woodman was deemed to have had a successful holiday season. Pacific Crest Securities analyst Brad Erickson went so far as to say the company "crushed it" on Black Friday 2014, with the GoPro Hero 3+ camera selling out in many instances.
Fast forward a year, and the results are all too different.
It's not hard to find pictures of GoPro displays chock full of inventory with nary a unit missing, or to hear that sales are indicative of the company's issues, that GoPro is a fad, that other products out there can do similar tasks. "All the drones in the market, they now come with cameras, so that stole customers," said TheStreet retail analyst Brian Sozzi.
Sozzi, who visited several stores in the Northeast over the weekend, found oodles of GoPro's products, including the recently released GoPro Hero+ LCD, sitting not inside consumers' shopping carts but languishing on the clearance table.
In September, GoPro confirmed it was making a drone of its own as it sought to capture some of the market held by companies such as Chinese-based drone maker DJI. In October, GoPro unveiled test footage to its YouTube channel with footage shot by one of its drones, but the product is yet not available for sale.
GoPro has been a victim of its own brilliance. When it came onto the scene in 2002, the action camera market didn't exist. There are fears in the marketplace that GoPro, which describes itself as making "the world's most versatile cameras," is facing heavy competition not only at home but from abroad as well, including cameras deemed better and cheaper.
Taiwan-based HTC, well known for its lineup of smartphones, got into the action camera market earlier this year with its HTC Re camera. Though HTC has not publicly disclosed sales of the HTC Re, the camera can be had for as little as $50 online, or one-fifth the price of the Hero+ LCD. Chinese consumer electronics company Xiaomi has also gotten into the arena with the Yi Action Camera, which it sells for the equivalent of $64, again, significantly cheaper than GoPro's products.
"There's a lot of competition in the market," said Tim Bajarin, president of tech research firm Creative Strategies via a phone interview. "There are many point-of-view cameras at one half of the cost, if not less."
Shares of GoPro, which have dropped by nearly two-thirds since the start of the year, have become a battleground among investors, some of whom see it as a burgeoning hardware and software company, while others see it as no more than a fad.
Since October, when the company reported third-quarter results that missed expectations and issued lower guidance for the upcoming fourth quarter, shares have been in a free fall, declining 28%, compared to a 2% gain in the tech-heavy Nasdaq.
Sales peaked in the second quarter, when the company reported revenue of $420 million, up 72% over the prior year. The third quarter saw a slowdown to $400 million, with CEO Woodsman commenting that "our business in the third quarter was clearly more difficult than anticipated."
GoPro could not be immediately reached for comment for this story.
Creative Strategies' Bajarin also mentioned that the market is shifting from just straight point-of-view cameras to a more complete experience, ones with views panning 360 degrees. Bajarin singled out the $400, 360fly camera as a "great experience." Conversely, GoPro, Bajarin said, does not have a 360 offering "that isn't extremely expensive."
On the other side of the spectrum, Jackdaw Research Chief Analyst Jan Dawson, said there are few signs of trouble in the company's financials, as revenue, shipments and margins are headed in the right direction. "As such, the hit to the stock looks to be entirely based on worries about future performance as the market gets more crowded," Dawson said via email.
As with most consumer electronics, there is the fear that Apple (AAPL) will eventually enter the market, putting a crimp on whatever short-lived freedom a company has. Earlier this year, GoPro shares plummeted on news that Apple was granted a patent that would allow users to remotely control a camera.
Dawson also mentioned "the fact that Apple and other smartphone vendors are getting better at producing high-quality video through hardware and software advances is seen as a threat to GoPro."
On Nov. 30, Pacific Crest's Erickson issued a note that in-store Black Friday checks were a "negative" for GoPro, as well as Garmin (GRMN) , and that "[a] saturated action camera market remains a clear longer-term headwind for GPRO."
There are some who have said action cameras are a fad, much like Cisco's (CSCO) Flip was some years ago. In 2009, Cisco, which makes networking equipment, purchased Pure Digital, the maker of the Flip camcorder for $590 million. In 2011, Cisco shut down the Flip business, saying it was part of a restructuring of the overall business.
GoPro has tried to expand into more than just an action-camera company, signing deals with companies such as LG to expand the ecosystem and get its videos and content into a wide array of devices.
If nothing else, the past 12 months have shown that GoPro's idea of the action camera market was one of brilliance, as evidenced by the competition entering at such a fast and furious pace. For GoPro, though, the competition has crept up, surpassed it and hasn't looked back.
Unfortunately for GoPro this holiday season, its companions are more likely to be Charlie-in-the-Box, King Moonracer and Dolly, as opposed to Rudolph and Jolly Ol' Saint Nick.