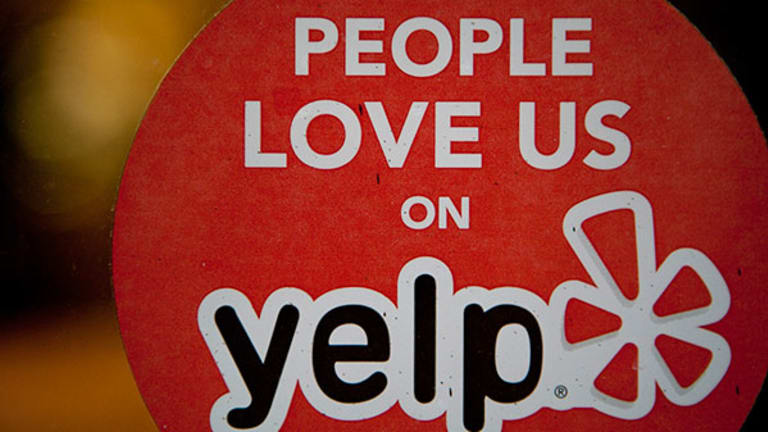 What Is Yelp's Board Thinking in Putting the Company Up for Sale?
Is Yelp's board maximizing value for shareholders by putting a 'for sale' on the company? Or is the business quickly unravelling?
NEW YORK (TheStreet) -- Thursday's news that Yelp's (YELP) - Get Yelp Inc Report board has hired investment bankers to possibly sell the company is a bit of a head scratcher.
Did the board hire the bankers to shop the company? Or did this occur in response to an inbound expression of interest? The article inThe Wall Street Journal didn't say.
If this is in response to an inbound expression of interest, Yelp board's decision makes sense. It's the best for all shareholders as it will ensure the best possible price is attained.
If the board just put the company up for sale, this raises a lot of corporate governance questions.
Yelp has been going through a rough patch. Since September when the stock price hit a high of about $85 a share, Yelp shares hit a 52-week-low on Wednesday of $37.91 -- a drop of about 56%. In the stretch in between, the San Francisco-based company has had three disappointing earnings calls in a row.
Are members of the board putting the company on the block now because they feel that Yelp's future as a stand-alone company is going to be much worse, not to mention the possibility of a much lower price arising? If so, how did things come apart so quickly? And why didn't board members try to sell the company when shares were in the $80-a-share range?
Whatever their reasons, members of the board won't come across well in this decision if they were the ones to put the company on the block.
If it was their choice, many potential buyers are likely to be a little gun shy about paying up for the company -- especially now that the story is out there and has driven up the price another 15% above its 52-week-low. On Thursday, just before the market's close the share price was $47.10.
But for potential buyers, the decision is harder than just deciding to pay a certain price. They need to ask this question: Why do I need to own this company?
Yelp's answer will be along the lines of having the chance of to gain access to the company's users (some 143 million monthly active users at the end of the first quarter) and its brand.
But how much are they really worth?
On May 1, I posted a tweet that said essentially the following:
Market Cap Per Monthly Active Users:

LinkedIn (LNKD) : $269

Facebook (FB) - Get Meta Platforms Inc. Class A Report -- not including Instagram and WhatsApp because Facebook doesn't disclose duplicated numbers: $157

Twitter (TWTR) - Get Twitter, Inc. Report: $81

Yelp: $26.
Even though the company has 143 million monthly active users, Wall Street doesn't think it's going to be able to make that much money from them, compared to what could be realized from LinkedIn or Facebook users. Judging by the company's market capitalization, a LinkedIn user is seen by Wall Street as eight times more valuable than a comparable Yelp user.
There's also the issue of programmatic advertising, which is affecting Yelp. On its most recent earnings call, on April 29 for the first quarter of fiscal 2015, Yelp disclosed that the rise of programmatic advertising was taking a big bite out of its brand advertising revenue, which fell 11% year over year to $6.6 million. "We have experienced industry headwinds related to the shift to programmatic advertising and the industry's desire to have advertising products that are disruptive to the consumer experience," CFO Rob Krolik said.
If this move is being done out of weakness, it shouldn't help Yelp maximize its sale price. The company now has an increased head count, up 50% year over year to more than 3,000. Why would you approve that if you were going to put your company on the block in a sale?
It suggests that, unless Yelp received an unsolicited offer, the company's business has started to unravel rather quickly.
This article is commentary by an independent contributor. At the time of publication, the author held no positions in the stocks mentioned.