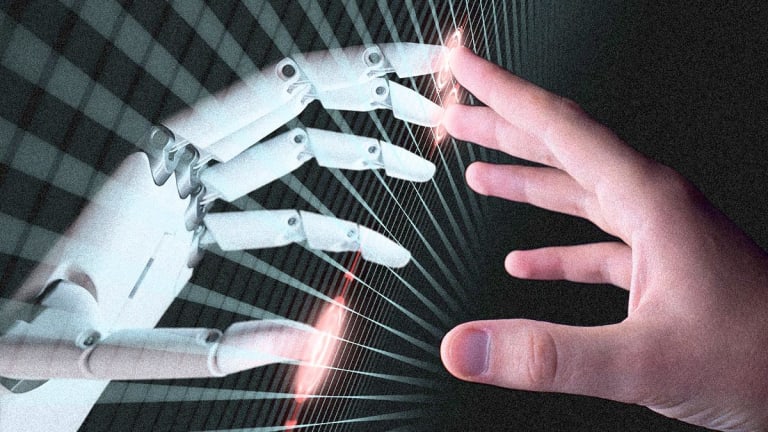 What Is the Internet of Things and Why Is It Essential in 2019?
The Internet of Things promises to merge the physical and data worlds together. This is why that's a good thing.
The future is now for the Internet of Things - the wireless connectivity framework that exchanges data from inanimate devices to humans, with no need for human interaction.
Already, users of Amazon's (AMZN) - Get Amazon.com Inc. Report  Alexa voice and guidance technology and Nest's smart thermostat, among other "smart" IoT breakthroughs, are witnessing first-hand the power and potential of the Internet of Things.
In fact, Americans are already getting used to smart refrigerators that let them know they're low on butter and their home security system adjusting temperature automatically while they are at work, so it's comfortable when they get home.
According to technology industry data, over 50 billion technology devices (computers, laptops, tablets and phones, primarily) will all be plugged to the Internet of Things by next year. When that transpires, consumers can expect huge changes in the way they live and work, as the Internet of Things transforms major industries like finance, travel, health care, manufacturing, retail, making it easier than ever to interact digitally.
History of the Internet of Things
The Internet of Things isn't any older than your average millennial.
The technology was introduced in the 1990s by Kevin Ashton, an academic researcher at Cambridge, Mass.-based MIT. Ashton came up with the name for IoT, as the MIT technology team he was working on was busy linking objects throughout the World Wide Web via radio frequency identification tabs.
The idea of connecting everyday gadgets and appliances to digital users preceded that, however.
For instance, the first recognized use of connecting machines to humans via the internet started at Carnegie Mellon University in the early 1980s. Analysts at the university connected their computers to a nearby Coca-Cola (KO) - Get Coca-Cola Company (The) Report machine, and were able to regularly check the machine via their connected computers to see if it had been restocked that day or not.
Since that time, the rapid growth of wireless communications has paved the way for the IoT revolution - one where the economic and cultural impact of physical devices interacting with humans comes to full fruition - with all the upsides that come with game-changing lifestyle shifts, due to technology breakthroughs.
Why the Internet of Things Matters to Digital Users
Data scientists say the Internet of Things is akin to the eighth wonder of the world, merging the physical world with the digital world for the very first time.
By and large, the Internet of Things takes "dumb" inanimate objects and makes them smart, enabling everyday devices across the globe, providing a high level of digital intelligence data that is sharable in real-time between the inanimate object and the user, without any human intervention.
That alone makes the Internet of Things a legitimate "big deal", with the potential to change people's lives in ways they likely didn't think possible. From smart homes to self-driving vehicles, the next decade should see an exponential rise in new ways consumers can leverage the Internet of Things to more simply and efficiently manage their lives.
Even today, the IoT is a game-changer for digital device users - here's why it matters so much today:
1. Smart Technology Expanding
So-called "smart" technology, a real-world outcome of the Internet of Things, will grow by leaps and bounds, connecting users in every facet of their lives. Smart technology started years ago, stemming from the term "self-monitoring, analysis and reporting technology."
The technology has morphed from software that basically tracked what a hardware device was doing to a more commercial technology that enabled inanimate objects, like golf clubs, jackets and watches to communicate directly with users, accept requests and provide guidance on how consumers could get better user experience out of those inanimate objects.
Now, smart technology is moving from the home to a user's everyday life, with smart offices, smart vehicles, smart healthcare, and a host of other new IoT-driven smart technologies that will not only operate as standalone technologies, but interact with other IoT-devices to vastly improve a user's quality of life.
Imagine a smartwatch detecting a potential health ailment, like a stroke or heart failure before it occurs and communicates that info directly to a nearby health center who can send help right away (and even unlock the user's door so not a moment is wasted in saving a life.)
That's indicative of the promise of the Internet of Things, and increasingly, that promise is happening now.
2. Upgrades in Artificial Intelligence and Robotics
As digital hardware devices grow more efficient, the software components that drive the usage of those devices are prospering. In particular, artificial intelligence and machine learning are helping the Internet of Things anticipate end user wants and needs, base on their ability to understand user pattern recognition.
That's why software developers and digital device manufacturers are counting on artificial intelligence and machine learning to be the de facto bridges between IoT-driven technologies like smart autos and smart homes, or smart watches and smart hospitals.
The end goal is to give users a smart life experience, and AI and robotics are the software breakthroughs that are already making this happen.
3. The IoT Is Surrounding Us
The Internet of Things is building a network of anticipatory infrastructure, like smart grids, smart cities and smart buildings, that make our lives easier.
For example, internet-based interconnectivity is fueling new innovations in a wide range of industries that impact Main Street Americans. Consider an interactive transportation center that can accelerate the flow of traffic at rush hour, making work commutes easier and faster.
Or, smart utility grids detecting opportunities to curb resources, as needed, and connect users automatically to renewable energy resources, thereby curbing utility bills, decreasing grid demand, and helping consumers save money on their energy bills.
Data scientists say were only scratching the surface of what the Internet of Things can provide - but we're getting closer to finding out on a first-hand basis.
What the Internet of Things Is Not
The Internet of Things offers a useful lesson in blending the physical and data worlds, and in interesting ways.
For instance, the Internet of Things, by definition, can turn dumb devices into smart devices, and use them to communicate with data networks without either human beings or digital telecommunications devices having to be involved.
In that sense, a computer or a smartphone isn't technically an IoT device, even though they're enabled with sensors and can transmit data.
Conversely, an inanimate object like a smart refrigerator or a smart golf glove, which generally haven't been counted on by users to share information and guidance, and don't have an internet connection, are considered to be IoT devices, as they share information without a human needing to transmit needed data.
Security Concerns of the Internet of Things
While the Internet of Things offers great potential to everyday consumers, the jury remains out on just how much those consumers trust the security of IoT devices.
A 2017 study from Gemalto NVreported that 90% of consumers stating they "don't trust" IoT devices.
State governments are already acting to address those concerns.
For instance, California recently passed legislation that takes dead aim at the security of IoT devices. By Jan. 1, 2020, Internet of Things device manufacturers must comply with security mandates that thwart cyber-attacks and data breaches linked to Internet of Things devices and connectivity tools.
Expect more government intervention to ensure consumers' security and data is protected, and anticipate that technology companies operating in the IoT universe will take data security issues seriously as the technology grows more pervasive - as it is widely expected to do.
In the meantime, it's advisable to get to know all you can on the Internet of Things, as the era of talking refrigerators and concierge technology guides like Siri and Alexa begins to expand - sooner rather than later.
A Special Invitation: Do you want to learn more about planning for and living retirement from the nation's top experts, including Ed Slott and Robert Powell, the editor of TheStreet's Retirement Daily? Want to learn how to create tax-efficient income in retirement and how to manage and mitigate all the risks you'll face in retirement? Then sign up to attend TheStreet's Retirement Strategies Symposium on April 6 in New York City. For a limited time, you can attend this extraordinary symposium for $149 -- a cost savings of $50 off the general admission price of $199. You can see the full day's agenda, learn about the guest speakers and sign up here for this special event.