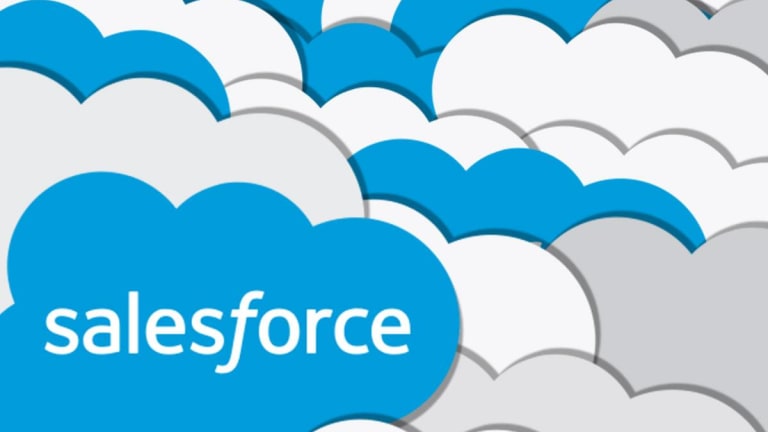 What is Salesforce and What Does It Do in 2020?
Salesforce is a cloud-based customer relationship management (CRM) software that helps businesses connect with and get more information about their customer base.
You've probably heard of Salesforce.com (CRM) - Get Salesforce Inc. Report  before, or your company may even use their services. From Fortune 500 companies to startups, everyone seems to be hopping on the Salesforce train. And with share prices steadily increasing over recent years, there seems to be good reason. 
But, what exactly is Salesforce, and what does it do? 
What is Salesforce?
Salesforce is a cloud computing service as a software (SaaS) company that specializes in customer relationship management (CRM). Salesforce's services allow businesses to use cloud technology to better connect with customers, partners and potential customers. The software has become the number one for customer success and helps businesses track customer activity, market to customers and many more services. 
Salesforce impressed investors recently by crushing third quarter estimates, reporting a third quarter revenue of $4.5 billion - up 33% year over year. 
The software company has become very popular in recent years. TheStreet's founder Jim Cramer even dubs the service as a 'Cloud King' and has been very bullish on the stock - seemingly with good reason.
Founded in 1999 by a former Oracle (ORCL) - Get Oracle Corporation Report executive Marc Benioff, Dave Moellenhoff, Frank Dominguez and Parker Harris, Salesforce is one of the first global companies to successfully employ a cloud-based CRM software. Salesforce has been able to leverage cloud technology and build a variety of applications for businesses to better connect to their customers and help give them key insights into their services through analytics and apps.
While their applications are vast, according to Salesforce, their CRM primarily focuses on helping companies with customer retention, keeping their customers happy, seeking out and executive customer acquisition, giving companies insights into their customers and much more. 
So, how do companies actually use Salesforce? 
What is Salesforce Used For? 
As of 2017, Salesforce reportedly had 150,000 companies using their software - among which include Amazon (AMZN) - Get Amazon.com Inc. Report , Adidas (ADDYY) , ADP (ADP) - Get Automatic Data Processing Inc. Report , American Express (AXP) - Get American Express Company Report and many, many more. 
Companies use Salesforce to understand their customers, connect with them on a variety of levels and help grow their customer base. 
The cloud-based software allows companies to track (in real time) analytics, customer success and support, customer complaints and a variety of other CRM functions with the ease of cloud storage and access wherever the users are. 
According to the Salesforce website, companies that use the software see average increases in a variety of areas, including an average 27% increase in sales revenues, 32% increase in lead conversion, 34% increase in customer satisfaction and a 56% faster deployment. 
Because of its diverse selection of clouds and applications, Salesforce is also used by companies to assist with marketing, tracking sales and spending and analyzing performance. A variety of different clouds allow users to analyze various data, maintain communication forums with customers, implement sales strategies and more.
In essence, Salesforce is the one-stop-shop for businesses to manage, maintain, communicate with and grow their customer base and revenue streams. 
How Does Salesforce Work? 
So, how does Salesforce practically work? 
The company is a service as a software (SaaS) - which means it uses a cloud-computing, software distribution model that hosts applications and makes them available online. 
Salesforce hosts numerous different cloud platforms that allow companies to interact with different data and service their customers in various capacities. 
As of 2020, Salesforce has multiple different cloud platforms - a service cloud, marketing cloud, health cloud, app cloud, community cloud, analytics cloud, IoT cloud, Chatter cloud, commerce cloud, Heroku engagement cloud and more. 
According to the company, Salesforce's sales cloud gives companies the ability to track contacts, opportunities and manage a team to increase sales. The service cloud allows companies to connect with customers and deliver premium customer service through showing customer activity and resolving issues. With their marketing cloud, Salesforce helps companies track customer journeys while providing multichannel marketing campaigns, while their community cloud allows companies to directly interact with their customers and allows their customers to interact with each other. 
Additionally, Salesforce has been implementing artificial intelligence (AI) into their Einstein platform, which helps simplify the analytics workflow and produce more accurate forecasting, among other benefits. 
Still, Salesforce's entire model supports customer relationship management (CRM).
But, what is CRM? 
Customer Relationship Management (CRM)
Customer Relationship Management (CRM) is "a technology for managing all your company's relationships and interactions with customers and potential customers. The goal is simple: Improve business relationships. A CRM system helps companies stay connected to customers, streamline processes, and improve profitability," according to Salesforce. 
On a basic level, CRM helps companies understand customer needs and data and facilitates deeper customer development and retention. 
Cloud-Based Software
Salesforce was the first to successfully implement a cloud-based CRM software. As a cloud-based service, Salesforce capitalizes on the benefit of data storage and accessibility from anywhere to draw a customer base. 
Using a cloud-based software allows companies to track live data, community discussions and manage analytics from anywhere - and with constantly updating speed and accuracy. 
Salesforce Business Practices
Salesforce created the 1-1-1 Model of Integrated Philanthropy, where companies contribute 1% equity, 1% of their product and 1% of employee hours back to the community. The service developed Salesforce.org to give to nonprofits and educational institutions, supporting them with technology, volunteering and grants, according to their site.
Companies currently using this 1% pledge model include DocuSign (DOCU) - Get DocuSign Inc. Report , SurveyMonkey (SVMK) - Get SVMK, Inc. Report , Conga and more. 
In addition to their philanthropy, Salesforce offers guidelines for best customer service practices on their site, including hiring the right people, managing customer expectations, focusing on first impressions, consistently collecting data, personalizing the experience, being where the customers are and maintaining focus. 
Salesforce Mergers and Partnerships
Salesforce's list of acquisitions seems to grow by the minute.
Most recently, it was announced in August of 2019 that they would be purchasing ClickSoftware for $1.35 billion. Salesforce also announced a $15.7 billion acquisition of Tableau Software Inc., a data analytics group, in June 2019 and acquired MuleSoft for $6.5 billion, announced in March of 2018. 
Alongside the acquisition of MuleSoft, Salesforce has recently integrated MuleSoft's "Anypoint" platform (which is a app-connecting dashboard) into their cloud products, and also recently launched its new 'Integration Cloud,' which TheStreet reported is a "toolbox aimed at integrating business processes" and streamlining processes.
MuleSoft's CEO Greg Schott was very optimistic about the merger earlier this year.
"When [Salesforce co-CEO Marc Benioff] and I met back in February...he said we're starting to see digital transformation as an industry, and I said that we see ourselves as the engine of that industry," Schott said, TheStreet reported in September. "Putting the companies together felt like a really amazing strategic fit."
Other acquisitions have included Rebel, Zorap, CloudCraze LLC, Datorama and 50 others. 
Notably, Salesforce partnered up with Facebook in 2014 to bring analytics to B2B marketers.
Additionally, Salesforce and Apple teamed up in 2018 to help improve apps for businesses. The pair announced that the team "brings together the number one customer relationship management platform and iOS." 
The Apple-Salesforce partnership will reportedly implement Apple features like Face ID, Business Chat, and the new-in-iOS-12 Siri Shortcuts to Salesforce. 
What's Next? 
So, what's next for the cloud behemoth? 
Moving in on the cloud market seems to be in the cards. TheStreet's founder Jim Cramer suggests that the so-called 'Cloud Kings' may even trump 'FAANG' stocks, as he claimed at TheStreet's Investor Boot Camp back in May 2018.
"As much as I like FAANG, and I do...I think the Cloud Kings offer the best opportunities for trading if only for one reason -- the media has become obsessed with FAANG...[and they] saturate our brains endlessly with 'FAANG is dead' stories on any day that they are down [in the market]," Cramer said.
Still, apart from attracting bullish investors, Salesforce is moving in on integrating with healthcare and life sciences. According to a Salesforce presentation in 2018, Salesforce is moving to integrate with NYU Langone Health through their patient access center and Hologic (HOLX) - Get Hologic Inc. Report , a global leader in diagnostic and medical imaging solutions company. 
With increasing mergers, partnerships and expansions, Salesforce has dubbed itself "the fastest-growing enterprise software company of all time," according to Salesforce Co-CEO Marc Benioff on Cramer's Mad Money. 
However, CNBC recently reported that Amazon Web Services (AWS) may be gaining on Salesforce. In fact, AWS has topped $9 billion in quarterly revenue according to recent reports - trumping Salesforce's fiscal third-quarter sales of $4.5 billion - and was created by Amazon in 2006 (seven years after Salesforce).
Regardless, Salesforce bulls are well vindicated given the company's strong performance and third-quarter reports. Salesforce shares hit record highs early in 2020, and some analysts are referring to it as one of the top cloud stocks to own in 2020.