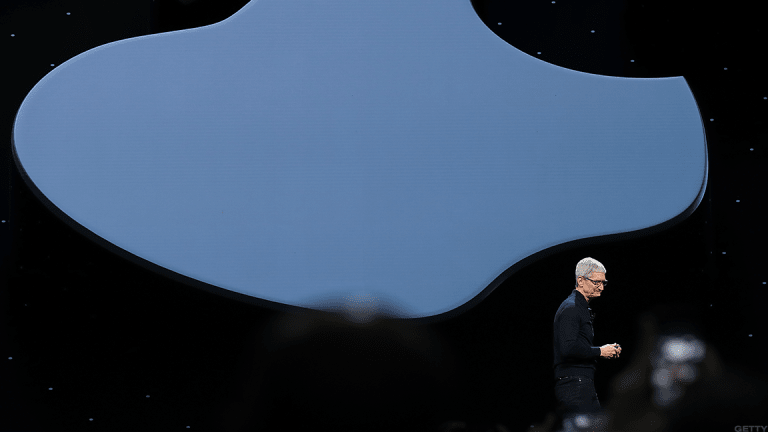 What's Really Driving Apple's Stock Today (Hint: It's Not Just iPhone Sales)
Apple's billions of dollars in stock buybacks are 'grossly under-appreciated' and could drive the stock up to 25% higher , according to at least one analyst.
Apple (AAPL) may be rolling out a slew of new iPhones this fall, but analysts say that's just a sideshow to what's really driving the stock these days.
The $100 billion stock buyback program that Apple announced in April could push Apple's stock value to new heights over the next few years, and investors are anxious for more detail on the buybacks. Apple reports its Q2 earnings on Tuesday after the close.
TheStreet will be live-blogging Apple's report and call on Tuesday after the close. Please check our home page then for more details.
"The topic around the buybacks is central to the story here; it's a grossly under-appreciated part of Apple's stock going higher in the next few years," Loup Ventures partner Gene Munster told TheStreet in an interview this month. Like many other large tech companies, Apple is flush with cash following a Republican tax plan passed in December that included a tax holiday on overseas cash brought back to the U.S., and a significantly lower overall U.S. corporate tax rate. 
Last week, BMO Capital called out Apple's buybacks in raising its price target to $184 from $171, with analyst Tim Long writing that "the stock is trading at a premium relative valuation based primarily on the huge stock buyback program." On Monday late afternoon, Apple shares were trading down slightly to $190; shares are up more than 12% so far this year.
The huge buybacks aren't just about lavishing shareholders with cash. For Apple, getting to net cash neutral -- by reducing its massive cash balance -- is an important lever in driving the company's stock higher in the long term because it results in fewer, but more valuable shares, Munster added. 
Apple reported a cash balance of $267.2 billion in April. On its April earnings call, CEO Tim Cook said that it would bring down that balance "over time," but stopped short of specifying a timeline. 
"We are not giving an end date to the program this time because the amount is very, very large," added Apple's CFO Luca Maestri on the call. "But we also want to do it efficiently. We want to make sure that we buy back the stock at the right time."
The buybacks follow an earlier $210 billion buyback that it kicked off in 2012 and wrapped up in the first quarter of 2018. During that time frame, Apple's stock has increased by roughly 100%.
Along with iPhone sales trends and growth in its services business, regarded as another important factor in Apple's longer-term revenue outlook, Apple is likely to face questions about the rollout of the $100 billion buyback from eager investors. 
"If they say they'll be net cash neutral in three years, their stock will go above the $1 trillion mark," Munster added. Apple is currently the most valuable public company in the world and the favorite to hit the 13-figure market capitalization figure first.
Apple isn't the only tech giant using its pile of cash for stock buybacks. Alphabet (GOOGL) , Cisco (CSCO) , eBay (EBAY) , Oracle (ORCL) and Facebook (FB) are a few of the companies that have announced or expanded stock buyback programs since December, when Republicans finalized a tax plan that included the tax holiday and slashed the federal corporate income tax rate from 35% to 21%.
Apple's stock buybacks are among the most aggressive, however, with the tech giant leading the way in buybacks last year. Apple issued $32.1 billion in buybacks during 2017, the most of any company on the S&P 500, according to an analysis by the S&P Dow Jones Indices.
"Just because of the mechanics of how stocks work, the buybacks should move the stock 20-25% higher," Munster estimated. "It's probably more important than products over the next two years."
Alphabet, Facebook and Apple are holdings in Jim Cramer's Action Alerts PLUS member club. Want to be alerted before Jim Cramer buys or sells FB, GOOGL, AMZN or AAPL? Learn more now.