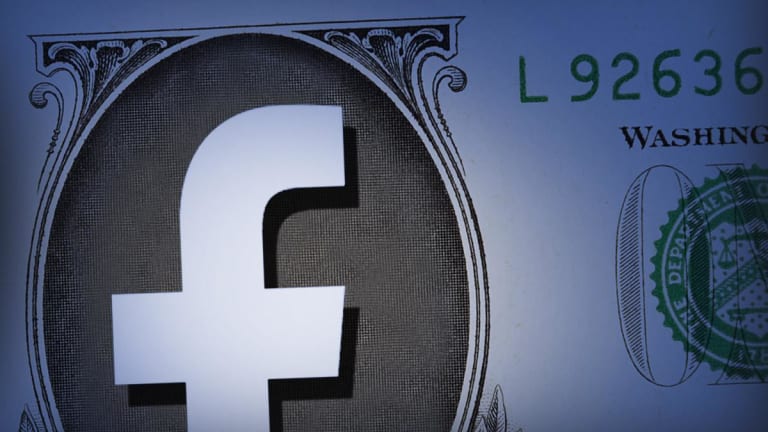 What Is Facebook Pay and How Do You Use It?
Facebook Pay is the social media giant's latest leap into the digital payment market. Here's how it works.
Facebook (FB) - Get Report has rolled out its new digital payment platform, called Facebook Pay.
What Is Facebook Pay?
The new payment platform was announced on Nov. 12, 2019, in a blog post by Deborah Liu, vice president of marketplace and commerce at the social media giant.
"Today we're introducing Facebook Pay, which will provide people with a convenient, secure and consistent payment experience across Facebook, Messenger, Instagram and WhatsApp," Liu said. "People already use payments across our apps to shop, donate to causes and send money to each other. Facebook Pay will make these transactions easier while continuing to ensure your payment information is secure and protected."
Facebook Pay is introducing Facebook and Messenger this week across the U.S. for select payment functions, including fundraisers, in-game purchases, event tickets, person-to-person payments on Messenger and select purchases on Facebook Marketplace.
The company plans in the future to bring Facebook Pay for use across Instagram and WhatsApp, Liu said.
Past all that, what's the deal with Facebook Pay and what benefits does it provide?
Here's a closer look.
One-Time Signup

With Facebook Pay, all you need to do is add your preferred payment method once, then use Facebook Pay where available to make payments and purchases on our apps, instead of having to re-enter your payment information each time, Facebook says.
A Full Menu of Payment Options 
Users can use the payment platform to buy goods and services, send money to friends and family, and donate to favorite charitable organizations on the site. Facebook won't send you to a retailer's site to close a purchase. If, for example, you purchase a sweater on Instagram, you'll make the completed transaction on Instagram.
Your Choice on What Apps to Link 

New users can set up Facebook Pay on an app-by-app basis, or opt to set it up for use across apps. Facebook won't automatically set up Facebook Pay across the apps you are active on, unless you choose to do so, Liu says.
All-In-One Payment Management 

Users have a variety of payment management options. They can view payment history, manage payment methods and update your settings in one place using Facebook Pay.
Live Chat Help

If you're having trouble onboarding with Facebook Pay or have questions once you're up and running, you also get access to real-time customer support via live chat in the U.S. (for now). That's not the case yet across the globe as Facebook is rolling out its payment platform on a country-by-country basis.
Facebook Pay users will also be able to add or remove payment methods, view transactions and initiate customer support directly from Facebook Pay, according to the company's web site. Also, if you opt for Facebook Pay on multiple apps, you'll still be able to view and track your payments on the primary Facebook Pay app.
Facebook Pay users can also be shielded from annoying and unwanted ads and email messages from companies and organizations they transact with on the payment platform. All a user has to do is hit "opt-out" on the app and businesses and charities will be restricted from sending you email-based ads and messages.
How Do You Use Facebook Pay?
Structurally, Facebook makes it easy to use its new payment platform. Here's the rundown of what to do and how to do it.
Go to either the Facebook web site or mobile app or Facebook Messenger:
Go to "Settings" > "Facebook Pay" on the Facebook app or website
Add a payment method
The next time you make a payment, use Facebook Pay
Facebook notes that is payment platform isn't available yet on WhatsApp and Instagram, but it will be soon. When that time occurs, users can set up Facebook Pay directly on each platform's mobile app.
Facebook is also getting some high-profile support from major financial service companies. The payment platform supports Visa (V) - Get Report , Mastercard  (MA) - Get Report , Stripe, and PayPal  (PYPL) - Get Report , with more partners coming down the road.
Is Facebook Pay Safe to Use?
Facebook certainly thinks so.
In her post, Liu notes that the company does have some experience in handling sensitive customer data via platform payments on things like charitable donations. In fact, Facebook has processed over $2 billion in private donations on the site since 2015, when Facebook got into the charitable donations processing market in 2015.
But Facebook still has to defend itself on payment security issues, given the 2018 data breach against the platform that exposed the personal records of almost 30 million site users whose names, contact information, religion, Facebook history, and relationship status were exposed.
In 2019, the bad news on the privacy front continued for Facebook and its user base.
That was after a cybersecurity firm reported a breach of 540 million Facebook users posted inadvertently, but publicly, on Amazon cloud servers. The compromised data from that breach held users' Facebook passwords, names, and personal history using the social media platform, and was viewable in plain site by anyone using the Amazon (AMZN) - Get Report cloud.
Liu doesn't acknowledge those data breaches in her Nov. 12 post, but she does say that Facebook is building a stronger security structure around Facebook Pay users' data.
"With Facebook Pay, we're continuing to invest in security," she states. "We designed Facebook Pay to securely store and encrypt your card and bank account numbers, perform anti-fraud monitoring on our systems to detect unauthorized activity and provide notifications for account activity."
"You can also add a PIN or use your device biometrics, such as touch or face ID recognition, for an extra layer of security when sending money or making a payment."
Facebook is also offering a payment platform security tutorial on the site's Facebook Pay privacy web page.
The Outlook for Facebook Pay
How will Facebook Pay fare in a hotly-contested global digital payment market?
While it's way too early to say for sure, you can't discount a major technology player that already has 2.45 billion active monthly users as of September, 2019.
Any success Facebook has with its new payment platform shouldn't surprise anyone -- not with 2.45 billion site users on board. If the company can avoid any major breaches and stay in their customer bases' circle of trust, Facebook Pay could ultimately grab a major slice of the online payment pie.
According to technology industry analysts at Barclays  (BCS) - Get Report (which includes Facebook's new Libra cryptocurrency program in the payments mix), income generated from Facebook's digital payments platforms could range anywhere from $3 billion to $19 billion when they start firing on all cylinders and are available in all major countries.
That said, the competition is heavy, with emerging digital payment platforms like Apple  (AAPL) - Get Report Pay and China-based AliPay (from Alibaba  (BABA) - Get Report ) and WeChat, from Tencent, already up and running -- with a big head start on Facebook Pay.
Facebook stock is currently trading in the $190-to-$193 range as of Nov. 15, with a consensus analyst one-year share price target of $238 per share.