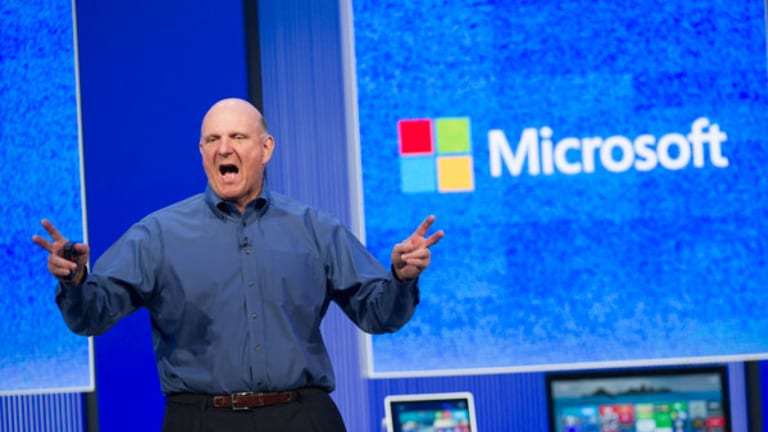 What Intel, IBM Earnings Say About Microsoft
Investors are getting a peak into what to look for in Microsoft's earnings through broad tech trends indicated during Intel and IBM's reports.
NEW YORK (TheStreet) -- When Microsoft (MSFT) reports its fiscal first-quarter earnings Thursday, all eyes will be paying attention to whether the software giant really has the muscle to keep its position in the cloud, and how the company's hardware push is going.
If Intel (INTC) and IBM's (IBM) earnings announcements last week provided any indication into what Microsoft might reveal during its own announcement, it's that the stakes are high to show it's succeeding in the cloud, while broadening its push into the hardware markets, according to Morningstar technology equity analyst Norman Young and Jack Gold, principal analyst at J. Gold Associates.
IBM revealed its ongoing struggles in its hardware business, which demonstrated a need for increasing its shift towards cloud services, and away from big system investments. IBM's hardware exposure spans from mainframes and servers to storage products. A relatively weak quarter for IBM's overall software products business reflected for Morningstar's Young that IBM could either be losing software market share or even be portending an industry-wide weakening of traditional enterprise software spending, amid continued strength in cloud investments.
But while IBM is relatively new in rolling out an aggressive cloud strategy, Microsoft has been pushing its cloud growth messages and services for many years. Investors will have a higher bar for how much the company has actually progressed in this area in the past quarter. Investors will be paying close attention to how Microsoft's key cloud computing services, Windows Azure and Office 365, performed during the quarter, as they could be longer-term indicators for whether Microsoft can compete with the likes of cloud kings Google (GOOG) and Amazon (AMZN) .
"It's important that Microsoft show some momentum here, as enterprises move to cloud systems, and not leave the market to competitors Google and Amazon," said Gold.
As the investment community watches Microsoft's cloud progression with a very critical eye in the wake of IBM's hardware struggles, they'll be checking on any cloud-related disruptions as it relates to hardware refresh cycles, and Microsoft's software business. Enterprise software spending is Microsoft's bread and butter, allowing it to stay profitable amid economic downturns and its Windows 8 woes. Gold's view is that Office and Exchange numbers in particular will offer clearer indications of enterprise spending trends and their impact on Microsoft's traditional software systems sales, than Windows licenses.
"I think there were a few troubling trends in IBM's recent results that may foreshadow industry-wide issues," said Young.
That said, Young does note that Intel's server business results actually were quite solid in the third quarter, and this could indicate that "cloud and data center spending remains relatively strong, despite the uncertain macro environment." Young said that if that's the case, it would translate into decent Server and Tools results, now grouped under the Commercial Licensing category.
As tech earnings continue to roll out, investors have been keenly eying the trend of the global personal computer market. According to technology research firm Gartner, the PC market declined again during the third quarter. Intel indicated during its earnings call that while there may have been some stabilization in the PC market, the pressure of the weak personal computer environment persists and vendors continue to be very tight on inventory amid their soft expectations. This issue is translating into uncertainty for Microsoft's consumer business, which sells Consumer Windows and Consumer Office.
Microsoft is trying to cope with the trend by deepening its reach into hardware as a strategy to help generate renewed traction in Windows. It remains to be seen how the company's acquisition of Nokia's NOK devices unit, which is expected to be finalized early next year, will contribute to this goal. There have been questions about the future strategies surrounding Microsoft's Surface tablet given its struggles to sell and in the wake of Nokia's own, newly launched Windows-run tablet products ahead of the completion of the devices unit buyout.
Gold says he's not expecting great number for Surface tablets when their results come out this Thursday and furthermore doubts that they will garner much excitement during the holiday season, during which tablets are expected to generate much more attention than full PCs. Also, Young said that the company's cut to Surface Pro prices this quarter will likely translate into a modest inventory adjustment.
Microsoft is expected to report first-quarter earnings of 54 cents a share on revenue of $17.78 billion, according to a survey of analysts by Thomson Reuters. That would be an edge up from last year's first quarter earnings per share of 53 cents on revenue of slightly more than $16 billion.
-- Written by Andrea Tse in New York
>To contact the writer of this article, click here: Andrea Tse.>