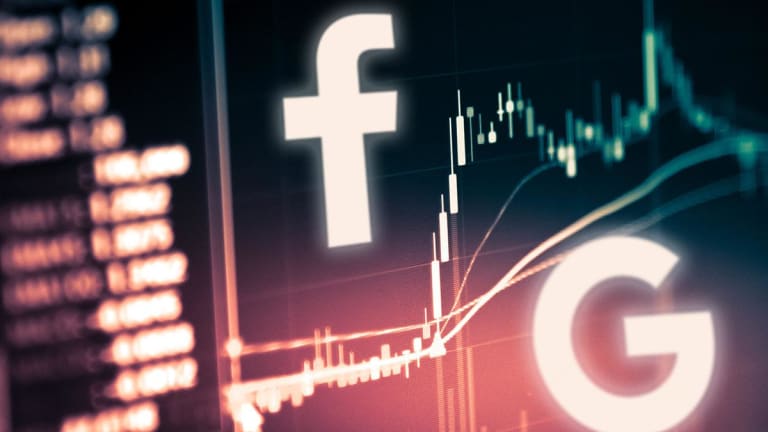 Publish date:
How Would Ad-Dependent Alphabet, Facebook Handle Another Recession?
In the last recession, Google's ad revenue growth almost completely evaporated -- now's time to consider what could happen in a downturn to both Alphabet and Facebook.
In the last recession, Google's ad revenue growth almost completely evaporated -- now's time to consider what could happen in a downturn to both Alphabet and Facebook.
Are you prepared for a recession-driven collapse in revenue at Alphabet's (GOOGL) - Get Alphabet Inc. Class A Report Google? How about at Facebook (FB) - Get Facebook, Inc. Class A Report ? How would you anticipate it?
Whether you believe a recession is looming or not, it's a prospect worth contemplating on any given day, and somewhat more urgent with the tiny signs here and there that the U.S. economy may be cooling.
That plummet in advertising revenue for Google and others in the ad market in the great recession of 2008 to 2009, is now a distant memory over 10 years later.
But both Alphabet and Facebook are still heavily dependent on advertising. Ads make up 85% of Alphabet's total revenue, and 99% of Facebook's revenue.
So consider that as subtle signs emerge of economic slowing. The Wall Street Journal last week reported that the Dallas Federal Reserve's Manufacturing Index in June fell to its lowest level in three years. What's more, noted economics observer Phil Suttle argues there is a "good chance" that the broad-based ISM index will drop below 50 for June, which would signal a contraction.
What could happen? A glance back at things for Google a decade ago is a good place to start. 
In 2006, the year before select parts of the economy began to weaken, Google's revenue growth was a very healthy 73% -- amazing given the company was then at $11.6 billion in ad revenue, on a gross basis, before factoring the cost of traffic acquisition. 
Midway through 2008, revenue growth was still humming along at a better than 42% clip, and Google's chief economist, Stanford economist Hal Varian, sitting in on a conference call with analysts that July, remarked that advertising revenue was "holding up remarkably well in most sectors." Auto ads, for example, were still on the rise. The only weak signs were various types of consumer finance ads, such as auto financing, said Varian at the time, which showed some weakness.
A quarter later, in October of 2008, the global economy was breaking down for real, and Google's year-over-year revenue growth rate had dropped to 31%. The last quarter of that year, it dropped to just 18%, and in the second quarter of 2009, the depths of the recession, the company's annual revenue growth plunged to as little as 3%.
As then-CEO Eric Schmidt characterized things, consumers were still clicking on ads, but they were clicking to window shop. Suddenly frightened of the downturn, shoppers were looking for deals on low-cost items. The low conversion rate of those ads meant advertisers bid less for ads on Google, an entirely rational move given the circumstances, Schmidt observed. While smaller advertisers kept buying, large advertisers had stepped to the sidelines entirely, waiting to see what would happen to an economy that was spiraling downward. Whole categories such as travel dried up dramatically as confidence was shaken.  
Nothing of the kind is showing up at the moment in Google's reported results, nor in those of Facebook, but neither company at this point provides the kind of anecdotal detail that Hal Varian signaled back in 2008. Google revenue rose 17% in the March quarter, and the only limiting factor there was a tough year-over-year comparison with the prior-year results, according to Alphabet chief financial officer Ruth Porat. Moreover, the number of "paid clicks" was up a whopping 39%. While the prices paid, on average, termed "cost-per-click," was down 19%, that was in large part because the company sold more ads on YouTube, which have a lower price on average than other ads.
Similarly, Facebook's $14.9 billion of advertising revenue, rose a healthy 26%. Nowhere in the discussion by chief financial officer David Wehner in April was there any hint of any economic concern, or even any real interest in the economy. Like Alphabet, Facebook these days is mostly focused on new product introductions that keep expanding its advertising empire. 
To be sure, were an economic slump to come about, things are different in some significant ways for Alphabet and Facebook. Most advertising for both companies is via mobile devices, which wasn't the case during the 2008 crash. It's quite possible that patterns of advertising could fare differently in recession with mobile ads as the dominant format. Also, both firms now have instituted "programmatic" forms of ad buying, which can alter supply and demand in the market in ways that were not true in digital advertising a decade ago.
But there's also one more change that seems most intriguing: Amazon (AMZN) - Get Amazon.com, Inc. Report . According to recent work from firm Juniper Research, Amazon, which doesn't break out its digital ads business, has a mere 3% of the market. It is a tiny minnow compared to the ad empires of Google and Facebook. But big economic changes can sometimes propel changes in markets. It's not yet known what effect Amazon would have in a recession, especially if it decided to take advantage of scarce ad dollars by drastically low-balling Google and Facebook on price.
Today, all of this is mere conjecture, but when times are good is when one should consider the worst.