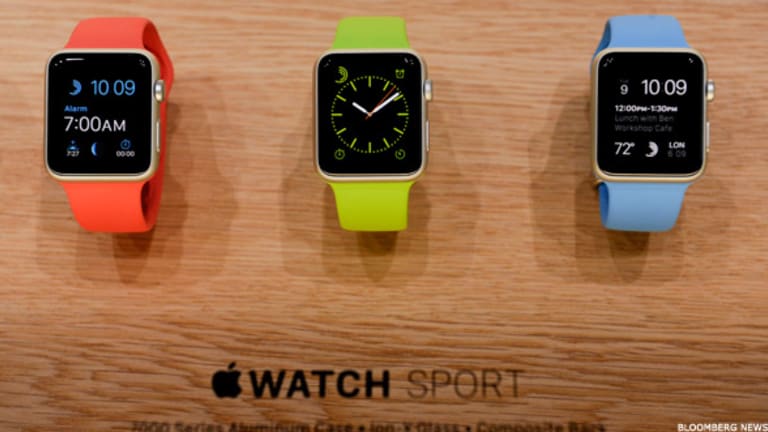 What Does Apple Need to Do in 2015 to Have Another Banner Year?
Apple has had a banner 2014, gaining more than 30%, yet investors are wondering what the world's largest company needs to do in 2015 to repeat this year's performance.
NEW YORK (TheStreet) –– Apple (AAPL) - Get Apple Inc. (AAPL) Report has had a banner 2014, vastly outperforming the Nasdaq and its chief rivals, including Google (GOOG) - Get Alphabet Inc. Class C Report , gaining more than 30%. Yet, with the launch of the iPhone 6, new iPads, Apple Pay and the Apple Watch announcement, investors are wondering what the world's largest company will have to do in 2015 to repeat 2014's outperformance.
Goldman Sachs analyst Bill Shope, who rates Apples shares a "buy" with a 12-month price target of $124, says the risk-reward for Apple is still "very favorable," noting that there's upside through the March quarter. Moving into the second quarter, though, things become less clear as it's uncertain whether demand for the iPhone 6 and 6 Plus, which was launched in September, as well as the Apple Watch can be sustained.
Shope expects Apple to earn $8.25 a share in calendar 2015, with fiscal year earnings at $7.91 a share on $208.58 billion in revenue. Analysts surveyed by Thomson Reuters expect the company to earn $7.76 a share on $210.99 billion in revenue for fiscal 2015.
With the demand of the iPhone 6 and 6 Plus currently so strong (a look on Apple's website still shows a wait time of 1-3 business days for the 16GB and 64GB iPhone 6 models and 7-10 business days for the 128GB iPhone 6 model on the AT&T T, Sprint S and Verizon VZ), Shope says more consumers are buying the new phones than the refreshed iPhone 5, and adding new customers to the Apple ecosystem.
"Apple's leading Android competitor, Samsung, appears to be suffering from a muted high-end product cycle relative to what we saw in 2012/2013," Shope wrote in the note. "In addition, Apple has previously announced that it is increasing its target channel inventory from 4-6 weeks to 5-7 weeks to better address distribution requirements in emerging markets; given that iPhones are supply constrained, we are likely to exit the year below the prior 4-6 weeks target, requiring several weeks of channel fill in the March quarter.
"This tailwind for iPhone sell-in has little impact on the long-term story, but it provides an important and positive distortion to normal seasonal weakness in early 2015," Shope added.
The question remains, once Apple has met demand with its supply, something CEO Timothy D. Cook said has been staggering" on the Oct. 20 earnings call, how much will demand drop in the first half of 2015?
Shope expects a sequential decline in the March quarter of 17%, compared to the average decline of 14%. Many analysts have expected Apple to sell around 65 million iPhones in the quarter (Shope expects 62 million iPhones sold in the Dec. quarter), which would mean Apple would sell around 51 million iPhones in the March quarter, though he notes that may be conservative given the need for channel inventory increases with every week of channel inventory adding around 3 million units.
There's also potential for a sharp decline in the June quarter to the tune of 29% as we get closer to the next iPhone refresh and further away from the launch. Then again, there's still the potential for upside due to demand.
"On balance, March and June quarter estimates have upside on an absolute basis; nevertheless, it will be crucial that any upward revisions to March quarter estimates in the coming months have a commensurate sell-in adjustment to June quarter seasonality," Shope wrote.
The iPhone 6 and 6 Plus have largely been seen as something of a revelation for Apple, with the introduction of larger screen sizes (4.7-inches and 5.5-inches, respectively), as well as the introduction of Apple Pay, Apple's mobile payments initiative. However, not much is known about the next iPhone cycle, but Shope says the next cycle will be iterative, rather than revolutionary.
"With that said, some of Apple's strongest years have occurred with such iterative cycles (e.g. iPhone 4s). This strength is largely due to the fact that "s" cycles tend to enjoy a much lower cost structure, as Apple is able to leverage prior cycle component and manufacturing efficiencies; indeed, in the first two quarters of the iPhone 4s cycle, overall corporate gross margins increased 712 basis points from the quarter prior to launch to a peak of 47.4% in March of 2012," Shope wrote.
If Apple can continue to fend off the competition, including Google, which has worked hard to get its Nexus smartphones close to the quality of the iPhone, it's possible that Apple could even begin to retake market share, something Apple has not focused on in the past.
"If Apple can hold its competitive momentum in 2015, it is reasonable to assume that the company can begin to regain share in 2015," Shope wrote.
The iPad, however, is an entirely different story than the iPhone.
Apple has worked hard to boost sales of its tablet, having announced a deal with IBM (IBM) - Get International Business Machines (IBM) Reportearlier this year to help boost iOS device sales in the enterprise, with the first fruits of that partnership having been revealed earlier this month.
Goldman Sachs' Shope is of the mindset that iPad weakness is likely to continue in 2015 from a consumer standpoint, but demand as at least stabilized. The enterprise, led by the IBM deal, could be a big driver for sales, especially if the rumors prove true that Apple is indeed going to launch a larger iPad, to the tune of around 12.9-inches, compared to the 9.7-inch screen for the iPad Air 2.
At this point, there has been little to show in the rumor mill or with talks in Apple's vast supply chain to point to a larger iPad coming in 2015, thus keeping the lid on sales, with Shope expecting iPad sales to grow 4.4% in calendar 2015. "In the end, the iPad will still be overshadowed by the iPhone in either case, but any signs that Apple is becoming less dependent on one product family would be welcome news over time."
Even though Apple is still fairly dependent on the iPhone, which accounts for more than half of its revenue, the great unknown at this point is the Apple Watch, the company's well-hyped entrant into the wearable device market.
Unveiled in September, with a starting price of $399, Shope says the watch isn't likely to help from a financial perspective, assuming 9.5 million units sold in calendar 2015.
However, he does say there's real potential for Apple Watch to be a monster hit, which would bolster the company's financials, something he doesn't have built into his model, just yet.
"[I]f the product is a hit and ASPs/margins are higher than our conservative assumptions, then investors could potentially attribute a higher multiple to Apple's stock since the watch would have proven that Apple has, once again, created a new, high-profit product category."
--
Written by Chris Ciaccia in New York
>Contact by Email.