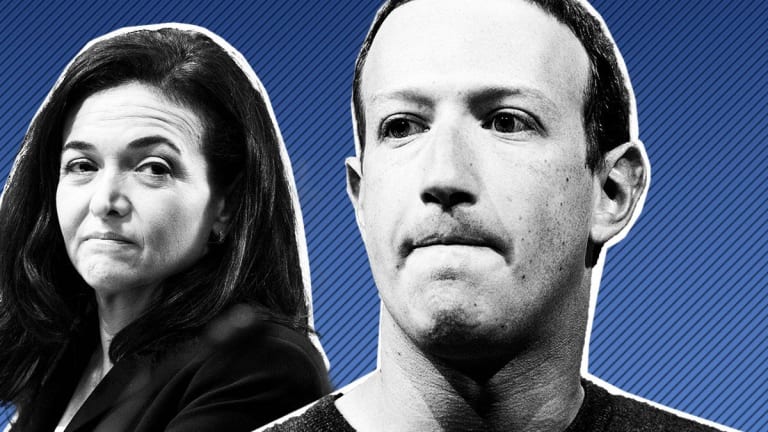 Publish date:
Facebook's Latest Scandals and Morale Woes: What Do They Mean for Its Stock?
An New York Times report painted an embarrassing picture of dysfunction in Facebook's upper ranks, and a survey revealed a steep drop in morale. What does this mean for Facebook?
An New York Times report painted an embarrassing picture of dysfunction in Facebook's upper ranks, and a survey revealed a steep drop in morale. What does this mean for Facebook?
Stop me if you've heard this one before, but: Facebook's got some issues.
This time around, it was a damning New York Times investigation outlining in detail how Facebook's (FB) - Get Report upper ranks -- including CEO Mark Zuckerberg and COO Sheryl Sandberg -- ignored, denied and deflected the growing threat of fake news, malicious content and Russian political interference on the platform. In a blog post on Thursday, Facebook disputed some of the article's claims but reiterated that "in the two years since the 2016 Presidential election, we've invested heavily in more people and better technology to improve safety and security on our services."
Facebook was also taking particular criticism for hiring a Washington D.C.-based public relations and opposition research firm, Definers Public Affairs, which used aggressive tactics to circulate negative stories about Facebook's rivals. Facebook fired the firm this week, and Zuckerberg and Sandberg have denied knowing that the company even used Definers.  
Dishy as the details may be, for investors the consequences of management dysfunction at Facebook are quite real. Facebook's share price has sagged under the weight of its many scandals, falling more than 33% since its July earnings report disclosed heavier spending on security and fraud issues: "We're investing so much in security, that it will significantly impact our profitability," Zuckerberg told investors on a July 25 call. 
Morale has also sunk to new lows at Facebook according to a Wall Street Journal report, with just 52% feeling optimistic about Facebook's future, down from 84% one year ago and 67% this past April. More embarrassing news stories about management woes aren't likely to help matters. 
Facebook investors may be well advised to take note. For Pivotal's Brian Wieser, the relentless barrage of bad Facebook news serves as a potential red flag "that the company is not as in control of its business as it needs to be," he wrote in an October note.
Responding to criticism that Facebook's management and board were slow to act in the face of growing threats, Facebook's board issued a statement on Thursday. 
"As Mark and Sheryl made clear to Congress, the company was too slow to spot Russian interference, and too slow to take action. As a board we did indeed push them to move faster. But to suggest that they knew about Russian interference and either tried to ignore it or prevent investigations into what had happened is grossly unfair."
Facebook's management undoubtedly would rather avoid the scrutiny as the embattled social network strives to reassure employees, and investors, that it has truly righted the ship. 
Reassurances aren't good enough for at least some Facebook shareholders. Several weeks ago for instance, a group of large shareholders, who collectively hold billions in Facebook stock, advanced a proposal to split the CEO and chairman roles at Facebook, and to install an independent chair. Facebook's endless string of controversies and missteps can be linked to unchecked power in the hands of Zuckerberg and an insular boardroom, the shareholders argued. 
"An independent board chair is essential to moving Facebook forward from this mess, and to reestablish trust with Americans and investors alike," said New York City Comptroller Scott M. Stringer, who co-signed the proposal. 
Facebook is a holding in Jim Cramer's Action Alerts PLUS Charitable Trust Portfolio. Want to be alerted before Cramer buys or sells these stocks? Learn more now.