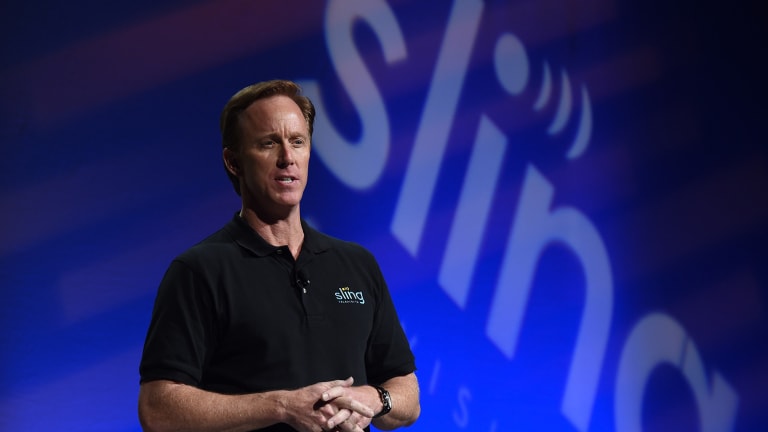 Publish date:
What Dish's Sling TV Really Needs to Take Off
The slim TV bundle - fewer channels for less money - is part of an "inexorable march" away from clunky pay TV subscriptions, says Sling TV CEO Roger Lynch.
The slim TV bundle - fewer channels for less money - is part of an "inexorable march" away from clunky pay TV subscriptions, says Sling TV CEO Roger Lynch.
NEW YORK (TheStreet) -- Dish (DISH) - Get DISH Network Corporation Class A Report is betting the traditional pay TV model won't last much longer.
That's why the satellite-TV provider started Sling TV in January, rolling out a "slim" bundle of 22 channels for $20 a month, available online. Sling TV targets viewers who prefer to watch a handful of premium channels rather than signing up for a traditional pay-TV subscription that offers hundreds of channels they may not ever watch.
Dish's offering comes as media companies are trying hard to capitalize on the popularity of Internet-based streaming services, most particularly Netflix (NFLX) - Get Netflix, Inc. (NFLX) Report, the unequivocal leaders in video streaming.
While Sling TV offers a compelling menu of channels -- Disney's (DIS) - Get Walt Disney Company Report ESPN, Time Warner's (TWX)  TBS and CNN, AMC Networks' (AMCX) - Get AMC Networks Inc. Class A Report flagship network -- it doesn't offer viewers what they get at Netflix: a deep backlog of films and television shows easily accessed on demand.
That's likely one reason that Sling TV has booked just 250,000 subscribers since it began six months ago, according to a report earlier this month from Re/code. Netflix, which has been around since 1999, has 41 million subscribers while Hulu, the on-demand platform owned jointly by Comcast (CMCSA) - Get Comcast Corporation Class A Report, Disney (DIS) - Get Walt Disney Company Report and 21st Century Fox (FOXA) - Get Fox Corporation Class A Report, has 9 million subscribers.
One big advantage Sling has over Netflix is that it offers live sports, courtesy of ESPN. The all-sports channel is the most popular offering on pay-TV. Yet, on-demand has become the feature that online viewers have come to expect. So, even as the number of pay TV subscribers falls in proportion to U.S. households, there's no guarantee Sling TV subscribers will ever come close to Netflix.
"If there's one thing that I know, it's that consumers want to shift time more than anything else, said Michael Vorhaus, President of the research and consulting practice Magid Advisors."The real question is, is there anything in the skinny bundle that I really have to have."
For subscriptions to really explode, said Vorhaus, Sling TV will need to let viewers choose not just where to watch, but when.

Right now, most channels in Sling TV's bundles allow on-demand viewing and some let users pause and rewind. But those functions are disabled on its live sports and breaking news channels. Even for programs that aren't live, the service does not permit the kind of binge-watching that has been the hallmark of Hulu or Netflix.
But to add more features or channels, Sling risks making the package more expensive. Sling TV CEO Roger Lynch said he would rather have a smaller bundle if adding more channels "meant we would raise the price."
"Something like 15% of people watch regional sports networks," Lynch said in a June 11 interview at the Northside Festival in Brooklyn, N.Y. "So you're going to charge 100% of the people to get those 15%? If you go down that road, you end up missing the market that we're going after."
Besides streaming services with huge libraries of on-demand content, Sling also faces rivals among traditional content companies. Time Warner (TWX) , Comcast and even CBS (CBS) - Get CBS Corporation Class B Report have each debuted online content. Another competitor is Verizon (VZ) - Get Verizon Communications Inc. Report, whose slimmer FiOS Custom TV package gives customers a basic set of channels and two add-on bundles for $55 a month.
Sling's remains focused on "cord-cutters, cord-nevers, and supplementers,"  Lynch said. In other words, the service is geared toward people who have abandoned pay TV, people that have never paid for TV and entertainment junkies that subscribe to multiple services.
While Lynch would not comment on Sling's current subscriber numbers, he said Dish would likely disclose its subscriber figures for the first time in an earnings report later this year.
SlingTV made its debut at the end of January after Dish trotted it out at the Consumer Electronics Show earlier that month. The service starts at $20 a month and can be accessed from any mobile device.
Sling's basic package includes ESPN channels courtesy of Disney and AMC. Users can opt for add-on packages geared toward children, sports fans, and news junkies for $5 more each month. HBO costs an additional $15 a month.