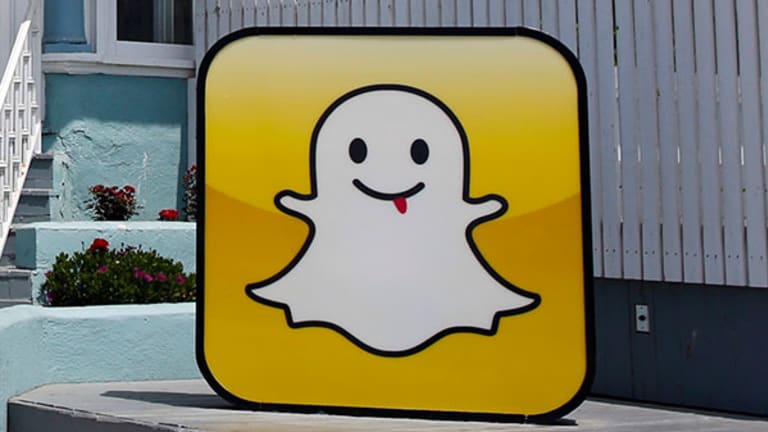 Publish date:
What CNN and ESPN Have to Gain by Partnering With Snapchat
Some of the most recognizable names in media are throwing out the rules of digital publishing to bring their news to audiences otherwise out of reach.
Some of the most recognizable names in media are throwing out the rules of digital publishing to bring their news to audiences otherwise out of reach.
Updated from Jan. 31 to include additional information in the twentieth paragraph.
SAN DIEGO, CALIF. (TheStreet) -- If I told you that I knew of a popular app where media companies could publish stories that can't be shared, content would vanish after 24 hours, and each article would require a high level of production, you would laugh hysterically. Preposterous, right?
Yet some of the biggest names in publishing have glommed on to Snapchat's newest feature: Discover, a news portal that defies the rules of conventional digital publishing.
Launched Tuesday, Discover offers Snapchat's extremely youthful audience a radical way to consume the day's news. More than a dozen of the most recognizable names in media, including Turner Broadcasting-owned CNN, Hearst Corporation's Cosmopolitan, and Disney's (DIS) - Get Walt Disney Company Report sport entity ESPN, have their own branded channels and are producing a handful of custom stories for tweens, teens, and Millennials on a daily basis.
But why?
Snapchat's Discover is analogous to a television network, Troy Young, president of Hearst Magazines Digital Media, told TheStreet. "We're a cable channel, so we're programming something daily that's unique to a format and a device," he said. "[Snapchat has] a distribution mechanism that people are using everyday."
Young might be on to something as the app reportedly reaches a monthly audience of 100 million people, most of whom likely aren't the types that turn to traditional print, television, or web channels for their news.
While age is a growing issue for publishers, youth certainly becomes Snapchat. The startup's audience is the youngest among all social and messaging apps with 59% of global users, excluding China, between the ages 16 to 24, according to GlobalWebIndex's third-quarter 2014 report on social networking trends. And a July 2014 poll conducted by media research and services company NuVoodoo found that 36.8% of 14-to-17-year-old U.S. Internet users said they used Snapchat at least weekly. Compare that to a 2013 survey, which found only 20% of 18-to-24-year-olds said they read newspapers, according to Scarborough Research, a Nielsen (NLSN) - Get Nielsen Holdings Plc (NLSN) Report company
"It's fair to say that on-demand, instant-gratification media that is mobile native is the number one preference of people under 25," digital media researcher Leora Kornfeld, formerly of the Berkman Center for Internet and Society at Harvard, told TheStreet. "The idea of waiting to watch the news, or, God forbid, picking up a newspaper ... why would you do that if all you've ever known is on-demand media delivered primarily on a mobile device?"
Snapchat, then, is a direct link to the future. As such, it can dictate the new rules for news, Kornfeld said.
"The large media organizations were very accustomed to being the ones who made the rules and set the standards," Kornfeld said, but now they're dealing with an entire generation of people who will never visit their platforms. "If these are people ... who are never going to turn on CNN on a TV or go to CNN.com, and CNN can somehow smuggle itself into the application that they're already on, then that is a win for CNN."
CNN did, in fact, maneuver its way in front of the Snapchat crowd for exactly the reason that Kornfeld theorizes. The same goes for ESPN, which is attempting to reach an audience it otherwise couldn't, Executive Vice President of Digital and Print Media John Kosner told TheStreet.
"Snapchat has a young audience. We want to be in front of those people," CNN's Head of Social Media and Senior Director of Strategy Samantha Barry told TheStreet. "Not only are we surprising people by the partnership, but also people are going to be super impressed with the way that we're telling news creatively that is native to that platform."
The network's average audience skews much older than Snapchat's. CNN's cable television audience is in their 50s, while the desktop audience is in their 40s, and mobile viewers are in their 30s, Matt Dornic, a spokesperson for CNN, said. With Snapchat's assistance, he said, CNN can reach everyone from teens to seniors.
The media company, like Snapchat's other launch partners, is taking the opportunity to reach potential first-time viewers quite seriously. CNN, for its part, has a dedicated editorial team of five staff members producing videos, graphics, photos, and articles unique to the app, with content meant to be both informative and fun. ESPN and Cosmopolitan, meanwhile, rely heavily on people across their various teams. In all, Discover, though still in its earliest days, feels quite mature and represents a number of deliberate, unconventional -- at least as far as social networks go -- choices made by Snapchat's 24-year-old CEO Evan Spiegel.  
"Evan smartly wanted a magazine-line, self-contained experience where everyday someone would be delighted by a package of content where the experience was holistic and curated," Hearst's Young said.
Each story offers a teaser of sorts, a quirky looping video perhaps, and the user can swipe up to see more or swipe left to move to the next piece. Content is expertly packaged by trusted brands and is refreshed just once per day, making the product's programmed channels the antithesis of Twitter's (TWTR) - Get Twitter, Inc. Report real-time news stream and distinct from Facebook's (FB) - Get Facebook, Inc. Class A Report   algorithmically driven feed. Indeed. Spiegel seems to thinks his rivals are going about news delivery all wrong.
"Social media companies tell us what to read based on what's most recent or most popular. We see it differently. We count on editors and artists, not clicks and shares, to determine what's important," the Snapchat team wrote defiantly in the company's blog post on the launch.
What's more, there is a consumer tension between wanting a never-ending stream of information and a desire to recapture the pre-web news experience of putting the paper down, Joshua Benton, director of the Nieman Journalism Lab, told TheStreet. "There's a real value in the sense of, 'I'm done'," he said. "Particularly for people who may not be seeking out a lot of news, the idea of that one package that you finish is, I think, potentially powerful."
In selecting Snapchat, media companies and their sponsors are, however, sacrificing quite a bit, not least of which is granular insight into the demographics of the people who check out their channels. With a limited selection of available analytics, return on investment will probably be impossible to calculate. That doesn't appear to have deterred the likes of BMW, Limited (LTD) brand Victoria Secret, and Comcast's (CMCSA) - Get Comcast Corporation Class A ReportUniversal Studios, which have signed on as sponsors of the CNN, Cosmopolitan, and ESPN channels, respectively.
Snapchat's media partners secure their own sponsors and share a portion of revenue with the startup, though none of the companies involved are disclosing specifics. Partners might even prove more successful than Snapchat itself in securing sponsor deals, as advertisers have reportedly winced at the $750,000 price tag the startup is charging for a day's worth of disappearing ads.
The executives interviewed for this story seemed unconcerned by the limitations imposed by Discover, though certainly all would be reluctant to speak ill of their new partner. One does, however, get the sense that Snapchat's initial partners would prefer to be on the cusp of something forward-looking as opposed to being behind the times. Of course, whatever money they collect from sponsors probably makes the uncertainties a little easier to stomach.
"The beauty of this is we time to figure it out," Kosner said. "It's not at such big stakes that if we make a mistake it will be punitive."
Perhaps. Though Snapchat certainly has a lot on the line. The three-year-old startup, reportedly valued at $10 billion, has raised to date $648 million in funds from venture capitalists. They would surely like Snapchat to be viewed as something more than a sexting app so that it can produce the kind of sales that would justify their multi-million dollar bets.
If Snapchat gets this right, Kornfeld said, the company can scale up to an older demographic and expand its purpose and definition beyond a disappearing picture app. "It's a play toward getting people over the age of 24 who aren't interested in sending selfies," he said.
Discover, then, can change the way people think about both Snapchat and its partner media companies, which makes the stakes pretty high for everyone involved.
--Written by Jennifer Van Grove in San Diego, Calif.
>Contact by Email.