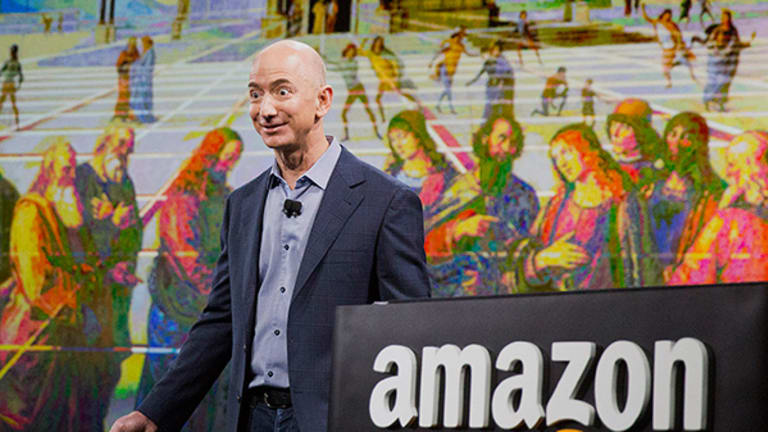 What Amazon's Surprising Profit Says About Its Future--and Its Stock
Amazon wowed analysts with an impressive second quarter, signalling that the company may have finally reached the tipping point and established itself as a profit-making organization.
NEW YORK (TheStreet) -- Amazon (AMZN) - Get Amazon.com, Inc. Report wowed analysts with an impressive second quarter, signalling that the company may have finally reached the tipping point and established itself as a profit-making organization.
The Seattle-based company reported second-quarter revenue of $23.2 billion, up 20% year over year, and earnings of 19 cents per share. Analysts surveyed by Thomson Reuters were expecting Amazon to lose 14 cents a share on $22.4 billion in revenue.
While this isn't the first time Amazon has turned a profit, analysts are viewing this quarter as a signal of good things to come. In the past, Amazon has turned a minor profit, only to turn around with heavy investments and come back with a loss in a later quarter.
"Just when it would look like the spending spigot was being turned off, they would accelerate spending again, so a lot of investors had been looking for a margin turn that never materialized," said B. Riley & Co. analyst Scott Tilghman.
Fast forward a few years, and now the company has finally reached a point where it can absorb investments while continuing to hold a profit, Tilghman said.
"You'll still have some periods of lumpy expenditures, but for incremental growth opportunities I think the spending relative to Amazon's scale will be less noticeable."
This is all clearly great news for those who got in on Amazon early, but is it too late to invest in Amazon now? Shares of Amazon soared following the earnings beat on Thursday and are now up around 15% to $554.61.
"It's not as attractive as it was six months ago, but the momentum is still very strong with the business and that's usually what drives stocks," Weinstein said. "Margins are still low. There's still room for them to put up a healthy beat. It doesn't necessarily mean that they will, but the opportunity is there."
On top of Amazon's own opportunities, the e-commerce market at large still has tons of room to grow. According to the U.S. Census Bureau from the first quarter of 2015, e-commerce only accounts for 7% of the U.S. retail market.
"This story has legs for the next decade because e-commerce is still shockingly small percent of what's bought in the U.S.," said Piper Jaffray analyst Gene Munster. Munster sees e-commerce heading towards 30% of the U.S. retail industry, and "Amazon has the best position to capitalize on that."
What makes Amazon unique compared to other public companies is its tendency to have a much more forward-thinking approach when making investments. So while Wall Street tends to look at the 12 month impact, Amazon is looking 10 years ahead. It seems that the company has finally gotten to the point where analysts can see the fruit of this approach.
Investments in the cloud services business Amazon Web Services have finally paid off. Investments in digital content are starting to pay off. Investments in Prime are paying off.
This isn't to say that Amazon will halt future investments. If anything the opposite is likely. Amazon has promised to ramp up investments in India in particular and will also likely continue spending on fulfillment improvements and AWS. But the company seems to now be strong enough to withhold such investments and sustain profitability moving forward.
"There are seasonal fluctuations in the business and investment cycle fluctuations in the business, but I would say that probably over the next several quarters we should be seeing year over year improvements in profitability and a more profitable business," said ITG analyst Steven Weinstein. "Things will ebb and flow, but it seems as though the progression is improving profitability."