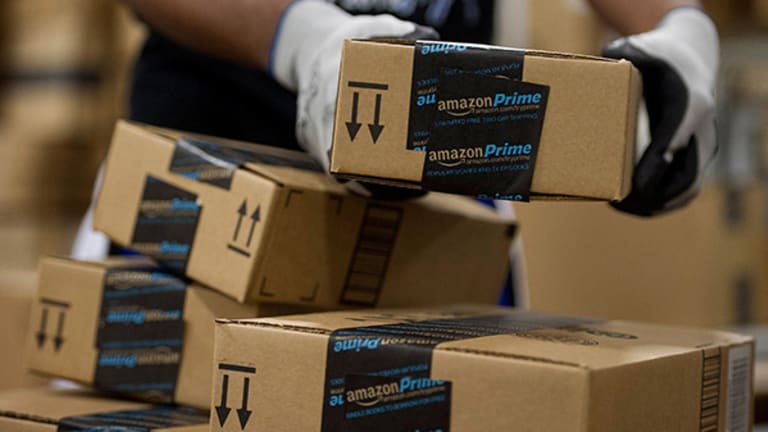 What Amazon Is Doing to Make Sure Items Arrive on Time This Holiday Season
The company is pulling out all the stops to avoid the shipping delays that disappointed customers two years ago.
Amazon (AMZN) - Get Free Report is on track to hit some new highs over the holiday season, but with higher sales come greater demands on logistics, and the e-commerce giant is pulling out all the stops to make sure packages arrive in a timely fashion this year.
Two years ago, Amazon ran into trouble when a number of its packages arrived on December 26, the most disappointing time for a Christmas gift to arrive. The issues were mainly due to UPS (UPS) - Get Free Report not being able to handle a surge in orders amid harsh weather, but Amazon customers were still not happy.
Last year's holiday deliveries went more smoothly, but to make sure this year doesn't see a repeat of 2013, Amazon is doing everything in its control to tighten its logistics efficiencies.
"We always work very closely with our delivery partners and are confident in their ability to deliver for Amazon customers this holiday," said Amazon spokesperson Katie McFadzean.
But that doesn't mean Amazon is just sitting back relying on partners.
"They spend 10 months of the year preparing for this," said Piper Jaffray analyst Gene Munster. Munster expects Amazon's holiday sales to be up 20% over last year, but he believes the company can handle the growth in volume thanks to additional, bigger, and more efficient fulfillment centers.
Amazon is up to 106 fulfillment centers in North America, according to ChannelAdvisor. The company is also investing in automation to make fulfillment centers more efficient.
"Amazon is very far ahead of any other retailer in the build-out of e-commerce oriented logistical infrastructure," ChannelAdvisor Executive Chairman Scot Wingo wrote in a blog post. "Amazon now has the ability to put millions of products miles away from a large portion of the US population. In a world where selection/assortment, fast/inexpensive shipping matter to the consumer, Amazon has built a huge competitive moat that is 10X larger than the nearest competitor."
Plus it's hiring 100,000 seasonal workers, 25% more than last year, to keep up with the extra orders.
"We have a distributed and growing network of fulfillment centers across the country that are flexible," McFadzean said. "We can adjust quickly to pull items from different locations in order to manage different variables that come up during the holidays."

Another factor that could help Amazon manage delivery times is that it spreads out its deals. With eight days of Black Friday deals plus another eight days of Cyber Monday deals, the shopping won't all fall on the four-day Black Friday to Cyber Monday stretch, which will make it easier for Amazon to handle demand.
On top of the traditional methods of boosting delivery efficiencies, Amazon is always testing new ways to innovate in logistics.
Most famously, perhaps, Amazon is testing delivering merchandise by drones. The Federal Aviation Administration has yet to approve such an operation, but if it does sanction the use of drones for commercial deliveries, it could cut Amazon's delivery time to 30 minutes, or less. The FAA has said that it plans to finalize drone regulations within the next year, and Amazon has said the company will be ready to start drone delivery as soon as it is approved, so this could be a reality in 2016.
Amazon also has a patent for a delivery system called "anticipatory delivery." It's designed to allow Amazon to predict a consumer's future purchase and prepare it in advance for shipping -- even before the customer clicks on the word "buy." Amazon would keep the merchandise in either a nearby warehouse or on a truck before the purchase is made.
Recently, there have also been reports of Amazon creating its own traditional delivery networks to cut out parcel carriers entirely. Motherboard reported that Amazon may be testing an air cargo system in Ohio with aviation holding company Air Transport Services Group. And DC Velocity reported that Amazon may be building an entire transportation network in 2016 to get delivery down to 1.5-2 hours. Amazon declined to comment on these reports.
While it's unclear when or even if these delivery experiments will ever be implemented, one thing is certain--Amazon takes delivery seriously, especially during the holidays.
"They won't have a repeat of a past history where they delivered Christmas gifts on the 26th," said Gartner analyst Gene Alvarez. "Amazon focuses on two key areas of the customer experience and wants to continually improve them. One is the digital experience, and the other aspect is the delivery experience. Their delivery execution improvement will be an ongoing area for the life of Amazon."