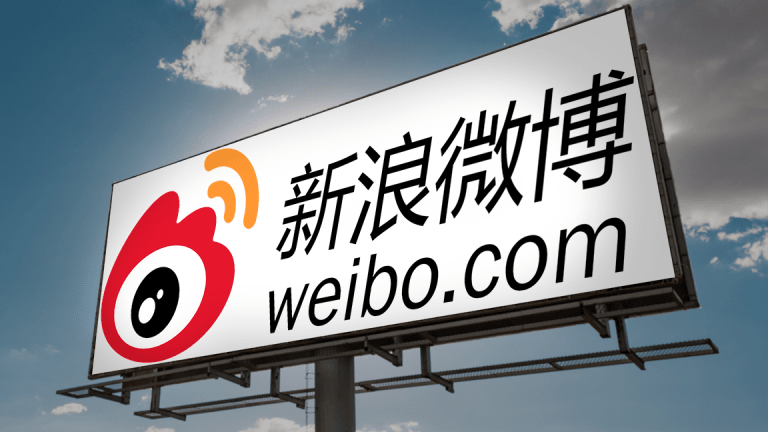 Weibo Sinks After Whiffing on Revenue Guidance
The stock tumbles after Weibo issues second-quarter revenue guidance below expectations.
Shares of China-based Weibo (WB) - Get Weibo Corporation Report , a micro-blogging site, dropped more than $7.70, or 15%, to $43.45 Thursday on weak second-quarter revenue guidance.
The social media company did, however, report a first-quarter profit beat.
First-quarter 2019 adjusted earnings were 56 cents a share, up from 50 cents a year earlier and ahead of analysts' estimates of 53 cents.
Weibo said it sees second-quarter net revenue between $427 million and $437 million, an increase of 7% to 10% year over year on a constant currency basis of RMB 6.90 to US$1.00 (vs. current RMB 6.92). Weibo's forecast was a far cry from the consensus estimate of $481.8 million, according to Bloomberg.
First-quarter net revenue was $399.2 million, up 14%, slightly off the consensus $399.6 million.
Monthly active users increased about 13% to 465 million at the end of March. 
On Real Money Pro, Tim Collins explains why he believes there may be a trading opportunity in Weibo.
There are 16 buys, 11 holds, and no sells on the stock, according to Bloomberg. The consensus target price is $72.18 on FactSet.