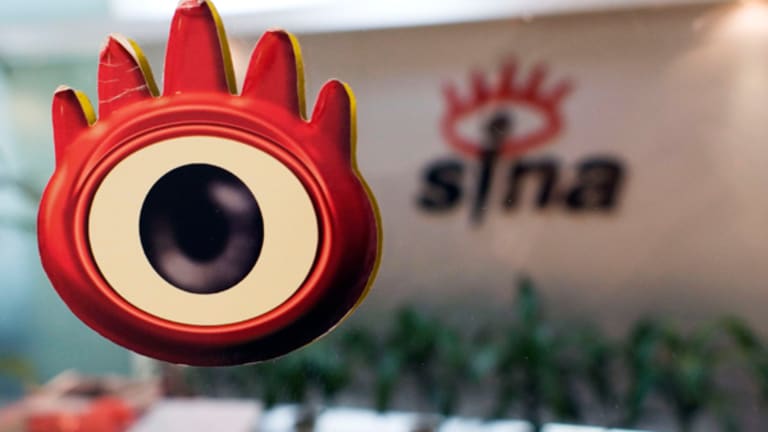 Weibo IPO Makes Twitter Look Profitable, Less Diversified
Alibaba can boost its investment in Weibo to 30%, according to the company's F-1 filing.
Alibaba can boost its investment in Weibo to 30%, according to the company's F-1 filing.
Updated from March 14th to include additional information about proceeds in the third paragraph, as well as news that Alibaba has filed to go public in the fifth paragraph.
NEW YORK (TheStreet) - Weibo, often referred to as the Chinese version of Twitter (TWTR) - Get Report, has filed for an initial public offering in the U.S with a placeholder amount of $500 million. At first glance, the fast-growing company makes its U.S. micro-blogging counterpart look profitable but less diversified.
In China, Weibo provides a way for users and organizations to publicly express themselves in real time and interact with others in a similar fashion to Twitter in the U.S. The company was founded in 2009 and is majority owned by Chinese internet company SINA (SINA) - Get Report.
In the filing, Weibo said that it would use approximately $250 million of the proceeds to repay loans back to parent company, Sina. "We will use approximately $250 million of the net proceeds we receive from this offering to repay loans we owe to SINA, our parent company and controlling shareholder."
In early 2013, Chinese e-commerce giant Alibaba Group invested $585.8 million in Weibo for approximately 18% of the company's outstanding shares. According to a disclosure on Weibo's "investor option liability," Alibaba can increase its stake in the company to 30%.
Alibaba is partially owned by Yahoo! (YHOO) , which has a 24% stake in the Chinese Internet giant. Over the weekend, Alibaba announced that it too would be going public, seeking a listing in the United States, and not Hong Kong. "Alibaba Group has decided to commence the process of an initial public offering in the United States," the company said in a statement. "This will make us a more global company and enhance the company's transparency, as well as allow the company to continue to pursue our long-term vision and ideals. Should circumstances permit in the future, we will be constructive toward extending our public status in the China capital market in order to share our growth with the people of China."
As of the end of 2013, Weibo had 129.1 million monthly active users and 61.4 million average daily active users, a significant increase from the previous year . Over 70% of the company's monthly active users in accessed Weibo through mobile devices in December.
According to the company's F-1 filing, Weibo generated $188 million in revenue in 2013, a near quadrupling of sales versus year-ago levels. The company, however, only saw its net loss narrow from $102 million in 2012 to $38 million this year.
Beijing-based Weibo generates revenues from advertising and marketing, similar to Twitter, but generates a lot of advertising revenue from one client, Alibaba, which is looking into its own IPO later this year. The company noted its advertising and marketing revenues increased by 191% from $51.0 million in 2012. However, advertising sold to Alibaba accounted for $49.1 million, or 33.1%, of its advertising and marketing revenues in 2013.
The company also has other revenue streams, including game-related services, and VIP memberships. Other revenues rose 168% year-over-year to $39.9 million in 2013.
Revenue from game-related services increased jumped to $22.9 million in 2013 from $12.7 million in 2012, while VIP membership revenue rose to $11.1 million from $2.2 million in 2012. The company ended 2013 with 700,000 VIP members, up from 400,000 in 2012. "Our introduction of additional sources of other revenues in 2013 to further monetize our user base and the content on our platform, including data licensing, also contributed to the increase," the company noted in the F-1 filing.
On a measure of adjusted earnings before interest, taxes, depreciation and amortization (EBITDA) Weibo's annual loss narrowed from $80 million in 2012 to a loss of $6.3 million in 2013. Were it not for Weibo's "investor option liability" the company would have generated positive EBITDA in 2013.
Still, by any measure, the Chinese version of Twitter appears less profitable than Twitter as it moved towards a November 2013 initial public offering.
In the nine months prior to Twitter's IPO, the company generated $30.7 million in adjusted EBITDA and had a user base of nearly double that reported by Weibo.
Goldman Sachs and Credit Suisse will lead Weibo's IPO.
-- Written by Antoine Gara and Chris Ciaccia in New York.