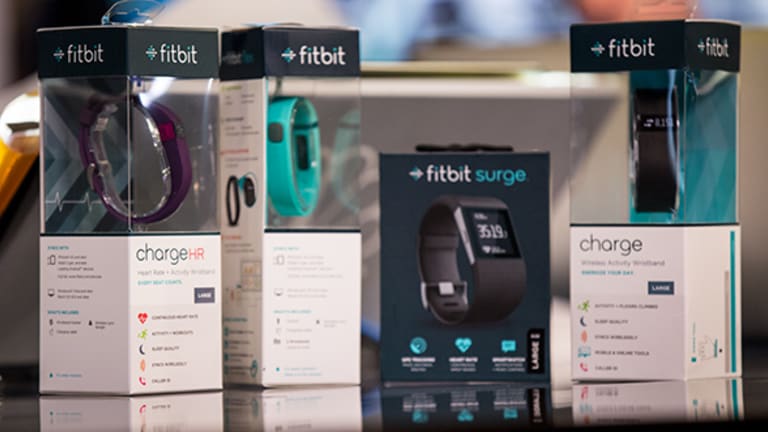 NEW YORK (TheStreet) -- There was a time when the only devices comparable to fitness trackers or wearables were worn by James Bond and Dick Tracy. However, what was once a futuristic gadget is now part of our daily lives, with one in 10 U.S. adults sporting one around their wrist, According to IDTechEx, the total value of the wearables sector could increase to $70 billion by 2024.
"Fitness trackers and wearables continue to raise consumer interest by giving them the ability to track their own individual health," said Silicon Valley Bank Managing Director Jonathan Norris. "When you start to match the advancements in technology, specifically monitoring and tracking, with what we're seeing in healthcare, I believe in the next decade there is going to be some really exciting innovations in the sector."
About 3.3 million fitness bands and activity trackers were sold from April 2013 to March 2014 in the U.S., according to the NPD Group. Fitbit (FIT) - Get Fitbit, Inc. Class A Report is the leader in this space, which accounted for 67% of sales for the period. Privately held Jawbone came in second, holding about 18% of the market.
Shop for fitness bands and activity trackers on Amazon.

Fitbit recently completed a highly successful initial public offering and its shares have risen 45% since the first day of trading. In its first quarterly earnings report as a public company, Fitbit reported revenue of $400 million, more than three times the same period last year and earnings at 21 cents per share compared to the 8 cents estimated by analysts surveyed by Thomson Reuters.
The number two player, Jawbone, has raised more than $400 million in debt and equity investments and  has over 450 employees.
"Right now wearables are high-profile, with a lot of investments coming in," said Jawbone Group Manager, Wellness and Platform Andrew Rosenthal. "We have invested a lot of time into the system and I believe that this is where the market is going. It's the system that matters - the device is just the way into it."
Jawbone sees the competitive landscape in three key categories: fitness, smartwatches and lifestyle trackers. The company is focused on lifestyle trackers, and complements the other two through partnerships. It has about 3,000 partners currently on its platform.
"Our focus has always been, and will continue to be, on human-centered technology that solves a problem and makes daily experiences even better," said Rosenthal. "We use a combination of design, engineering, hardware and excellent software and data to do so."
With the success wearables have enjoyed in the health care sector, other companies are getting on board and adding new software to their devices that will help better people's lives.
Rufus Labs, creator of the wrist communicator Rufus Cuff, has recently partnered with Punch Alert to develop software for first responders. Together they aim to minimize the time it takes for the responders to reach people in distress. With the device responders will receive notifications, real-time location tracking, mass critical updates and crowd-sourced information from team members as well as from civilians who are using the app.
Rufus Labs has raised $400,000 to date from friends and family and angel investors, and is now looking to open a $5 million Series A round later this year.
"Some of our investors include Roger Wagner, who wrote one of the first books on code for Apple and was an early investor in PayPal (PYPL) - Get PayPal Holdings Inc Report, Brandon Routh, Courtney Ford, Greg Smith and Franco Bario," said Rufus Labs CEO and Co-founder Gabe Grifoni. "While other companies are heavily focused on smaller devices geared toward consumers as fitness accessories or smartphone redundancies, we are focused on a widescreen wearable with a large battery, a full operating system and standalone abilities.
"These and a few other differentiating factors and the arenas we are tackling from emergency responders to warehouse workers make us a very interesting value proposition for the investor we have been speaking to and those already in the Rufus family."
The two companies plan to bring additional safety features that were developed to save the lives of the first responders. The Rufus Cuff is equipped with a built-in, 9-axis motion detection system that can identify if the responder needs assistance or isn't moving. Punch Alert notifies team members if a responder does not reply to safety status checks.
"Most platforms for emergency responders were built on older technology," said Punch Alert CEO Greg Artzt. "We want to bring more functionality that allows responders to communicate hands-free, and we found the perfect fit with the Rufus Cuff. When the integration with Rufus Labs goes live, we will be launching PAL that allows users to request help from their neighbors."
This article is commentary by an independent contributor. At the time of publication, the author held no positions in the stocks mentioned.