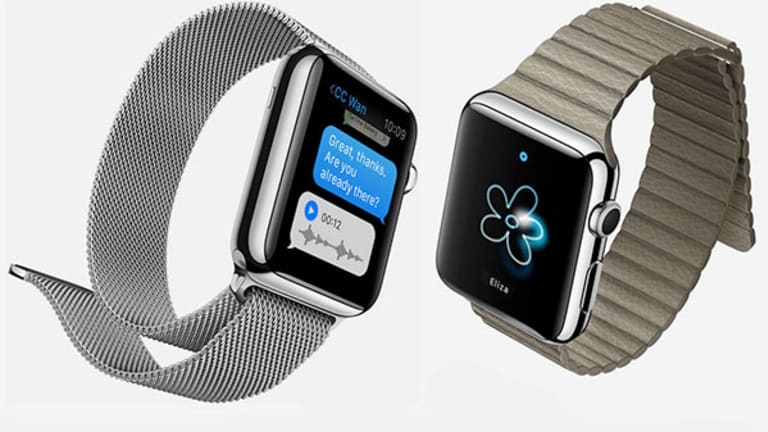 NEW YORK (TheStreet) -- Smart watches, smart glasses, clothing, jewelry and other high-tech "wearable" devices are just beginning to make their mark, according to a new study by Juniper Research.
Experts estimate smart device sales will reach 27 million units by the end of this year and will more than quadruple to more than 127 million units by 2017. But, Juniper says less than 5% of smartphones will actually be used with such wearables by that time. Overall, the survey predicts smart wearable device revenues will reach over $53 billion in 2019.
Researchers believe this trend "will bring an explosion of devices into an already crowded market, as smaller companies focus on producing quality hardware without needing software expertise." Juniper warns that as a result, "The segment will be less open to truly unique innovations" and that independent wearables will remain rare, as manufacturers continue to build their software around companion smartphones to encourage dual revenue streams."
The report says the current trend of manufacturers offering separate, computerized wrist watches and health tracking designs will end by 2017. The prediction is that future smartwatches will increasingly add multiple health and fitness sensors and features while current fitness devices, such as the Samsung Gear Fit and RazerNabu will offer notification services as well as activity tracking.
According to Juniper even more advanced wearable technologies will be developed first for enterprise and healthcare applications "as these segments have clear use cases that technology can solve."
Although it's not expected until "early in 2015", the big push is on for the Apple Watch. Unlike other currently available smartwatches, Apple is stressing the new product's design as a fashion icon not just another example of a multi-function digital watch. To that point, Apple design guru Jony Ive is the subject of a new profile in Vogue to tout upcoming the Watch as a super-desirable luxury timepiece.
The Apple Watch, which comes in three versions, will to all iPhone models running iOS8. The Apple Watch will start at $349, though it's expected that the Apple Watch Edition, which has an 18K gold face, may cost upwards of $2,000 or more.
LG, currently manufactures Android Wear watches, is reportedly working on a new design which will run on webOS - the operating system software created by Palm, bought by Hewlett Packard (HPQ) - Get HP Inc. (HPQ) Report in 2020 and finally licensed to LG in February, 2013. LG had said it planned to use the software in future "Smart TV" products but rejected the idea of using the software to run on new smartphones.
Gary Krakow is TheStreet's Senior Technology Correspondent.