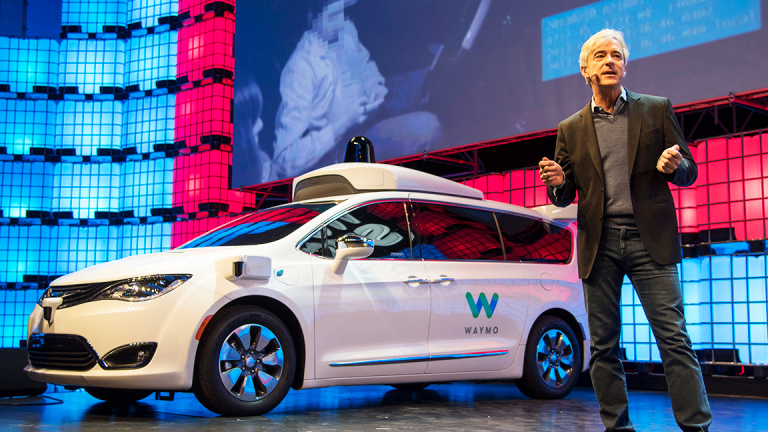 Did Walmart's New Deal With Waymo Change Shopping's Future?
Waymo is branching out its services and now has a number of partnerships in Phoenix.
Changing the game. 
It's hard to not think of Waymo as one of the autonomous driving leaders at this point. The self-driving division of Alphabet Inc.  (GOOG) (GOOGL) continues to make strides and put even more distance between itself and its competition.
The latest step? The company is now teaming up with Walmart (WMT) .
Waymo has been operating in Phoenix for about a year, now providing roughly 400 rides per day in the area. Now rather than acting as solely a taxi service from point A to point B, Walmart locations in the area will be in on the mix.
According to reports, Walmart shoppers can order their groceries online, take a Waymo ride up to the store to pick them up and then catch their ride back home.
Waymo also has other partnerships in the city. For instance, AutoNation (AN) customers can use the Waymo service as their vehicle is being worked on, while customers can hail a ride to DDR Corp's (DDR) Ahwatukee Foothills Towne Center to do some shopping. Finally, Avis (CAR) customers can use the service to pick up their rental car.
Is this helping to expand Waymo's coverage?
To some degree, yes. With more services becoming available, the more functionality the Waymo team can build on. Drop-off and pick-up zones or servicing a queue are great ways to build a mobility-as-a-service platform that can be scaled across the country in the future.
This is particularly important as other companies -- like Uber, Daimler (DDAIF) , Ford Motor Co.  (F)  and General Motors Co.  (GM) -- look to roll out similar services in the U.S. over the coming years. The more experience Waymo has, the better odds it has of providing the most functionality with the greatest accuracy and safety. 
With all that said, I think that's why some of these partnerships are being formed. Other reasons would include building brand awareness among customers and seeing which partnerships offer lucrative opportunities and which ones do not.
Because let's be honest here, ordering your groceries online, taking an autonomous taxi ride to the store for pickup and then returning home is a lot more of an effort than simply: A. Doing it yourself, or B. Having them delivered. In some scenarios, it works, such as with the elderly or those who can't drive, but it's not a very universal or practical solution on the surface. 
But perhaps Waymo could be the delivery service of choice for Walmart orders, not just in Phoenix, but all over the country. That would be a great opportunity for Waymo and potentially give Walmart a way to fight back against online competition. 
This move may also not necessarily be about customers picking up groceries, but a gateway to building out the autonomous ecosystems -- be it with drop-off zones, delivery efforts or commercial opportunities. Even though autonomous driving solutions are starting to hit the road today and the technology is improving rapidly, we're still in the early stages for the industry; there will be plenty of revolution within the space.
So far, Waymo has been making some of the most impressive progress. The company has now logged more than 8 million self-driving miles on the road and plans to fully launch its autonomous taxi service in Phoenix by the end of the year. That's based on management's recent comments in the company's quarterly conference call a few days ago. For comparison purposes, Apple (AAPL) is simply trying to get retrofitted Volkswagen transporter vans to shuttle employees around its campus by year's end and even that seems optimistic at this point.
The bottom line? Waymo is like a tree, continually branching out in new directions. Not all of those branches will live, while some will morph into powerful segments funneling resources down the trunk. Some will play an important role in the overall growth and health of the entity, while some will be mere twigs, ripe for pruning. Nonetheless, Waymo is, at least for the moment, one of the strongest and largest trees in this newfound forest. 
Alphabet and Apple are holdings in Jim Cramer's Action Alerts PLUS member club. Want to be alerted before Jim Cramer buys or sells GOOGL or AAPL? Learn more now.
This article is commentary by an independent contributor. At the time of publication, the author had no positions in the stocks mentioned.