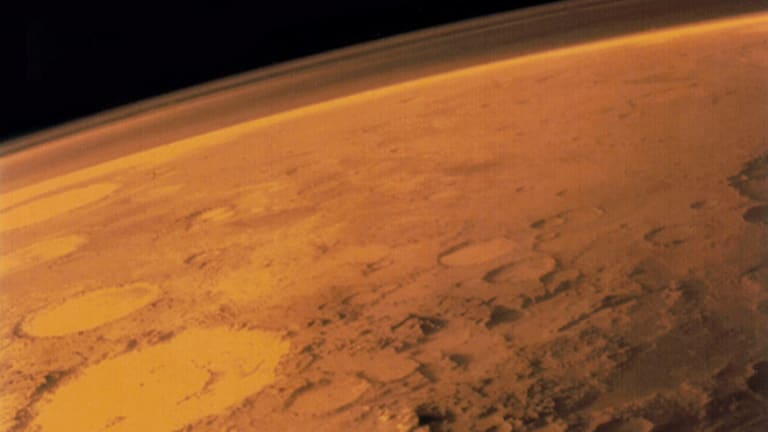 Water Found on Mars -- 5 Companies that Can Benefit
Many space-related companies are poised to benefit from renewed interest in Mars exploration, including a few that offer stock options.
NEW YORK (TheStreet) --NASA's confirmation this week that liquid briny water exists on Mars rejuvenated public interest in the mysteries of space and what potential life could thrive beyond Earth.
But more research on other plants requires more investment in the expensive equipment, technology and expertise from numerous companies contracted by NASA, which is suddenly more enthused to launch other experiments in the next decade on the reddish planet.
NASA could send a spacecraft in the 2020s to one of the regions where streaks of water were photographed with possible experiments to specifically look for life, NASA's associate of administration of science John M. Grunsfeld said during a news conference Monday. "I can't imagine it won't be a high priority with the scientific community."
As of now, the Mars Reconnaissance Orbiter, developed by Lockheed Martin ( (LMT) - Get Lockheed Martin Corporation (LMT) Report ), delivered the data with the water discovery and is one of five spacecrafts in orbit around Mars. Mars Exploration Rover Opportunity and Mars Science Laboratory Curiosity are already exploring the red planet's surface, but NASA, along with some private space companies, wants to put humans there one day.
Here are five companies that could play a crucial role in further investigation of life on Mars:
Lockheed Martin
As the company with arguably the largest role in the discovery of water on Mars, Lockheed Martin is no stranger to Mars-related projects. The Bethesda, MD.-based company, under the guidance of the Jet Propulsion Laboratory, manufactured the $720 million Mars Reconnaissance Orbiter sending the water images.
About $950 million of Lockheed Martin's $6.51 billion in quarterly net income is derived from its space systems efforts, according to research firm Trefis. Of that, $930 million is spent on U.S. efforts such as for NASA.
Lockheed's numerous other space projects include the Mars orbiter, MAVEN, which is studying how the loss of water and atmosphere deteriorated on the planet, and The 2001 Mars Odyssey. MAVEN reached Mars on Sept. 2014 and Mars Odyssey reached Mars Oct. 24, 2001, making it the longest-surviving spacecraft outside of Earth's orbit.
Boeing
Seattle-based Boeing (BA) - Get Boeing Company Report   derives $2.2 billion of its $10 billion in net income from its space and security systems program, according to Trefis. Boeing is part of a joint-venture with Lockheed Martin, known as United Launch Alliance, which provides spacecraft launch services to the U.S. government.
Boeing is certainly already involved in Mars-related business, providing technology related to getting humans on the ground exploring Mars through NASA's Space Launch System.
MacDonald, Dettwiler & Associates
Based in Richmond, British Columbia, MacDonald, Dettwiler & Associates produces products such as the Canadarm, which are the robotic arms used on NASA's space shuttle. Canadian companies like MacDonald, Dettwiler & Associates have been an integral part of NASA's space shuttle program since 1969 and will likely continue to be part of its future Mars missions.
MDA's subsidiaries include Palo Alto, Calif.-based SSL, formerly Space Systems/Loral, which designs and builds satellites and space systems.
SpaceX
One of SpaceX's key missions is to "make human life multi-planetary."
Headquartered in Hawthorne, Calif., SpaceX is competing for government contracts with its Falcon 9 orbit launch vehicles, having recently shared a contract with Boeing  for space taxis. It has contracts to resupply the International Space Station that orbits Earth with crews who are trying to create liveable conditions in space that will perhaps one day be used on Mars.
Investors have been waiting for SpaceX to kickoff an initial public offering as have Elon Musk's other companies, including Telsa (TSLA) - Get Tesla Inc Report , but so far the commercial space exploration company has maintained its privacy.
Blue Origin
Blue Origin, founded by Amazon (AMZN) - Get Amazon.com, Inc. Report founder Jeff Bezos, is a human spaceflight startup company that was kept under wraps until 2006, when it became publicly known after it bought a large piece of Texas land to test launches.
Blue Origin is aiming for space travel that would be open to paying customers and Bezos has said he envisions space trips to unlimited locations -- including Mars.
The company has initiated several tests flights for its orbital vehicle and has landed upwards of $25 million to-date from NASA.
This article is commentary by an independent contributor. At the time of publication, the author held shares of Tesla.