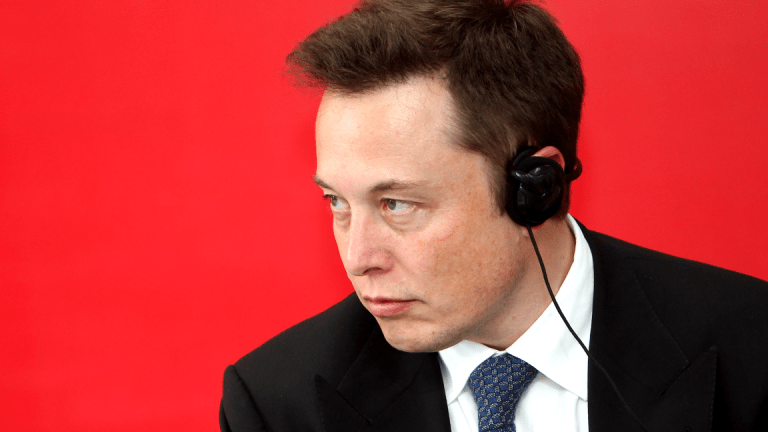 Tesla CEO Elon Musk Says He Doesn't Need a Capital Raise
Tesla CEO Elon Musk answered questions from shareholders on Tuesday.
Elon Musk heard from Tesla (TSLA) - Get Tesla Inc. Report shareholders on Tuesday.
The electric car-maker held its annual meeting at the Computer History Museum in Mountain View, Calif., beginning at 5:30 p.m. ET. As Tesla stumbles in its production ramp-up for the all-important mass-market Model 3, proxy advisers and some shareholders have questioned the board's independence from its Chairman and CEO. Musk's erratic tweets and antagonism towards analysts on a May earnings call have done little to help his cause.
TheStreet has provided highlights as the shareholder meeting proceeded.
Shareholders Side With Tesla
Kicking off the meeting were three Tesla investors providing statements on resolutions on today's agenda, all three dissenting from Tesla's official position. First, we heard from Steve Diamond of CTW Investment Group, who urged shareholders to vote out three directors up for approval to serve for a new term of three years - Antonio Gracias, James Murdoch, and Kimbal Musk - saying that "the board is not an independent, credible voice." Secondly, we heard from shareholder Jing Zhao, who asked shareholders to install an independent chairman; and thirdly, James McRichie, who advocated for greater shareholder proxy access. Shareholders sided with Tesla on all three resolutions. 
Musk Defends Tesla Production 
Musk took the stage to defend Tesla's progress on production of the Model S, claiming that the company will produce 5,000 cars per week by the end of this month and effused that Tesla cars are built "with love." Musk also addressed critical reports of poor safety standards in production facilities, claiming that most injuries are due to issues like repetitive stress or back strain. Musk also spent time lauding the aesthetic value of solar panels, and said that the company is "expecting positive GAAP net income and positive cash flow in Q3 and Q4," and doesn't anticipate having to raise any debt or equity anytime soon. Musk also projected that the Model Y will enter production in the first half of 2020. 
Looking Ahead to a Gigafactory, Better Autopilot and...More Model 3 Questions
Musk trotted out a panel of Tesla stakeholders in production, manufacturing and sales to help paint a picture of some of the company's forward-looking initiatives. They discussed the company's plans for a Gigafactory, which Musk again proclaimed would be "the biggest building in the world." The facility is currently under production in Nevada, and according to Musk, the completion of the factory will greatly accelerate Tesla's production capacity. Musk also answered questions submitted on Twitter, again revisiting Model 3 production issues and pointing out that the "currently the biggest restraints are in general assembly." He also said they "hopefully" will offer a free trial of Tesla's autopilot feature next month, and that he expects the technology to improve soon: "the reliability and capability of autopilot will increase exponentially," Musk said.
Model Y Without a Steering Wheel? 
Musk went on to answer a series of questions from shareholders in the audience. The questions ranged from the use of leather in Tesla vehicles ('vegan options' are offered off-menu, noted one member of Tesla's panel) to the impact of LIDAR technology on Tesla's driverless car development. Many of the shareholders appeared to personally own Model 3's, and asked specific questions about features such as the 'all-wheel-drive' option and improved battery performance. In response to a question about the presence of leather in steering wheels, Musk suggested that Tesla's forthcoming Model Y may have no leather "or any steering wheel at all," to much mirth from the audience. 
Musk Faces Trust Issues
Towards the end of the session, one shareholder told Musk that his trust in Tesla's timelines is eroding, given the company's long history of missing production targets and pushing shipping deadlines. Asked why shareholders and customers should continue to trust Tesla's timelines, Musk blamed the missed deadlines on being an "optimistic person" and offered the following halting reply: "I"m trying to recalibrate these estimates....yeah." That appeared to appease some members of the audience, who laughed off Musk's response. Subsequently, another shareholder asked for more detail on the company's pathway to turning a profit. Musk passed the question off to a member of the Tesla panel, who cited Model 3 gross margin metrics and reiterated the company's position that profit will arrive as manufacturing efficiencies improve and production scales. Musk claimed in April that Tesla will become profitable and cash flow positive by the third or fourth quarter of 2018.