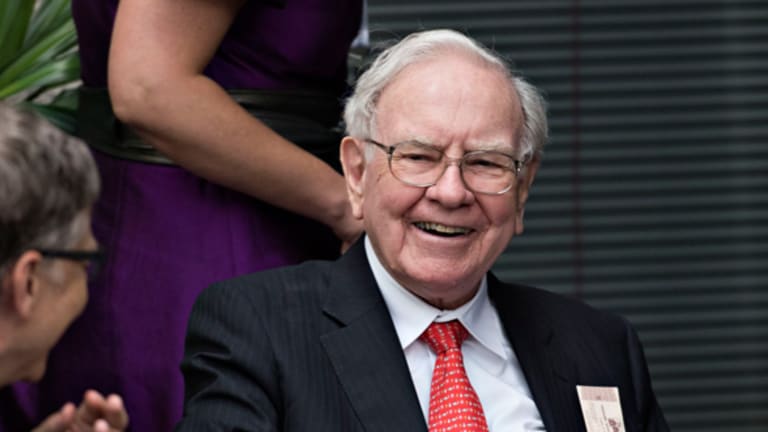 Warren Buffett Announces His 16th eBay Power Lunch Auction
One lucky winner will get to bring seven friends to lunch with Warren Buffett, and the proceeds all go to charity.
NEW YORK (TheStreet) -- Have you ever dreamed of having lunch with Warren Buffett? Do you have about $2 million you were hoping to donate to charity? Well you're in luck.
Starting this Sunday, eBay (EBAY) will open up the 16th annual Warren Buffett Power Lunch Auction, which sends one lucky winner (and seven friends) to lunch with Berkshire Hathaway (BRK.A) (BRK.B) CEO Buffett, where they will be able to glean insights from one of the most successful investors. They'll also get to eat at Smith & Wollensky in New York City.
Just as Buffett has done for the past 15 years, he will be sending all of the winning bid to GLIDE, a charity that helps San Francisco's poor overcome hunger, poverty and homelessness.
"GLIDE helped me understand just how much a life can be transformed by unconditional love and some real material help," Buffett said in a statement. "Nobody who's donated to GLIDE has ever felt shortchanged. They always get their money's worth."
So far, the Buffett Power Lunch auctions have raised nearly $18 million for GLIDE in total. Last year's auction alone brought in $2,166,766, and the highest year brought in $3,456,789.
The auction will open Sunday, May 31, at 7:30 p.m. Pacific time and close Friday, June 5, at 7:30 p.m PT. The bidding will start at $25,000, and all bidders must pre-qualify prior to bidding at ebay.com/glide.
"eBay is committed to building a future that enables and inspires charitable giving at scale, and is grounded in what the company does best -- technology-enabled commerce," eBay's vice president of Global Communications and Social Innovation Claire Dixon said in a statement. "Last year alone, we helped charities raise $91.6 million. eBay is a proud supporter and partner to GLIDE as we assist in its mission of helping San Francisco residents in need."