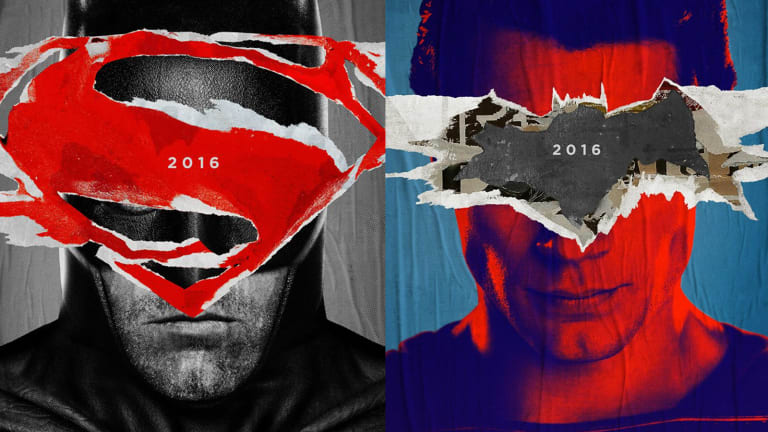 Warner Bros. Wants You to Love the Darker Batman, Superman
The Hollywood studio bets that audiences want more emotionally complex superheroes in 'Batman v. Superman: Dawn of Justice', one of 2016's most anticipated films and a Comic-Con headliner.
LOS ANGELES (TheStreet) -- A new kind of superhero?
Warner Bros., the home to DC Comics' Superman and Batman, believes it has a plan to keep audiences coming back for fantastic characters with supernatural talents. This time around, the figures in spandex and splendor are embracing a darker, grittier and existentially conflicted persona. 
The Time Warner (TWX) -owned studio will roll out its early marketing push for next March's Batman v. Superman: Dawn of Justice on Saturday at the annual Comic-Con Interational convention in San Diego, the ground zero for comic enthusiasts, where Hollywood goes to gauge the reaction of what it considers the movie's core audience.
At its panel -- which features Batman v. Superman stars Ben Affleck, Henry Cavill and director Zack Snyder -- the studio will test its nine-figure wager that moviegoers want emotionally complex superheroes as much as they want family-friendlier world savers, such as Ironman, Hulk and Captain America of rival Marvel Studios.
"It's something that we haven't seen yet and a unique approach," said Erik Davis, the managing editor of movie ticket site Fandango.com and Movies.com, both part of Comcast's (CMCSA) - Get Comcast Corporation Class A Report NBCUniversal. "It could really separate (Warner Bros.) from the superhero pack. They could find a lot of success, and get people on board with their version of the superhero universe."
Warner Bros.' gamble on darker themes and internal struggles of superheroes -- all while Disney's (DIS) - Get Walt Disney Company ReportAvengers: Age of Ultron rakes in $1.4 billion in global ticket sales this year -- also gives the big-budget genre lifeblood it needs to stay fresh, said Rentrak (RENT) media analyst Paul Dergarabedian.
"There is room for both," Dergarabedian said of DC Comics and Marvel, whose films are distributed by Disney, 21st Century Fox (FOXA) - Get Fox Corporation Class A Report and Sony (SNE) - Get Sony Corp. Report. "The variety of these movies will ensure the long-term success of the superhero genre."
And Warner Bros. needs its DC Comics films to hit big. The studio, which has been subject of Time Warner's cost cutting, finished in third place at the domestic box office last year and is on pace to finish third again this year. As the studio retools its film properties, it has also suffered declines in operating income in part because of its movie business.
According to Warner Bros.' current plans, the studio will roll out at least two new DC Comics films each year through 2020. Titles include next year's Suicide Squad, Wonder Woman in 2017, and Flash and Aquaman in 2018.
Suicide Squad, which stars villains instead of superheroes, may be one of Comic-Con's surprise teases that studios offer fans to judge reaction and build hype, Davis said from San Diego Convention Center's crowded Hall H, the epicenter of the gathering.
"Marvel has had their reign for a while and will continue to have their reign, but this is the year where studios start producing the different kind of superhero movie," Davis added.
Other studios are also experimenting with adding adult themes to its superhero fare. Fox's X-Men spinoff Deadpool starring Ryan Reynolds and set for release next February comes with an R-rating, which often gross less at the box office due to age restrictions.
But the risk of adding emotional complexity to blockbusters may not be as high as in decades past. Warner Bros. has been tapping into the darker sides of its once campy superheroes since it turned over the Batman series to director Christopher Nolan. Nolan's 2005 reboot Batman Begins helped the studio sell the most tickets that year as well as in 2008 when it released follow-up The Dark Knight.
Nolan's three Batman films grossed about $2.4 billion worldwide for the studio. The director also wrote the story and produced Man of Steel, Warner Bros.' 2013 Superman reboot directed by Snyder that was the year's highest grossing film at U.S. and Canadian theaters.
If Warner Bros.' recent success with its Batman and Superman properties are any indication, the formula tested by Nolan and Snyder bodes well for the studio's DC films, and how it has been able to differentiate its main superhero products from Marvel.
But it will be a delicate balance for all studios involved, Dergarabedian said.
"The trick over the next many years," he added, "is to have just the right combination of themes, characters and a release pattern that will ensure the continued interest of audiences without burning out the genre and without these movies cannibalizing each other."
This article is commentary by an independent contributor. At the time of publication, the author held no positions in the stocks mentioned.