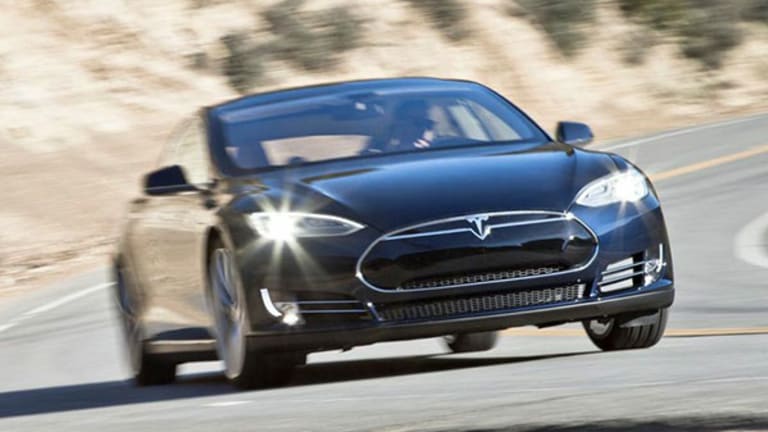 Updated from 3:53 p.m. to include email from Tesla to existing Model S consumers.
NEW YORK (TheStreet) -- Tesla Motors (TSLA) - Get Tesla Inc Report has long eschewed traditional advertising for its Model S, but it's trying something completely different to help drive demand for its electric vehicle.
In an email to Model S consumers, CEO Elon Musk noted that the company would try something new in an effort to get the product out to other consumers:
"Word of mouth has always been a major part of how Tesla sales have grown. When I meet Tesla owners, one of the first things they often tell me is how they have convinced many others to buy the car.

As you may already know, Tesla does not advertise or pay for endorsements or product placement. Maybe by doing so we could sell more cars, but I don't like the idea of trying to trick people into buying a product by false association. If you see somebody famous driving a Model S, it is because they genuinely like the car. If you see it in a movie or TV show, it is because the people associated with that production genuinely like the car.

Besides word of mouth, another way that our cars are sold is through stores. These will always be important to allow people to check out new models and ask our product specialists detailed questions. However, stores are quite expensive to set up and operate. In reviewing the Tesla cost of sales, we found that it is approximately $2,000 to sell a car through our stores, higher in some regions and lower in others.

Both ways of reaching potential customers are important, but, if we can amplify word of mouth, then we don't need to open as many new stores in the future. So, we are going to try an experiment. This is similar to the customer growth program that I worked on at PayPal/X.com back in '99. What worked for PayPal may not work for Tesla, but it is worth trying, as the net result would be lowering our costs by $2,000, allowing us to give that money to our customers.

From now through October 31st, if someone buys a new Model S through your link (XX include link XX), they will get $1,000 off the purchase price and you will get a $1,000 credit in your Tesla account, which can be applied to a future car purchase, service charge or accessories. To put some limits on the experiment, each Tesla owner can grant a maximum of ten $1,000 discounts.

Just for fun, there will also be some things that money can't buy. If five of your friends order a Model S, you and a guest will receive an invitation to tour the Gigafactory in Nevada - the world's biggest factory by footprint - and attend the grand opening party. This will be awesome. At ten orders, you get the right to purchase a Founder Series Model X, which is not available to the public, with all options free (value of about $25,000). The first person to reach ten will get the entire car for free."
CNBC's Phil LeBeau put out a series of tweets noting that the Palo Alto, Calif.-based Tesla is instituting a customer referral program to help cut the cost of marketing the Model S and also stoke demand.
Up to this point, Tesla has not done any traditional advertising, unlike other automakers such as Ford (F) - Get Ford Motor Company Report or General Motors (GM) - Get General Motors Company (GM) Report.
Tesla recently noted it delivered 11,507 Model S vehicles in the second quarter, up 52% year-over-year -- setting a new company record. When the company formally reports its second quarter financial results, Tesla said its Model S shipments may change by less than 1%, given the way it "counts a delivery." Tesla considers a sale is made if the vehicle is transferred to the end customer and all the paperwork is correct."
The electric vehicle and energy storage company is slated to report second-quarter results after the close of trading on Aug. 5.
Following the news, Tesla shares closed lower, falling 0.38% to trade at $263.82. During most of the session, Tesla had traded higher.
So far, the company has delivered 21,552 Model S vehicles in 2015. CEO Elon Musk has previously stated the company's goal this year is to deliver "about 55,000 Model S and Model X vehicles," a figure which would represent a 70% year-over-year increase.
The Model X, currently in beta testing, is slated to begin selling in the third quarter of this year. Musk has previously said that the Model X would arrive in the latter part of the quarter, implying deliveries would likely start around September.