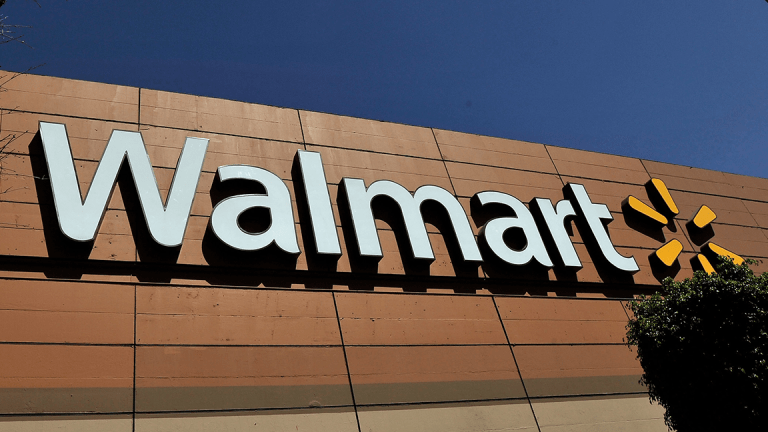 Walmart's Reported E-Commerce Losses Drive Home Amazon's Scale Advantages
According to a report, Walmart's U.S. e-commerce operations are expected to lose over $1 billion this year. Amazon's North American is set to do much better.
A new report about Walmart's (WMT) U.S. e-commerce operations provides fresh talking points for those of us who have been arguing that the company's online retail operations have a ways to go before they become a major threat to Amazon.com (AMZN) .
In a lengthy write-up, Recode's Jason Del Ray reports that (according to multiple sources) Walmart's U.S. e-commerce operations are expected to lose over $1 billion this year on revenue of $21 billion to $22 billion. As a result, Walmart CEO Doug McMillon and the retail giant's board are pressuring U.S. e-commerce chief Marc Lore, who came over via Walmart's $3.3 billion 2016 acquisition of Jet.com, to pare his unit's losses.
For comparison, Amazon's North American segment, which covers all of its North American operations outside of AWS, is expected to post 2019 revenue of $164.5 billion (up 16% annually) and -- in spite of big investments in 1-day Prime shipping and other initiatives -- an operating profit of $8.7 billion. If one excludes Whole Foods' North American stores, the segment's expected revenue might be near $150 billion.
Or in other words, Amazon's U.S. e-commerce revenue might be more than seven times that of Walmart's. And the difference could be larger still if one excludes Walmart's in-store pickup orders and accounts for the fact that (from all indications) a larger percentage of Amazon's U.S. gross merchandise volume (GMV) involves marketplace sales for which it only obtains a fraction of the revenue produced by an order. And this superior scale, together with the growth Amazon has seen for high-margin revenue streams such as seller services and ads, are a big reason why the North American segment has become as profitable as it now is.
Amazon.com is a holding in Jim Cramer's Action Alerts PLUS member club. Want to be alerted before Jim Cramer buys or sells AMZN? Learn more now about our big July 4th sale; save more than 50% off the list price.
There were a few other things reported within Del Ray's article that didn't reflect well on Walmart's e-commerce ops. Among them:
Whereas Amazon has 110 U.S. fulfillment centers to support its e-commerce operations with, Walmart is said to have "20 at most." As a result, Lore has been pitching Walmart's leadership on the idea of spending "billions a year on new warehouses."
Three online fashion brands that Walmart has collectively spent over $400 million to acquire -- ModCloth, Bonobos and Eloquii -- are all still losing money. ModCloth is expected to be sold this year, and Walmart has also discussed selling Bonobos to potential buyers.
There's friction between Lore and other Walmart execs over the public credit that Lore receives for Walmart's online grocery business, with some execs feeling that Walmart should focus on the grocery business as opposed to challenging Amazon head-on.
As Walmart responds to Amazon's 1-day Prime shipping initiative with an effort to provide free 1-day shipping for many items, sources state "a large percentage" of the products available for 1-day shipping will initially be unprofitable if ordered on their own. Walmart is said to be "hopeful" its $35 free shipping minimum will drive multi-item orders that "have a better shot at creating a profitable order."
As someone who has placed grocery orders on Walmart.com on multiple occasions, I've long wondered about the margins that Walmart is seeing on e-commerce transactions that involve shipping rather than in-store pickup. The company has been providing free 2-day shipping on $35-plus orders for many groceries and consumer staples (including some heavy/bulky items), while often charging prices that match or are similar to what's charged for in-store purchases.
Moreover, whereas Amazon's fulfillment center infrastructure allows a large percentage of orders placed within large metro areas to be shipped from fulfillment centers less than 100 or even 50 miles away, I've seen Walmart orders shipped from warehouses that are 200-plus miles away -- grocery orders delivered to San Diego, for example, were shipped from a warehouse in Las Vegas.
In spite of the challenges faced by its traditional e-commerce operations, Walmart's grocery pickup and local delivery business does look a real bright spot for the company. This is a part of the e-commerce business that can both leverage Walmart's massive physical store infrastructure as well as the low prices yielded by its tremendous purchasing power and scale.
But on the flip side, the scale and efficiency of Amazon's U.S. e-commerce infrastructure, together with the popularity of Amazon Prime and Amazon's ability to use Prime membership fees to subsidize its shipping costs, mean that Walmart's traditional e-commerce business is likely to continue facing an uphill fight -- particularly if Walmart is intent on paring its reportedly huge e-commerce losses.