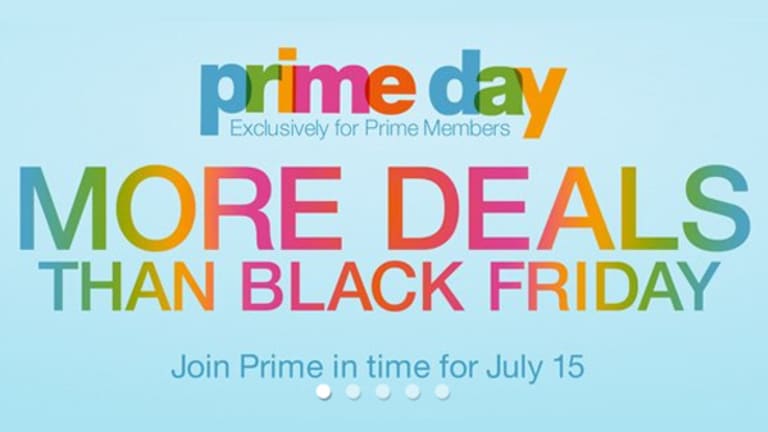 Wal-Mart and Best Buy Take On a Huge Risk With Discounts in July
The trend of online retailers cutting prices puts the companies at risk of a race to the bottom.
NEW YORK (TheStreet) -- Amazon (AMZN) - Get Amazon.com, Inc. Report has received a wave of buzz from its Black Friday in July holiday Prime Day, and other retailers such as Best Buy (BBY) - Get Best Buy Co., Inc. Report and Wal-Mart (WMT) - Get Walmart Inc. Report quickly followed suit with sales of their own. But what are these online retailers risking by partaking in this new trend?
According to Amazon, Prime Day was a success. The company claims that it sold more units on Prime Day than it did on Black Friday 2014 and that global orders on July 15 increased 266% over the same day last year and were 18% more than Black Friday 2014.
"Going into this, we weren't sure whether Prime Day would be a one-time thing or if it would become an annual event," Amazon Prime executive Greg Greeley said in a statement. "After yesterday's results, we'll definitely be doing this again."
Wal-Mart also claimed that its summer sale was a success, and when asked if the company would hold the sale again next year, Wal-Mart spokesman Ravi Jariwala said, "We do Rollbacks and offer everyday low prices throughout the year. The low prices from last week weren't a one-day sale for us -- it's what we do every day."
Best Buy's summer sale is set to take place on Friday and Saturday.
The problem is that if all retailers start pushing new holidays and sales, it will become a race to the bottom with retailers trying to get to the lowest prices. Consumers will begin to expect the frequent sales and hold off buying anything at full-price, putting further pressure on retailers' margins.
Amazon's operating margins for the first quarter were 1.1%, Best Buy's were 2.6%, and Wal-Mart's operating margins were 5%.
Gartner analyst Gene Alvarez said that the one of the goals of the sales is to attract new customers, but that if the sales become commonplace, they will lose their drawing power. "Online sellers have to be extremely careful as to how often they do this," he said.
Retailers that are threatened by Amazon may want to compete on prices, but that's not the only way to compete online, said Vikas Mittal, a marketing professor at the University of Texas' Jones Graduate School of Business. Retailers need to be aware of prices, but there are other considerations such as fulfillment, website design, search capabilities, customer service and security. A retailer will not win solely by continuously cutting prices.
"They're not going to be competitive if they try to become yet another Amazon," Mittal said. "They'll have to find something that differentiates them from Amazon."
For retailers with physical stores, that may mean offering sales both online and in-store, allowing customers to pick up online orders in a store or offering something more creative.
"When we look at the numbers for retailers, we're still at 18% (of sales) occurring online," Alvarez said. "While that number continues to grow, people still like to go to the store. So why am I only offering online special events? Why is there not a multichannel special event that retailers can offer to compete against Amazon?"
Retailers' initial responses to an event such as Prime Day may be to fight back with even lower prices, but they'll need to think of a more complex and comprehensive strategy if they really want to compete against Amazon online.
"Other companies can catch up (to Amazon)," RBC analyst Mark Mahaney said. "It's harder and harder, though. The table stakes for succeeding in online retail have risen."