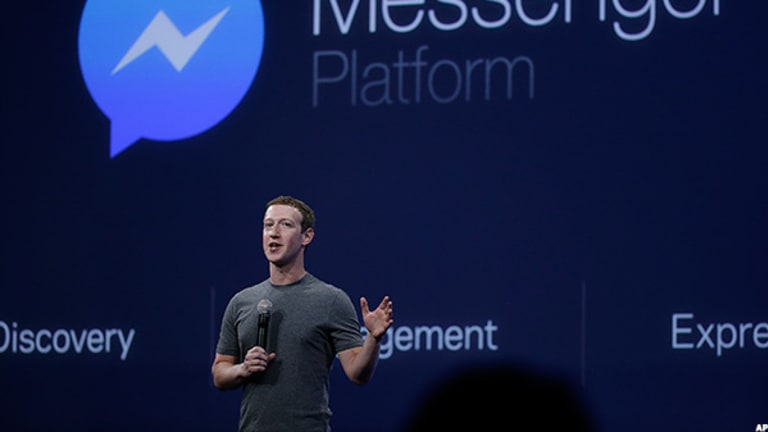 Publish date:
VMware Eyes Acquisitions; Facebook Bots Win Over Developers; HP Awarded $3 Billion in Oracle Suit
VMware's CEO suggests acquisitions could be on top, Facebook Messenger gains traction and announces features for its chatbot platform, and Oracle plans to appeal damages awarded to HP.
VMware's CEO suggests acquisitions could be on top, Facebook Messenger gains traction and announces features for its chatbot platform, and Oracle plans to appeal damages awarded to HP.
Here's a look at Saturday's tech stories:
VMware's CEO says it's a 'good time' to be eyeing acquisitions
Ahead of parent EMC's (EMC) sale to Dell, VMware (VMW) - Get ReportCEO Pat Gelsinger says a drop in both the valuations and "arrogance" of tech unicorns -- tech startups with valuations north of $1 billion -- makes it a good time for his company to go acquisition-hunting.
He adds VMware, which had $8.2 billion in cash ($1.9 billion in the U.S.) at the end of the first quarter, is open to deals "into the billions."
Of course, it might not just be a cooler unicorn funding environment that has VMware looking to make deals. The company's core vSphere server virtualization software business has come under heavy pressure.
The culprits include competition from rival solutions such as Microsoft's (MSFT) - Get Report Hyper-V and the open-source Xen and KVM platforms; the migration of workloads running on vSphere to cloud infrastructures such as Amazon Web Services; and the adoption of containers, a lightweight alternative to virtualization that lets multiple apps running on the same operating system be isolated from each other, and easily moved between enterprise and cloud environments.
There are many enterprise tech names that on CBInsights' tech unicorn list that VMware could potentially target. However, one that especially stands out is Docker, which controls the most popular container platform and has created a large ecosystem for it.
Buying Docker would both protect VMware's flank and greatly boost its standing with cloud developers. But the company wouldn't come cheap: Docker was valued at $1 billion in a 2015 funding round, and was recently reported to have turned down a Microsoft buyout offer worth as much as $4 billion.
Facebook Messenger now supports over 11,000 chatbots
Though Facebook Messenger's chatbot platform -- it lets Messenger users access information, carry out transactions, and obtain other services by "conversing" with automated bots -- has seen mixed reviews since launching in April, developer support is clearly strong, as everyone from CNN to eBay to Bank of America to the NBA launches bots in an attempt to reach some of Messenger's 900 million-plus active users.
In addition to disclosing over 11,000 bots are now available, Messenger chief David Marcus has unveiled a slew of new features for them. Among them: The ability for bots to send GIFs, audio, and video content, the ability to let users converse via suggested "quick replies," and the ability to link an existing account -- say, with a bank or an online retailer -- with a Messenger bot.
It's going to take time for Facebook (FB) - Get Report to improve the artificial intelligence underpinning its bot platform, and until then, the platform will provide an uneven experience.
But there's clear potential for it to let users quickly access services without having to download a related app, and to be automatically pushed content based on past interactions.
Over the long run, Facebook could monetize the platform via payments, promotional ads for bots, and other services.
Facebook is a holding in Jim Cramer's Action Alerts PLUS Charitable Trust Portfolio. Want to be alerted before Cramer buys or sells FB? Learn more now.
Worth noting: Google, whose AI investments to date have been much larger than Facebook's (and just about anyone else's), recently launched Allo, a messaging app with an AI-powered assistant users can converse with. But for now, Allo's user base can't compare with Messenger's, nor can the developer support for its assistant service.
Jury awards HP Enterprise $3 billion in a suit against Oracle
A San Jose jury declared Oracle (ORCL) - Get Report owes HP Enterprise (HPE) - Get Report $3 billion for breaching an agreement to have its databases support HP systems based on Intel's marginalized Itanium server CPU line.
A judge had already ruled in HP's favor in 2012, ordering Oracle to continue supporting HP's hardware and stating the latter is owed damages from the former.
As one would expect, Oracle plans to appeal both the damages award and the 2012 ruling.
The fact Itanium had a tiny and declining share of the server market when Oracle stopped supporting it -- that share has fallen further since -- could help Oracle argue the damages award is excessive.