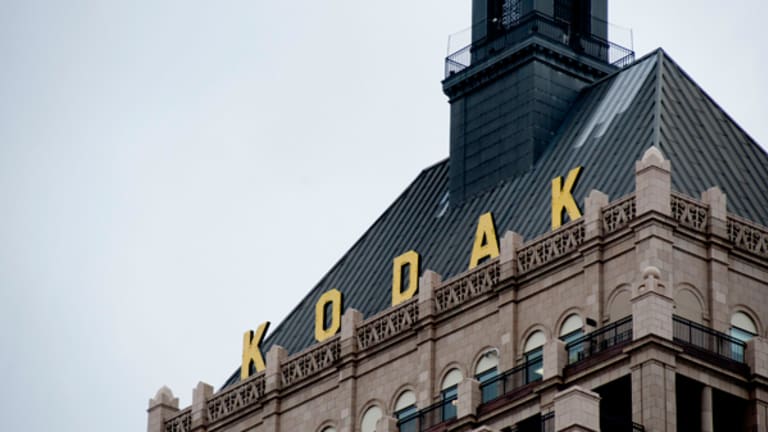 Kodak Bankruptcy Plan Approved (Update 1)
A judge approved Kodak's bankruptcy plan on Tuesday.
Updated to include added information on rights offering and stipulation to cancel existing common shares in bankruptcy plan.
NEW YORK (TheStreet) -- A judge on Tuesday approved former iconic photographic filmmaker Eastman Kodak's plan to reemerge from bankruptcy.
The company, known for a decades-long decline amid mismanagement and an inability to adapt to the digital age, will reemerge as a commercial printing company.
"It will be enormously valuable for the Company to get out of Chapter 11, and begin to regain its position in the pantheon of American business," Judge Allan Gropper said in the court hearing in the U.S. Bankruptcy Court of the Southern District of New York . Gropper determined Kodak's bankruptcy plan to be feasible and even "likely to be successful."
Gropper highlighted the participation of creditors in a rights offering for new shares in Kodak that is key to the firm's bankruptcy plan and signals a strong alignment between creditors and the new owners of the company.
Speaking to objecting shareholders, who will see their equity claims become worthless, Gropper said many retirees will lose their benefits and unsecured creditors will get little repayment -- estimated at about 5 cents on the dollar. Kodak's "decline and bankruptcy is a tragedy of American corporate life," he said.
Nevertheless, approval of Kodak's bankruptcy plan marks a turning point for the more than a century-old company.
Bankruptcy allowed the company to reduce legacy costs, liabilities and infrastructure, while exiting or spinning off businesses and assets that were no longer core to its future, Kodak said in a statement.
In a set of deals conducted during the bankruptcy process, Kodak divested its once-dominant film business to the firm's U.K.-pension plan. The company also sold off its Kodak Gallery business to Shutterfly and its portfolio of digital imaging patents to a consortium of technology industry giants like Apple and Google. Kodak also shed nearly as many workers in 2012 alone as it plans to have upon exiting Chapter 11.
The company will now focus on its most profitable commercial and functional printing business lines. As part of the bankruptcy plan, Kodak will also retain its iconic but declining motion film business.
"Next, we move on to emergence as a technology leader serving large and growing commercial imaging markets - such as commercial printing, packaging, functional printing and professional services - with a leaner structure and a stronger balance sheet," Antonio Perez, Kodak's CEO, said in a statement.
Perez will step down sometime in 2014, the company said in July.
Kodak expects to emerge from Chapter 11 bankruptcy on Tuesday, September 3. In the company's rights offering, secured creditors and unsecured creditors have agreed to convert their convert claims into new shares of Kodak. Old shares, which currently trade on pink sheets, will be cancelled according to the bankruptcy plan.
A source familiar with the situation say that Kodak will re-list its shares on the New York Stock Exchange shortly after exiting bankruptcy.
The company's total capitalization will now be about $1.2 billion, Kodak said in a July 15 presentation to lenders. It forecasts 2013 revenue to be around $2.5 billion, a drop from the previous year. Still, Kodak may finally be in a position to grow after decades of decline.
By 2017, the company expects annual revenue growth of over 6%, buoyed by 20% compound annual growth from its Digital Printing & Enterprise business. The company's margins are forecast to nearly triple to 15.4% in that time horizon.
While Kodak's January 2012 bankruptcy filing was a national news event and even stood out to some as an example of America's declining manufacturing industry, its reemergence may be indicative of the specialized U.S. businesses now at the confluence of manufacturing and technology.
For now, the digital camera inventor and former Dow Jones Industrial Average component will forge a humble path forward.
"Hey, where is the press?" said one lawyer to a crowd of colleagues when leaving the Southern District courthouse on Tuesday afternoon.
Check out TheStreet's series about Kodak's fall, its bankruptcy and Rochester, N.Y.'s ability to avoid Detroit's fate.
-- Written by Antoine Gara and Joe Deaux in New York.
>Contact by Email.