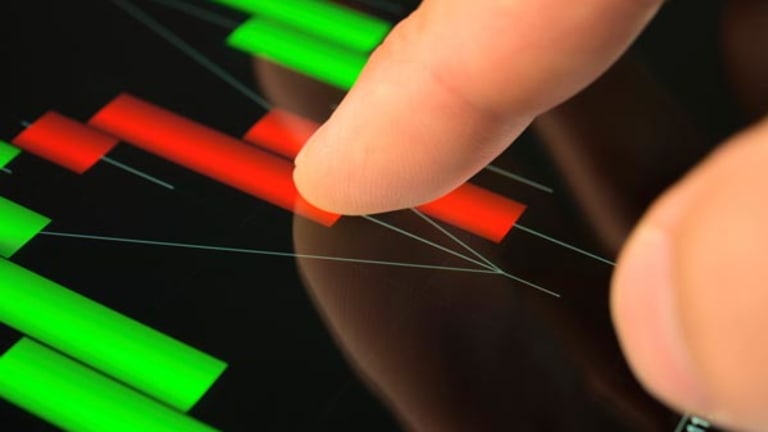 Verizon: Smartphone Demand Spurs Growth
The latest earnings show a pickup in smartphone demand, especially data plans.
The following commentary comes from an independent investor or market observer as part of TheStreet's guest contributor program, which is separate from the company's news coverage.
NEW YORK (
) --
Verizon
(VZ) - Get Report
announced mixed results for the past quarter, as a record quarterly growth in revenues was offset by high subsidies for
Apple
(AAPL) - Get Report
iPhones and several one-time expense items.
The largest U.S. wireless carrier said that its revenues grew 7.7% over the same period last year, the most in over a decade of operations, on the back of strong smartphone sales as well as gains in postpaid and FiOS subscriptions.
However, the company ended the quarter with a $212 million loss, down from a $4.6 billion profit returned in the period last year as it had to incur a $5.6 billion pre-tax pension charge, in addition to losses from the snowstorm that hit the north-east in October.
Verizon recently reported its fourth-quarter results.
Since the net loss incurred is hardly on account of deteriorating fundamentals but mostly due to unusual one-time expenses, we still believe the company is well placed for the long-term given its recent investments in 4G and FiOS, as well as a number of
spectrum acquisition deals it had signed towards the end of last quarter.
See our complete analysis for Verizon
here.
Lucrative Postpaid Data Revenue
Verizon activated a record 4.3 million iPhones last quarter, almost doubling its previous 2.3 million record from two quarters back, as it added a net 1.2 million postpaid subscribers in the quarter.
The holiday quarter saw huge sales of other smartphones as well as smartphone penetration reached 44% of Verizon's postpaid base, up from 39% a quarter ago. The increased adoption of smartphones bodes well for the future as they bring in the more lucrative contractual postpaid subscribers which not only lowers the churn rate but also increases data revenues for the company in the longer run. Postpaid data ARPU for the quarter increased by 14.3% over the same period last year to $22.76.
Margin Hit
In the short term, however, Verizon's margins will take the brunt of the huge subsidies that the smartphones, especially popular ones like the iPhone, come with. For example, a basic model of the iPhone 4S costs around $650 for the carriers that then subsidize it heavily to sell for $199 in order to entice customers to sign a two-year contract with them. Not surprisingly the company's wireless gross margins fell by almost 500 basis points over last quarter. However, the sequential growth seen in postpaid ARPU levels keeps us confident in the company's long-term strategy.
At the same time, we are seeing 4G continue to gain momentum, as 1.6 million 4G LTE smartphones were sold last quarter, up from the 1.4 million sold last quarter. In addition, 700,000 LTE Internet data devices were also sold last quarter. An increasing use of 4G for data connection will not only help Verizon recover the huge costs it has incurred in rolling out the LTE network but also help move customers away from 3G and free up resources for an increasing iPhone customer base. The iPhone currently doesn't support 4G connectivity.
As for the wire-line division, FiOS continued to grow from strength to strength as both FiOS broadband as well as FiOS TV added close to 200,000 subscribers each in the quarter to show a good sequential growth in FiOS revenues quarter-on-quarter. As traditional landline declines, an increasing FiOS penetration should help shore up ARPU levels and hence revenues in the once flagging division.
Click
to find out how a company's products impact its stock price at Trefis.
Like our charts? Embed them in your own posts using the
.
This commentary comes from an independent investor or market observer as part of TheStreet guest contributor program. The views expressed are those of the author and do not necessarily represent the views of TheStreet or its management.