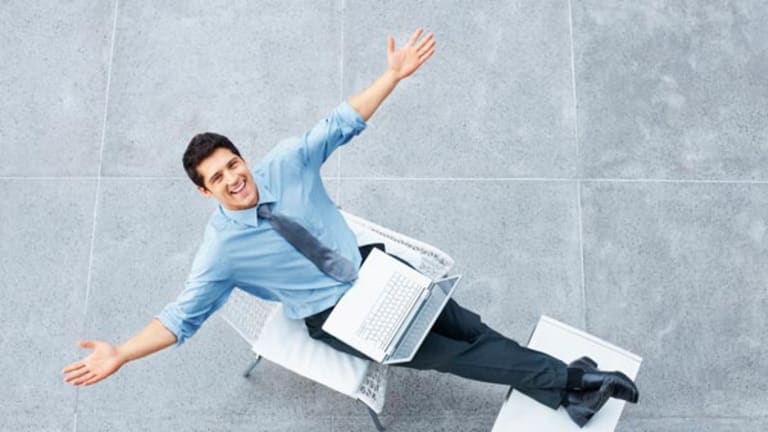 Verizon Should Give Away the BlackBerry Storm
Verizon Wireless ought to follow the lead of Vodafone in the U.K. by making the new BlackBerry touch-screen phone free.
Verizon Wireless
has decided to charge more for its soon-to-be-released
. Not only that, the new touch-screen smartphone actually costs more than
Apple's
(AAPL) - Get Apple Inc. Report
8 GB iPhone 3G.
Verizon Wireless says it will charge $199 for the new BlackBerry Storm from
Research In Motion
(RIMM)
. The price is actually $249.99 minus a $50 mail-in rebate so long as the customer signs up for a two-year service contract. Apple's 8GB iPhone 3G, meanwhile, costs $199 with a two-year contract with
AT&T
.
However,
Vodafone
(VOD) - Get Vodafone Group Plc Report
is going to be selling the Storm for zero in the U.K. It's charging nothing for the device so long as the customer signs a two-year contract. (Verizon Wireless is a joint venture between
Verizon
(VZ) - Get Verizon Communications Inc. Report
and Vodafone.) The Storm launches Nov. 21.
It would have been a terrific coup for Verizon if it had followed Vodafone's lead. Not that RIM or Verizon really has to resort to tricks to sell the new Storm. I've gotten to see a pre-production model in action, last month, and I've got to tell you, the
super-sharp, almost magical touch screen (you will have to try it for yourself to understand) as well as all of its other nifty features should help this phone sell itself.
As for the Apple product, recently analysts have begun thinking out loud about future iPhone sales. They're not painting a very rosy picture. Some analysts have gone as far as to say that Apple has been forced to cut back production of its premier smartphone due to the downturn in the economy. One industry insider believes that iPhone sales could fall as much as 40% in the near future. That's not a good sign.
In addition, BlackBerry's other new smartphone, the
, is said to be garnering impressive sales. According to reports, AT&T's consumer chief is telling anyone who will listen at the Web 2.0 conference that buyers are lining up at AT&T stores to buy the Bold. Despite any problems that RIM has experienced with the Bold in England, the response for the phone here, after only two days of U.S. sales, as being termed "fantastic."
So, this seems like is a lost opportunity for Verizon Wireless. I'm not sure it could ever match the same sort of pricing as Vodafone in Great Britain. But, boy, if Verizon Wireless could have found a way to do it, the company would have signed a lot of new users to its network, gotten many of them to buy extra, lucrative cellular services and, in the process, could have really
and its iPhone.
Gary Krakow is TheStreet.com's senior technology correspondent.