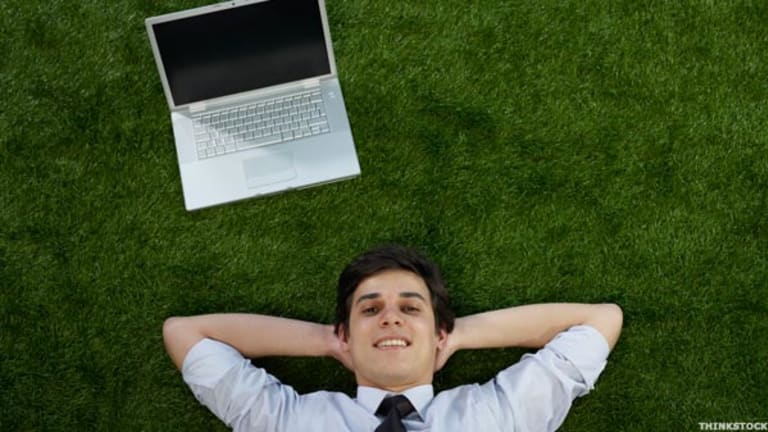 Verizon Incredible: Best Android Yet
The Verizon Incredible hits stores April 29 and here are the reasons it may be the best Android yet.
Verizon's (VZ) - Get Verizon Communications Inc. Report Droid Incredible may just be the best Android yet dethroning Google's own branded smartphone.
The
Google
(GOOG) - Get Alphabet Inc. Class C Report
Nexus One was released on
T-Mobile
(DT) - Get Dynatrace, Inc. Report
a few months ago. Then there was supposed to be a Nexus One coming on Verizon. Instead, we're promised an
AT&T
version as well as a Nexus One for
Sprint
(S) - Get SentinelOne, Inc. Class A Report
.
But now Google is actually suggesting that Verizon users forget about the Nexus One and buy a different Verizon Android phone. They have dropped the idea of having just another "me-too" device and decided, instead, to go with
HTC's
(the maker of the Nexus One) Incredible.
The Incredible is a 3G smartphone (CDMA/EV-DO Rev. A) running the latest, greatest version of Google's Android operating system, version 2.1.
Verizon Droid Incredible by HTC.
It has a 3.7-inch (WVGA - 480-by-800 pixels) AMOLED touchscreen, runs on a 1GHz
Qualcomm
(QCOM) - Get Qualcomm Inc Report
Snapdragon processor and packs 8GB of storage plus a slot for a microSD card. It also does Wi-Fi, Bluetooth and GPS.
So far it sounds like I'm describing the Nexus One. Despite the Incredible being more squared-off around the edges, even the physical dimensions are similar.
But then add an 8-megapixel camera/camcorder and
HTC
's Sense UI "skin" and you start to realize that Verizon has ordered up a phone that is designed to one-up the competition. Verizon also specified the black color to match the Incredible's older brother, the
Motorola
(MOT)
DROID.
Despite its monster specs, there is nothing within the Incredible that will surprise any Android phone user. There are five sliding home screens in typical Sense UI fashion, along with a pop-up view of all installed programs and a big, on-screen button to get to and from the home screens. It's an Android phone, and if you've used one you'll be able to figure out another quite quickly.
Unlike Verizon's DROID with its slide-out QWERTY keyboard, the Incredible only has an on-screen an on-screen software keyboard. You know, like the DROID Eris. Confused yet?
Just like other full touchscreen Android phones, the keys on the keyboard are properly spaced and you can type very quickly with just a little practice. Android doesn't provide the smoothest touchscreen typing experience in the game, but it's definitely usable.
HTC Incredible Is Just That
Beyond the standard Android fare, Verizon and HTC have added some apps that aren't common to all Android devices. These include CityID (displays city and state of an incoming call), Desk Clock (to use your Incredible as an alarm clock), Footprints (famous landmarks and GPS directions to find them), an FM Radio (through headphones), Friend Stream (a social networking app), Peep (obviously, so you can tweet), QuickOffice (to open/read Office documents on the microSD card), Stocks, Weather and more. Basically, this phone is loaded.
After playing with it for a while, I have to tell you -- this is one very slick smartphone. Fit and finish are superb (even better than my Nexus One tester). Everything works smoothly, quickly and exactly as promised. I wish I could say that about other devices on the market.
Set-up was a breeze. I clicked on the Gmail icon, added my log-in details and 60 seconds later, all of my Google mail, calendar/appointments and contact lists were all installed on the new device.
Ready to go in a minute -- can't beat that.
As for negatives, the Incredible is an Android phone and, as such, handles
Microsoft
(MSFT) - Get Microsoft Corporation Report
Office mail synching via its very basic, built-in Gmail software. That means your company's IT department may not support Android phones as being 100% compatible with their email system. There are third-party solutions available but your IT guys may still insist you use a
BlackBerry
(RIMM)
or Windows Mobile phone.
Also, you can't use the Incredible when you travel overseas (it's not a GSM phone) and the rear battery compartment cover is somewhat oddly shaped. On nearly every other phone on the planet the back cover is smooth. On the Incredible, the back cover is rippled. It reminds me of a raised-relief map: weird ridges and shapes. It looks weird but feels fine in your hand.
HTC's Incredible officially goes on sale on April 29 for $199.99 when you agree to a two-year service commitment. Actually, that was the same price that Verizon's DROID started at last fall. I'm guessing the original DROID's price is about to be reduced a bit beginning on April 29 as a result.
The HTC Incredible becomes Verizon's Nexus One-class smartphone and instantly becomes the Android phone to beat.
The Incredible has some serious competition looming on the horizon in the form of the HTC EVO 4G, the Samsung Galaxy S, the fourth-generation iPhone launching in June a few weeks the impending onslaught of Windows Phone 7 handsets due toward the end of the year.