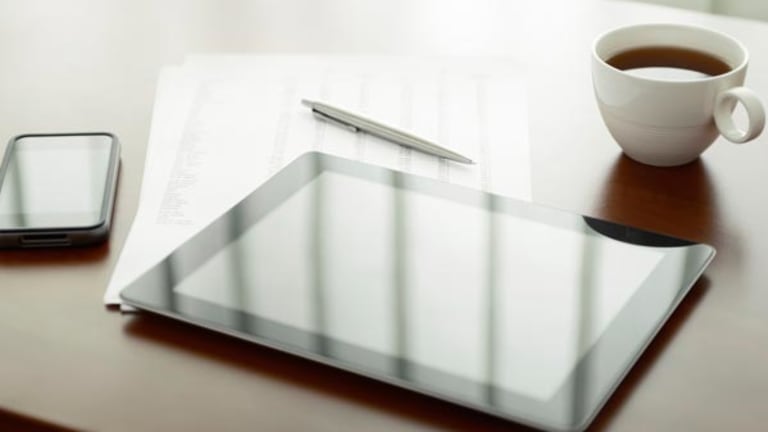 Verizon Hub: VoIP 'Home Phone' Upgrade
The Hub is a combination cordless phone, Internet terminal and digital picture frame.
The times they are a' changing for home phones. For more than a century,
Verizon
(VZ) - Get Verizon Communications Inc. Report
(and the previous phone companies that are now Verizon) could depend on home telephone service to be a huge moneymaker. Not any more.
With the paradigm switch to cellular phones, the original two-wire, plain, old telephone (referred to as POTS) service and pay phones are fast on their way to becoming relics of the past.
That's why Verizon is counting on the Hub to be its next big thing. The Hub is a combination cordless phone, Internet terminal and digital picture frame. The cordless phone is pretty standard fare. Same for the picture-frame mode, which is really meant to function as a screen-saver. It's the added value of that Internet terminal that Verizon wants you to know about.
Home Internet terminals from your phone company are nothing new. In France, millions of phone subscribers were given (as in free) home data terminals called Minitels beginning in 1982 -- two years before
Apple
(AAPL) - Get Apple Inc. (AAPL) Report
introduced the Macintosh. It was that phone company's way of avoiding having to print big, expensive phone books for subscribers. Looking up a phone number was free. Many other services, from texting friends to booking a train/plane reservation cost a few centimes a piece. Over the years,
France Telecom
made a bundle providing pay-for Minitel services.
Verizon Hub: Internet Phone & Data Terminal
var config = new Array(); config<BRACKET>"videoId"</BRACKET> = 9958509001; config<BRACKET>"playerTag"</BRACKET> = "TSCM Embedded Video Player"; config<BRACKET>"autoStart"</BRACKET> = false; config<BRACKET>"preloadBackColor"</BRACKET> = "#FFFFFF"; config<BRACKET>"useOverlayMenu"</BRACKET> = "false"; config<BRACKET>"width"</BRACKET> = 265; config<BRACKET>"height"</BRACKET> = 255; config<BRACKET>"playerId"</BRACKET> = 1243645856; createExperience(config, 8);
Back to the Hub. Verizon has realized that customers have switched or are thinking about switching to less-expensive Internet-based phone services. Personally, I switched to the much cheaper Vonage Voice-over-IP (VoIP) phone system nearly three years ago and haven't looked back since. We use a different VoIP company for our business phone service here at TheStreet.com.
It was time for Verizon to join the fray. The Hub plugs into an Ethernet jack from your Internet router or Wi-Fi and also works on A/C. Verizon says it's meant to sit in your kitchen, but that need for an Ethernet connection will mean that it will probably sit close to wherever your Web router lives.
The phone service seems very straightforward. For $34.99 per month (with a two-year contract and a $35 activation fee), you can make all the domestic calls (plus Puerto Rico and Canada) you'd like. You can purchase an international calling plan at additional cost. Caller ID, call forwarding, three-way calling and many more features are all included.
But the Hub is much more than an Internet phone. It also has some interesting Web-based features. Think in terms of your address book, anonymous call rejection, call logs, incoming call "blox" (their spelling not mine), Internet directory lookup, permanent caller-ID block, simultaneous ring and visual voice mail. All of these are coordinated by visiting a special section of the
Verizon Web site
.
You also can look up movie start times and buy tickets. You can check local traffic reports before you head out of the house. You can get messages from family members on a Verizon Relay, the Hub's virtual bulletin board. V CAST videos (including pieces from providers like CNN, NBC, E Entertainment, and ESPN) are also part of what the Hub provides.
And, if you're a Verizon Wireless subscriber, the Hub also provides an interesting set of special features that you access on the 7-inch screen. Chaperone, for instance, is a way to keep track of your kids' Verizon cell phones. Not the bills they're running up but where those phones are actually located, 24/7. Or you can program your Hub to send your Verizon cell phone any calendar updates.
What the Hub isn't is a personal computer. It doesn't browse the Web or let you create a spreadsheet. It's meant to provide quick, meaningful snippets of information in a convenient form.
In addition to the monthly service charges, Verizon is asking $199 for the Hub - almost $200 more than the original free Minitel -- but in line for a cordless phone and a desktop video box. Additional cordless extension handsets are available.
For the record, Vonage charges $24.99 for its monthly phone service, which also includes free phone calling to a number of international locations.
I believe the most interesting feature of the Hub is that it's a Verizon Wireless product that's meant to compete/replace standard phone service from Verizon (not wireless). It will be interesting to see just how well consumers take to the idea.
Gary Krakow is TheStreet.com's senior technology correspondent.