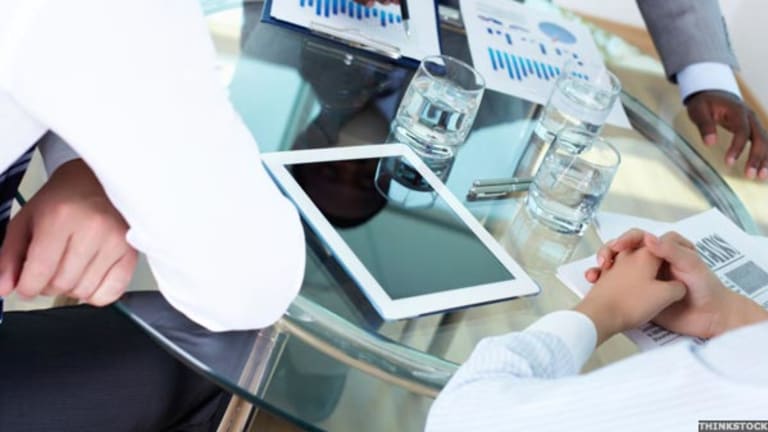 Verizon Bows to the Will of the People
After years of crippling WiFi and Bluetooth and restricting apps and media libraries to Verizon-only services, Verizon seems to have finally bowed to consumer democracy.
NEW YORK (
) --
Verizon
(VZ) - Get Free Report
wants you to believe it has now embraced the wireless Web.
Verizon and
Google
(GOOG) - Get Free Report
kicked off a partnership Tuesday that not only lacked exclusivity, but it also didn't even include the new
Motorola
(MOT)
Android phone for demonstration purposes.
Yet despite the lack of beef, Verizon still managed to suggest that something new is afoot.
Android Emerges, Windows Loses Grip
After years of crippling common features like WiFi and Bluetooth and restricting applications and media libraries to Verizon-only services, the old-line phone giant seems to have finally bowed to consumer democracy.
For years, critics and consumer advocates scorned Verizon's closed-wall approach to devices. But in the end, all it took was a gun to the head -- in the form of
AT&T's
(T) - Get Free Report
Apple
(AAPL) - Get Free Report
iPhone -- to get Verizon to consider loosening up.
Around May of last year, as AT&T was preparing to release the next version of the Apple iPhone with a dramatically lower $200 price tag, Verizon wireless chief Lowell McAdam decided to visit Google.
CEO Eric Schmidt said McAdam came to the company's Mountain View, Calif. headquarters looking to work on something "really differentiated."
For the past year prior to that, Verizon had watched the iPhone grab the industry's attention with its dazzling Web browser and inviting App Store.
McAdam's predecessor Dennis Strigl was originally approached by Apple to sell the iPhone but rejected the offer, not because of the revenue-sharing arrangements, as many thought, but because Apple wanted too much control over what was on the phone and who would support it.
The merits of that decision will long be debated, as AT&T enjoys the mixed pleasure and pain of a blockbuster phone that crushes profit margins due to the high subsidy costs paid by Ma Bell to Apple.
But fearing a cheaper, faster 3G iPhone would really start to tip the balance in a blooming smartphone market, Verizon's McAdam turned to Google for help.
Google's Web oriented Android operating system has been a crowd pleaser so far. Not only does it work through poke-and-swipe touchscreen controls, but the software allows users a great deal of freedom to customize the appearance and applications on the phones. By contrast, Verizon always dictated these choices.
Verizon said Tuesday that it will have two Android devices this year. And in a true test of its new "open" philosophy, Verizon says it will support Google Voice, a free calling service that uses the Internet to bypass phone networks. Meanwhile, AT&T and Apple have traded blame over the on-and-off-again status of Google Voice on the iPhone.
The actual proof of Verizon's openness conversion will come with the
arrival of the Motorola Android phone
in the coming days or weeks.