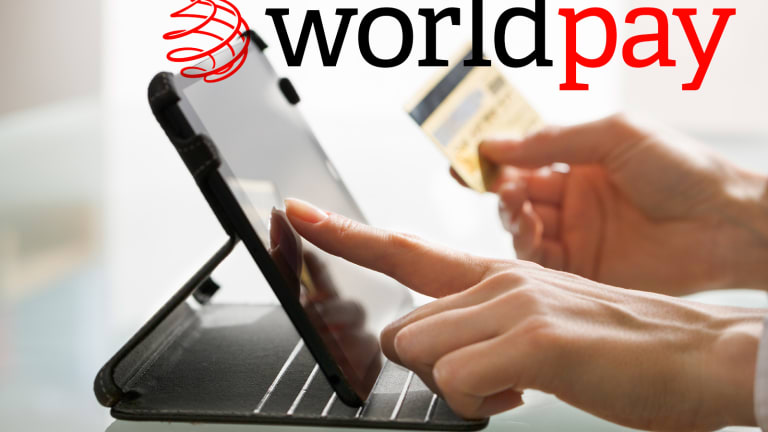 Vantiv Strikes $12 billion Deal To Buy Worldpay; JPMorgan Walks Away
Vantiv Inc. has reached a preliminary agreement to buy Worldpay in a deal that could value the British payments processer at £9.1 billion ($11.7 billion).
Vantiv Inc. (VNTV) has reached a preliminary agreement to buy Worldpay Group plc (WPYGY) in a deal that could value the British payments processer at £9.1 billion ($11.7 billion).
The boards of the two companies agreed the terms of the potential merger, the pair said Wednesday, July 5, shortly before JP Morgan Chase (JPM) - Get JPMorgan Chase & Co. Report  said it would not make an offer for one of Britain's great tech success stories. 
Under the terms of the merger, ordinary shareholders of Worldpay will receive 55 pence in cash and 0.0672 in new Vantiv shares. The total value to Worldpay shareholders would be 385 pence per Worldpay share, comprising the 5 pence dividend payment and 380 pence per Worldpay Share under the terms of the Potential Merger, based on the closing share price of Vantiv on July 3, 2017 of $62.51.
Shares in the company were marked 8% lower by mid-day in London, extending losses after JPMorgan said it was walking away from the bidding, to change hands at 375 pence each. The shares peaked at an all-time high of 426.10 pence Tuesday after it announced takeover approaches from Vantiv and JPMorgan.
Worldpay closed at 319 pence on Monday, July 3, meaning Vantiv's offer represents an 18.9% premium to that and a 29.7% premium to the six month weighted average of 293 pence on July 3/
Following the completion of the potential merger Worldpay shareholders would own approximately 41% of the share capital of the combined group, and shares will be delisted from the London Stock Exchange.
"The potential merger creates a scale world class payments group in a dynamic market, with deep payments capabilities, product and vertical expertise and strong distribution channels to serve merchants around the world in the global ecommerce market, and in-store and online in the U.K. and U.S. markets," a statement by the companies said.
Completion of the potential merger will be subject to shareholder approvals and receipt, on satisfactory terms, of regulatory and merger control approvals as appropriate, as well as other customary conditions.
Worldpay, the firm behind many stores cash register payments technology, was carved out of Royal Bank of Scotland RBS after the bank was bailed out following the financial crisis. Worldpay reported a profit before tax of £264 million in 2016, up from £19 million in 2015.
Read More Trending Articles:
Here's Why Children's Place Stock Has Quadrupled: CEO Jane Elfers Reveals on 'Alpha Rising'
Here's How Volvo Plans to Stop Tesla -- It Will Stop Making Cars With the Common Engine
Enjoy Your Super-Low Gas Prices While You Can - They Could Be Gone Soon