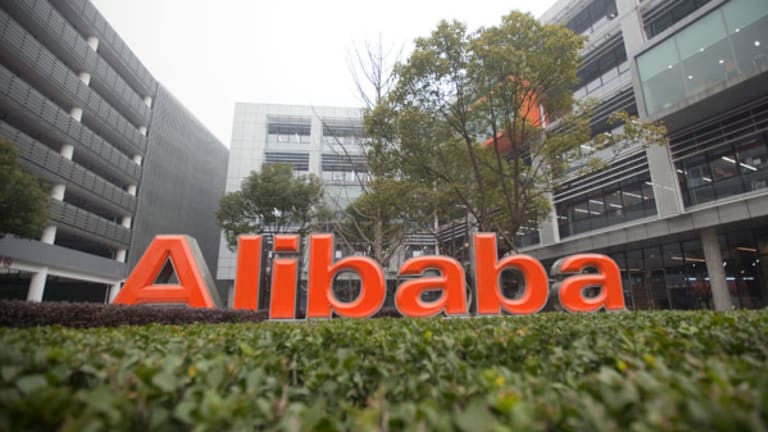 'Open Sesame': Unlocking Alibaba's Wealth (Update 1)
As rumors swirl about a potential $100 billion Alibaba IPO, investors scrutinize the market for the best Alibaba stock plays.
(Updated with commentary on potential Weibo IPO or carve-out, and possible market reception to a Weibo or Alibaba IPO)
NEW YORK (
) --
Alibaba's
new $586 million, 18% stake in
Sina's
(SINA) - Get Free Report
"Twitter of China" Weibo unit has investors searching for ways to play Alibaba as rumors swirl about an initial public offering.
The value of an Alibaba IPO has been estimated to be worth as much as $100 billion, soaring from $45 billion. Analysts widely predict that the IPO will take place as soon as year-end as the company enters the final stages of preparing for a debut.
Eric Jackson, president and founder of Ironfire Capital, a Naples, Fla.-based hedge fund that invests in Chinese stocks, believes that after China's biggest e-commerce giant becomes public, one of the key assets it could snap up is the rest of Sina, benefiting the Internet portal's shareholders.
By investing in Weibo, Alibaba has already done the job of virtually unlocking the value of Sina's Weibo property: over $3 billion, which is almost the entire market value of Sina, rendering the stock grossly undervalued, essentially at zero dollars, according to Jackson: "I'm long Sina because I think investors will realize the price gap."
With a full-on acquisition, "they're hitching their wagon to a giant who also hates
Tencent
like they do." Tencent is China's largest online gaming and social networking company, and Sina is positioning itself to be a formidable rival to Tencent's WeChat social messaging service.
Prior to the Weibo investment, Alibaba barely had any exposure to social media. But by joining forces with Weibo, with its 500 million users and potential to become the "
Facebook
(FB) - Get Free Report
of China" means that it now has a partner against Tencent as their mutual "enemy."
Also see: Internet Investing is Lucrative After All >>
Ryan Jacob, chairman of Jacob Asset Management and manager of the
Jacob Internet Fund
(JAMFX) - Get Free Report
, said that Sina is one of his largest positions and that he is pleased that Alibaba's investment has validated Weibo's value. He said he is sure that when investors start to feel more confident about the Chinese economy and Chinese stocks, they will become as enthusiastic about Sina as he is. Alibaba's validation of Weibo's value has only increased his anticipation that shareholder value will be unlocked through a U.S. spin-out or IPO of Weibo. After the move, both companies would be able to define their objectives more clearly to shareholders, he said.
Randy Warren, CIO at Warren Financial Service in Exton, Pa. said that a carve-out or partial IPO of Weibo in which Sina retained a 20% to 25% stake would "make a lot of sense."
"Sina just pulled in a lot of extra money into their coffers by selling a stake to Alibaba ... they would probably still retain some ownership in that public company so they would have even more money coming into their balance sheet," while being able to focus on its core businesses, he said.
Brian Frank, portfolio manager at New York-based Frank Capital, said that shareholders of
Yahoo!
(YHOO)
, a partial Alibaba owner, and Alibaba would benefit from a Weibo spin-off or IPO too, as cash proceeds from the IPO boost Alibaba's balance sheet and valuation; and in a spin-off, allow Alibaba and Yahoo! shareholders to receive shares of the new company tax-free.
Warren said that handset makers are also watching closely for a Weibo IPO, as they have taken a great interest in social networking because it drives traffic to mobile devices.
"The handset makers are probably doing exactly that right now, trying to figure out exactly what this is worth to them," said Warren.
Jacob said Sina appeared to already be preparing Weibo for a spin-off or IPO, separating the company out internally and raising money in the Weibo business apart from the others. "Again, Alibaba's investment isn't in Sina, it's in Weibo," he said.
Warren said that in some ways, Sina had already begun a spin-off of Weibo by giving Alibaba the option to increase its stake in Weibo to 30%. "They just didn't have to pay any investment bankers to help them. Now if they wanted to do a true spin-off, I would imagine Alibaba would have something to say about that."
As a standalone company, Sina would remain strong, said Jacob. "Weibo is clearly a big part of Sina's value today, but Sina is a pretty strong business on its own," with a significant amount of cash as a top Internet portal in China, where Internet media is basically the only media sector that is not state-owned.
While Alibaba's move has significantly boosted upside potential for Sina, Jackson said that for Alibaba itself, investors should invest in
Yahoo!
(YHOO)
, which has a 24% stake in Alibaba. "Many believe part of the increase in price of Yahoo!'s shares in the past six months is due to investors realizing Alibaba's potential," Jackson said.
"An Alibaba IPO could be an interesting catalyst or event for Yahoo!," said Jacob, whose Yahoo! holdings are among his largest because of the company's stake in Alibaba. He said that once the market accords a value to Alibaba, he will also be able to assign a harder value to what Yahoo! shares are worth.
Also see: BuzzFeed's Comedic Secret: The Moola Files >>
Post-IPO, Jackson advises owning Alibaba itself.
"Americans still have no clue how big Alibaba is and how big it's going to be in a couple of years," said Jackson. "It's a monster."
Alibaba's Tmall, Taobao and Alipay assets have made a strong impression on Jackson. "In a couple of years, I expect Alibaba will be worth more than $150 billion," he said.
Warren anticipates that there would be a lot of excitement for both a Weibo or Alibaba IPO. "They are exciting growth companies that are doing amazing things," he said. "I think the markets would love them."
-- Written by Andrea Tse in New York
>To contact the writer of this article, click here:
Andrea Tse
.