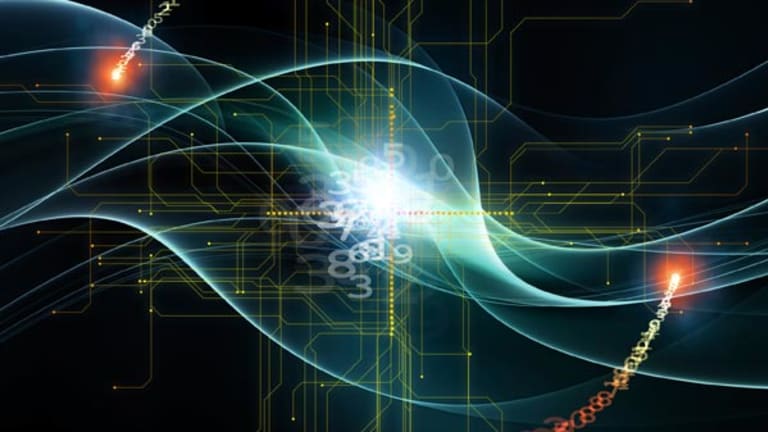 Ubiquiti Disappoints, NVIDIA Delights: Tech Roundup
Shares of NVIDIA and Ubiquiti popped during Thursday's trade. After the release of quarterly earnings, the stocks went their separate ways.
NEW YORK (
) -- Shares of
NVIDIA Corporation
(NVDA)
and
Ubiquiti Networks
(UBNT)
popped during Thursday's trade. After the closing bell, the stocks went their separate ways.
Shares of
Ubiquiti Networks
(UBNT)
fell 31.53% to $10.27 in after-hours trading as investors digested management's grim outlook for the first-quarter of 2013.
The San Jose, Calif.-based company announced 30 cents of earnings on revenue of $94.90 million during the fourth-quarter ending in June -- a revenue increase of 40% over the same period last year. Wall Street's consensus had estimated 29 cents of earnings on $94.59 of revenue for the quarter ending in June.
Ubiquiti currently expects to generate between $62 million to $70 million of revenues and 14 to 17 cents of non-GAAP diluted earnings per share during the fiscal first-quarter. Analysts polled by
Thomson Reuters
expect earnings of 29 cents per share on $98.36 million in revenue for the three months ending September 30.
"We believe that the amount of counterfeited goods, combined with the impact it has on our distributor's inventory and the purchasing patterns of our customers, will impact our business outlook for the next two fiscal quarters," said CEO Robert Pera in the statement released after closing bell.
The communications technology company also announced a $100 million share repurchase program, due to commence on Monday. Shares had gained 6.45% to close at $15.01 during the regular session.
NVIDIA Corporation
(NVDA)
jumped following the release of its second-quarter earnings, up 4.28% to $15.34.
The company reported a net income of $170.4 million, or 27 cents per share, on revenue of $1.04 billion for the second quarter ended July 29, 2012. Analysts polled by
Thomson Reuters
expected 14 cents of earnings on $1 billion of revenue.
NVDIA gained 3.37% to $14.71 during Thursday's regular trading session.
After closing regular trade on Thursday down 2.05% to $21.02, shares of
Fusion-io
(FIO)
soared 23.79% to $26.02.
The company released strong fourth-quarter results after closing bell. Fusion-io generated a net income of $9.8 million, or 9 cents per diluted share, for the quarter and a record revenue of $106.6 million -- a 49% revenue increase from the same quarter last year and a 13% sequential increase.
While filing its recent Form 10-Q with the SEC on Thursday,
Yahoo
(YHOO)
disclosed new CEO Marissa Mayer's plans to review the comany's business strategy.
"Ms. Mayer is engaging in a review of the Company's business strategy to enhance long term shareholder value," the statement read. "As part of that review, Ms. Mayer intends to review with the Board of Directors, among other things, the Company's growth and acquisition strategy, the restructuring plan we began implementing in the second quarter of 2012, and the Company's cash position and planned capital allocation strategy. This review process may lead to a reevaluation of, or changes to, our current plans, including our restructuring plan, our share repurchase program, and our previously announced plans for returning to shareholders substantially all of the after tax cash proceeds of the initial share repurchase under the Share Repurchase and Preference Share Sale Agreement we entered into on May 20, 2012 with Alibaba Group Holding Limited."
Shares had closed down almost 1% to $16.01, and were little changed in after-hours trading.
--Written by Nathalie Pierrepont in New York.
>To submit a news tip, send an email to:
.
Check out our new tech blog,
Tech Trends
. Follow TheStreet Tech
.
>Contact by
.
Follow @nrpierrepont