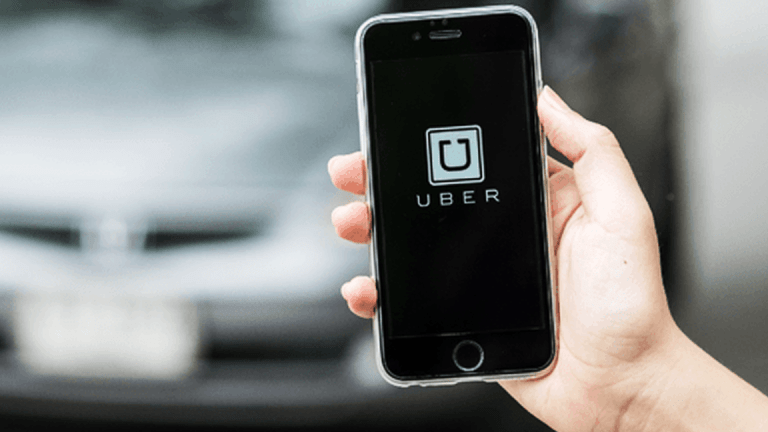 Uber vs. Taxi: What's the Difference?
Uber has parked itself in most major cities, but what's the difference between taking an Uber vs. a taxi?
In 2019, Uber has a footprint in most major (and medium-sized) cities in the U.S. But while Uber has been gaining market share over the years, taxis are still holding their ground as a common transportation service in and around cities.
While both services charge based on time and distance traveled, Uber and taxis have noticeable differences that might motivate some consumers to choose one over the other. 
So, what's the difference between Uber and taxis, and which offers the better service? 
Uber vs. Taxi: What's the Difference?
While taxis have been on the streets since the late 1800s, Uber quickly began taking over a share of the car-service market after its launch in 2010, followed by competitors like Lyft in 2012. 
In New York City and the like, yellow taxi cabs have long been the transportation of choice for locals and tourists, but with apps like Uber disrupting the space, consumers have more choices than ever to get where they need to go.
Taxis seem to be steadily losing passengers compared to other ride-sharing services. Still, according to a report by Wired this year, some 106,000 for-hire vehicles are licensed to operate in New York City, a 60% increase from 2016. 
While both taxis and Uber create rates depending on time and distance traveled, Uber has a slightly more predictable pricing model - offering passengers an estimated total cost (although even this is subject to change). Additionally, one of the major differences between Uber and taxis are how they price rides - with taxis taking into consideration the speed and flow of traffic while Uber doesn't. 
Uber vs. Taxi: Safety
One of the biggest concerns for consumers when using any car service is safety. And with the media coverage of safety incidents over the years, it's a valid question. 
But, which service has a better safety measures? 
Uber
Uber has attracted several accusations of unsafe, criminal activities by its drivers.
In fact, according to CNN Business last year, 103 Uber drivers were accused of sexual assault or abuse - with some "31 drivers [...] convicted for crimes ranging from forcible touching and false imprisonment to rape, and dozens of criminal and civil cases are pending," CNN reported. However, there is no publicly available data for these statistics from any of the ride-sharing companies, including Uber.
Still, Uber has recently taken initiatives to increase safety on the app, announcing new features like Trusted Contacts, which allows users to share their ride details with up to five friends or family members. Additionally, other features include 911 Assistance, which connects riders with 911 services.
Uber has also proposed to annually run criminal and motor vehicles checks, even if that is more than what's legally required. And, the app claims to be investing in new technology to investigate new criminal offenses as well. 
But in addition to new measures, Uber has a multi-step screening process for its drivers - including their Social Security information, driver's license, insurance and car registration - all of which are run through private background-check firms. However, requirements for registration and regulations vary depending on the country for Uber - with different countries having different processes for their drivers. 
Taxi
Concerns over the safety of taxi rides is certainly nothing new.
While both taxi drivers and Uber drivers must pass a background check before being able to drive, background checks for taxis vary depending on the city, in terms of their scope. 
For example, in Chicago, taxi drivers can't have been convicted of a "forcible felony" in five years before applying, whereas in New York City (famous for the strictest rules), not only do drivers have to pass health tests and defensive driving tests, but must also watch a video on sex trafficking. 
Uber vs. Taxi: Cost
Uber and taxi alike have some similar metrics for determining price - including distance and time. But how do the services charge you differently, and is one more cost effective than the other?
Uber
One major difference between the way Uber and taxis charge customers is that Uber don't charge based on moving or stop-and-go traffic, while taxis do. However, Uber does charge surge rates (for times of day or night that have a higher volume of traffic or cars on the road) - especially during rush hours.
And while Uber, unlike taxis, gives users an estimate of the fare, it cannot predict the final price of the ride due to conditions that may change.
Still, the app offers several different kinds of cars that vary in price - from standard rides to SUVs. Uber has a ride price estimator on their site, depending on what city you are in. 
UberX: Uber's standard ride - professional or average drivers, standard cars, with prices (for New York City prices) starting with a base fee of $2.55, with 35 cents per minute and $1.75 per mile. Subject to surge prices for busy times. Minimum fare is about $7. 
UberXL: Meant for larger groups (up to six people), with professional and regular drives with cars and SUVs. Pricing (for New York City) starts at $3.85 base fees, adding on 50 cents per minute and $2.85 per mile with a typical minimum fare of about $10.50. 
UberBlack: Uber's Black car experience is more luxury than its regular rides - with professional drivers and higher-end cars. Base fares start at $7 (for New York City), accumulating 65 cents per minute and $3.75 per mile for a total minimum fare of around $15. UberBlack accommodates between one and four people. 
UberSUV: The larger version of UberBlack, UberSUV employs professional drivers and luxury SUVs to drive up to six people. Base fares start at $14 (for New York City), with an 80-cents per minute charge and a $4.50 per mile charge added on. Minimum fares for UberSUV typically start at $25. 
UberT: Ironically, Uber also offers a taxi service, which connects users of the app to yellow cabs around the city (specifically in New York City). The base fee for ordering a taxi through Uber is $2.50, with 50 cents added for every 1/5 mile and 50 cents added every minute or when the vehicle isn't moving or is in slow traffic. 
Taxi
On the other hand, taxis don't have different payment tiers and therefore can be somewhat more of a question mark when it come to the final fare, all said and done.
Taxis in New York City have a base fare of $2.50, with an additional 50 cents added every 1/5 mile or minute. So, for a five-mile, 10-minute trip, including a 10% to 20% tip, a taxi would cost around $15 to $18. 
However, taxis take into account how fast the car is moving and if it is in bumper-to-bumper traffic. 
Unlike Uber, taxis don't have surge prices - but they do charge an additional 50-cents surcharge after 8 p.m. (until 6 a.m.), as well as an additional $1 during rush hour (4 p.m. to 8 p.m.) for the normal workweek. 
Has Uber Overtaken Taxis? 
It's no secret that Uber is everywhere these days - seemingly with a foot in every major city. And, according to data analyzed in a report by the economists at the New School and the University of California Berkeley, ride-sharing apps like Uber, Lyft, Juno and Via dispatched some 600,000 rides per day in the first quarter of 2018. Additionally, over some 80,000 drivers are associated with those apps. 
But are taxis becoming obsolete? 
According to reports even back in 2017, Uber rides surpassed that of yellow taxis, with an average of around 289,000 rides per day compared to taxis' some 277,000 per day. Additionally, according to a report by The New York Times in 2017, Uber gained on taxis by providing service to outer boroughs in New York City like Queens and the Bronx, helping the app gain market share. And according to Crain's New York Business, taxi trips in New York dropped some 11% in 2016, with industry-wide revenue falling some 9% to $1.8 billion.
Still, taxis come with the additional costs of medallions, which have dropped in value since apps like Uber hit the road, costing taxi drivers thousands of dollars in monthly interest. 
There are only 13,587 registered medallions in New York City. But a recent law that has been contested in New York City proposes to restrict the number of ride-share cars like those of Uber to allow for better conditions for taxis.
Uber vs. Taxi Regulations
In order to combat the rapidly dropping wages of taxi drivers, specifically in New York City, New York City lawmakers enacted a law that would put a one-year pause (or cap) on the number of drivers for ride-share companies like Uber. However, Uber filed a lawsuit in opposition to the cap - citing claims that it is anticompetitive, Wired reported.
Still, officials seem to be standing firm on their decision.
"No legal challenge changes the fact that Uber made congestion on our roads worse and paid their drivers less than a living wage," Seth Stein, a spokesperson for New York Mayor Bill de Blasio, said in a statement. "The city's new laws aim to change that."
Upcoming Uber IPO
But could an Uber IPO change the game even more? 
The company announced its intentions to go public in December.
Uber had reportedly previously estimated the company would debut with a market value in the ballpark of $100 billion - although more recent estimates put the evaluation closer to $90 billion. And other measures like The Prime Unicorn Index have estimated Uber's worth to be much lower at $44 billion back in November. 
The Bottom Line
When it comes to safety, Uber and taxis have relatively comparable protocol. And while prices can vary drastically depending on a variety of factors like distance, traffic flow or time of the day, depending on your city or area, taxis or Uber might be more or less expensive. 
So, make sure to do your research in your area and don't forget to price in the time of day you're hailing your ride, how many passengers you have or the neighborhood in which you're searching for a ride.