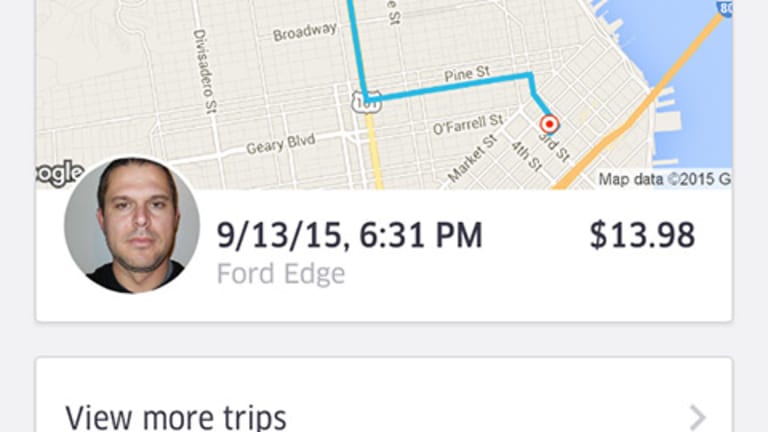 Uber, Snapchat, Other Tech Startups That Are Growing at an Astonishing Pace
A new report reveals the fast-growing venture-backed companies.
SAN DIEGO (TheStreet) -- On-demand car service Uber and ephemeral messaging app Snapchat, two of the most-buzzed about startups in tech, have hit sky-high private-market valuations in record speed, putting them in an elite club of venture-backed businesses that are padding their market capitalizations by billions annually.
They are part of a group of 11 companies, which includes Facebook (FB) , Twitter (TWTR) and WhatsApp, whose market capitalizations are increasing by more than a billion dollars per year, according to a new report from startup advisory firm Play Bigger. The firm refers to the 11 companies as "super unicorns," a play on the term "unicorn," which is often used in technology circles to denote a startup that has reached a valuation of at least $1 billion.
"Uber is the fastest company to $41 billion (in value) in history," Play Bigger partner Al Ramadan said, "and they're on a pace that's faster than Facebook's."
Play Bigger's study looked at how fast American venture-backed companies, founded since 2000, have grown in value over time. The firm calls this "time to market cap" (TTMC) and compares the velocity at which companies gain in value on an annual basis. The report expands on a Play Bigger study that technology startups are become worth $1 billion faster than ever. 
Facebook's value is growing the fastest, averaging a market-cap gain of $19.5 billion per year. Second-place Uber is the first company to reach a $41 billion market capitalization, doing so in less than six years.
Three-year-old Snapchat is the fastest venture-backed company to hit the $10 billion valuation milestone. Just months after disclosing $485.63 million in new financing, the Los Angeles-based company is already reportedly looking to raise more and practically double in value.
Also on the list of companies bulking up by more than $1 billion annually are professional social-network LinkedIn (LNKD) , hotel alternative Airbnb, online storage company Dropbox and digital pin-board service Pinterest.
The break-neck pace at which companies, including several on Play Bigger's list, are becoming billion-dollar behemoths has many wondering about a another tech bubble. Bill Gurley, a partner at Benchmark Capital and an Uber investor, believes the fear of missing out is fueling some of the craziness. He has written a blog post on the subject, further detailing his thoughts.
Must Read:10 IPOs for 2015 – Because Silicon Valley Needs More Billionaires
Either way, Play Bigger believes monitoring the speed at which startups increase in value is key to understanding power and influence in Silicon Valley. Financial strength helps determine the winners and losers in market categories, Play Bigger partner Christopher Lochhead said.
"Knowing how fast market leaders ... are growing their market caps is an incredibly important piece of data to have if you're entrepreneur trying to compete successfully," Lochhead said. "Because if you don't understand how you rank ... then you don't understand your ability to raise money versus your competitors."
By the firm's assessment, then, if a company plays second fiddle to a segment leader such as Uber -- as Lyft, which is said to be raising $250 million in financing, does -- it has reason to worry. 
"Uber can raise more money, more quickly, at a cheaper price than Lyft can, and that gives them a massive financial advantage with which they can smash Lyft," Lochhead said.
--Written by Jennifer Van Grove in San Diego