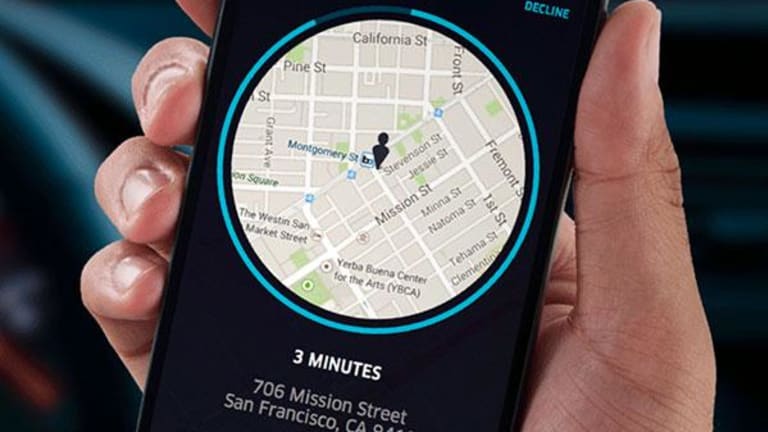 Uber's Looking for More Driver Benefits -- Tech Roundup
Uber will make saving in an IRA easier. YouTube improves its TV app.
Uber has relied on vetted freelancers to serve as its army of drivers servicing ride-hailing consumers looking for an alternative to taxis. It's been battling to keep those drivers classified as freelancers, as opposed to employees.
One way Uber is hoping to make life easier for its drivers -- especially in the future -- is to give them retirement options. While Uber isn't provided matching 401k benefits by any means, it is making saving more of a seamless experience. 
For now, drivers in Seattle, Boston, Chicago and New Jersey will have have an option within the Uber app to set up and fund a Betterment retirement account. The option is expected to roll out to additional drivers in other cities in the future.
Betterment is a robo-advisor that charges a fee of 0.15% to 0.35% on assets under management. However, the fee will be waved for the first year for Uber drivers who opt to take advantage of the program. 
The move could be beneficial, particularly for part-time drivers who want to fund a traditional IRA with pre-tax dollars, or for those who don't mind paying taxes on their Uber earnings now to let them grow tax-free in a Roth IRA.
Alphabet's (GOOGL) YouTube TV app is getting a face lift. The company has found that while search usually brings users to YouTube on desktop and mobile, the same isn't true for TV-based YouTube viewing. 
Instead, these viewers tune into YouTube with the intention of browsing. Specifically, these users tend to browse through content related to sports, travel, news, fitness, gaming and TV shows. 
As a result, the company wants to make it easier for those users to find and effectively browse those types of videos. That makes sense.
Should YouTube make for a better viewing experience, it's likely that the user will not only return for more video-watching, but also stay tuned in for longer. That equates to more ad loads and in the end, more ad dollars for Alphabet. 
Actions such as this could also fuel consumers to cut the cord, especially with the plethora of streaming options available, like Netflix (NFLX) , Amazon (AMZN) Prime, and Hulu. 
Shares of Alphabet closed at $793.60 Wednesday, down 0.4%.
Alphabet is a holding in Jim Cramer's Action Alerts PLUS Charitable Trust Portfolio. Want to be alerted before Cramer buys or sells GOOGL? Learn more now.

Is there a solar glut? Recent reports suggest there could be, suggesting that several companies are prepping to boost production this year. Higher capacity can be a good thing, particularly if there is more demand. But if demand is moving lower, then overcapacity leads to a supply glut, which weighs on pricing. 
When pricing comes under pressure, margins erode, as the company is now required to sell more products to meet the same level of revenues. However, that comes at a price, as profitability is now lower.
The companies are building bigger production plants, and while that would be great to meet the needs of demand, over-building is exactly what the industry did wrong a few years ago. Soon supply outpaced demand and investors paid dearly. 
Others have argued that the industry has improved over the past few years and as costs have come down, more customers are interested in the clean energy solution, which will boost demand. 
Either way, the Guggenheim Solar ETF (TAN) isn't feeling too hot lately, trading near $21, just a few dollars above its 52-week lows of $19.02. 
Shares of the Guggenheim Solar ETF closed at $21.21, down 0.8% Wednesday.
This article is commentary by an independent contributor. At the time of publication, the author held no positions in the stocks mentioned.