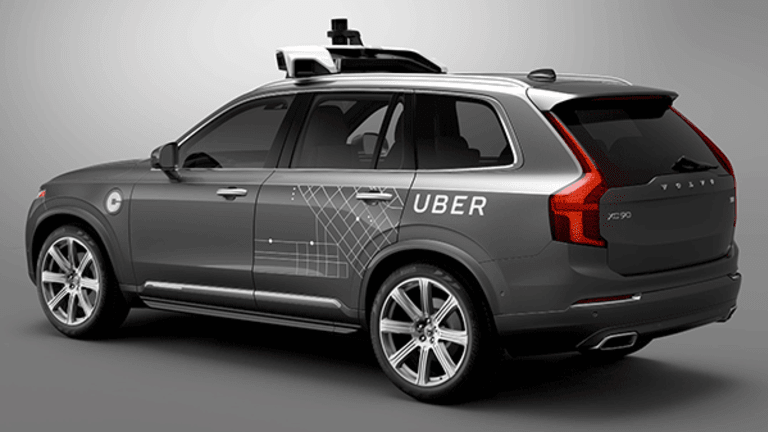 Uber's Hiring of University's 'Driverless' Experts Leaves Pittsburgh in Better Shape
Carnegie-Mellon University saw 40 or so professors leave for Uber in early 2015 but the university has largely replenished its ranks.
In early 2015, shortly after Uber announced it was "partnering" with Carnegie-Mellon University's Robotics Institute, the San Francisco ride-sharing company set up its own research lab, not far from CMU's Pittsburgh campus.
With the lure of salaries much higher than the university was paying, Uber hired 40 or so CMU professors, scientists and robotics experts to work on creating a "driverless" system for the company. For a time, CMU was wearing egg on its face.
Earlier this year, Uber and Volvo signed a $300 million agreement to collaborate on driverless technology by 2021. Uber is operating 100 Volvo XC90s in Pittsburgh as part of the pact, adding to its fleet for Ford (F) - Get Ford Motor Company Report Fusions.
Nearly two years later, Uber's driverless prototypes -- with engineers in the driver seat, according to regulation -- are ferrying customers around Pittsburgh. The specially outfitted cars are easy to spot, with the spinning Lidar (laser) units on their roofs. Real-world data should help Uber engineers to perfect the technology toward the goal of fully driverless taxis.
CMU's robotics program has no connection with Uber's driverless car project. Eighteen months on, the university has rebounded from the events surrounding Uber's hiring of its staff and has replenished its ranks. Martial Hebert, head of the institute, said "the stories about what happened were worse than the event. As everyone knows, there's normal movement between universities and industry."
The Institute today is alive with experiments of all kinds, from repair robots that can enter a crippled nuclear power plant to software that manages the "handoff" when a driver must resume control of autonomous technology following a malfunction. Some projects are underwritten by private corporations, some from government -- the U.S. military is vitally interested in battlefield applications.
Begun in 1979, CMU's robotics program claims to be the world's first. A long relationship with General Motors (GM) - Get General Motors Company (GM) Report resulted in experiments such as the "no hands" crossing of the U.S. by NavLab5, a minivan that was outfitted to see the road and steer without human intervention.
Uber has boosted Pittsburgh's budding reputation as a hotbed for high-tech study and enterprise. The city, whose heritage rests on steel production, has gotten rid of its smokestacks, the economic infrastructure rebuilt in part on learning and research at CMU, the University of Pittsburgh and other institutions.
"Pittsburgh has challenging topography, different types of weather and bridges," Mayor William Peduto explained to the Washington Post in September. "That makes it an interesting place to test. It's a small city, so you can do things here; it doesn't get bogged down in red tape."
Uber's employment in Pittsburgh has grown to 500 from an initial staff of 200. Peduto was asked whether the growth of driverless technology wasn't ultimately going to destroy jobs.
"If we tried to stop time and did not want to be a leader in an industry that will forever change transportation over the next decade," he said. "We would be losing this opportunity to another city."
Doron Levin is the host of "In the Driver Seat," broadcast on SiriusXM Insight 121, Saturday at noon, encore Sunday at 9 a.m.
This article is commentary by an independent contributor. At the time of publication, the author held no positions in the stocks mentioned.