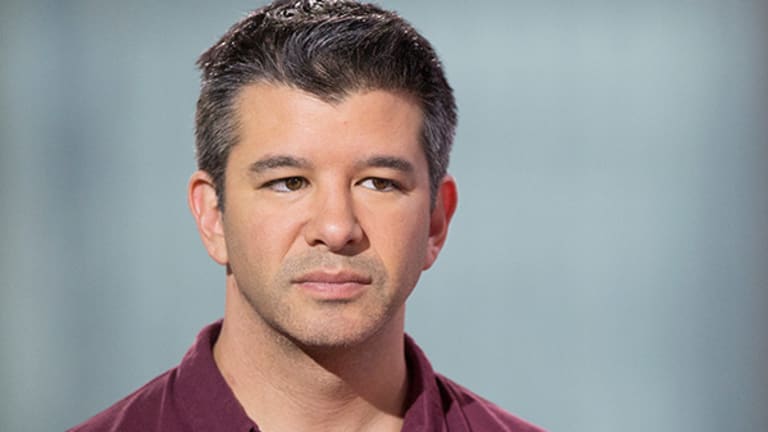 Uber CEO Leaves Trump's Economic Council; Snap's Dirty Laundry -- Tech Roundup
Uber CEO Travis Kalanick has been feeling the heat over his position on President Trump's advisory council. He has since resigned, but isn't the only one feeling the heat.
It hasn't been the best start to the year for Uber. Yesterday, we reported the company's ballooning fines in Taiwan. Starting on Jan. 6, the country began blasting Uber with massive fines, causing the company to suspend its operations in the country.
This was after boycotts and outrage surfaced over Uber and its continuing operations in New York despite protests over President Trump's immigration orders. Whether right or wrong, it led to a number of users to delete the Uber app from their smartphone, and in some cases opt for services like Lyft. A number of users even showed their Uber defiance by taking screenshots of their actions and posting it to social media.
The issues didn't stop with customers though. Apparently, employees were pretty upset too, but not necessarily with the company's operations. Instead, their feelings were directly at CEO Travis Kalanick.
Kalanick had been part of President Trump's economic advisory council. In a message to the New York Times, Kalanick said, "There are many ways we will continue to advocate for just change on immigration, but staying on the council was going to get in the way of that."
Kalanick isn't the only one to feel the heat either. Tesla (TSLA) - Get Tesla Inc Report CEO Elon Musk has felt the pressure too. In response to one poster, who asked what Musk was doing and said the tech leader was losing credibility, Musk responded in a tweet that he's "hearing this from a lot of people & it's getting me down. I'm just trying to make a positive contribution & hope good comes from it."
And while these leaders are receiving some flack for being part of Trump's councils, they don't necessarily stand behind his every move. For Musk's part, he didn't exactly endorse Trump pre-presidency and following his recent immigration orders, Musk had this to say.
The issue is resonating beyond ride-hailing companies and automakers too. In fact, a number of Silicon Valley leaders are taking issue with Trump and his immigration stance.
For now, Trump is already meeting a lot of opposition despite taking office only a few weeks ago.
Shares of Tesla closed at $251.33 Friday, down 0.1%.
Snap sure is garnering plenty of attention on Friday, after it officially filed its Form S-1 with the SEC, paving the way for the social media company to IPO. 
The company saw its sales balloon in 2016, climbing to $404.5 million from just $59 million the year before. While that growth rate will inevitably slow down the road, it's got investors excited for what the future could hold. 
The IPO could value Snap, the parent company of Snapchat, somewhere between $20 billion and $25 billion. That realization conjures up memories of when Facebook (FB) - Get Meta Platforms Inc. Class A Report CEO Mark Zuckerberg offered to pay $3 billion for the company a few years ago.
Zuckerberg's offer was met with skepticism by the investment community, but in hindsight, it would have proved to be yet another extra-savvy acquisition by the king of social media. Remember, Facebook acquired Instagram, which now sports 600 million active user, for just $1 billion in 2012. 
Snap CEO Evan Spiegel may get most of the credit for Snapchat, but there's a name not many people know that popped up in the company's filing: Frank Reginald -- "Reggie" -- Brown IV. 
According to reports, Reggie is actually the one who came up with the idea for disappearing photos, and he brought this idea to fraternity members Spiegel and Bobby Murphy -- the two listed co-founders of the company. 
As the story goes, Brown was pushed out of the company after the two others essentially kicked him and changed his passwords. Brown then sued the company for $500 million, and in a multi-year legal battle, was awarded $158 million. 
So while the company's eventual IPO will likely be loaded with smiles for some -- Spiegel alone could be worth more than $5 billion -- it will certainly be bittersweet for Brown. While $158 million is plenty of money, it's nowhere near the billion-dollar mark. 
Apple (AAPL) - Get Apple Inc. Report iPhone manufacturing is slated to start in India in the not too distant future, according to new reports.
Apple is a holding in Jim Cramer's Action Alerts PLUS Charitable Trust Portfolio. Want to be alerted before Cramer buys or sells AAPL? Learn more now. 
India's Prime Minister Narenda Modi has been tough on other companies looking to enter the country looking to take advantage of its quickly-growing GDP figures. Many have considered India "the next China" and salivated over its ballooning 10-figure population that's second only to China.
However, when Apple came to town, it wasn't the all-or-none approach some had expected from India. Instead, the country was willing to work with Apple when the Cupertino-based company wanted to set up retail shops and import its products into the country.
Although it knew it wouldn't be granted with all of its wishes, Apple did have a few favorable arrangement in mind, including tax holidays and waivers on certain customs duties. 
And despite only selling a reported 2.5 million iPhones in the country last year, Apple isn't wavering on India's potential. Apparently, it could be gearing up to start building iPhones in the country by May. 
While a number of details are still unclear about the situation, it does show that the tech giant wants to get up and running sooner rather than later. 
Shares of Apple closed at $129.05 Friday, up 0.4%. 
This article is commentary by an independent contributor. At the time of publication, the author held no positions in the stocks mentioned.