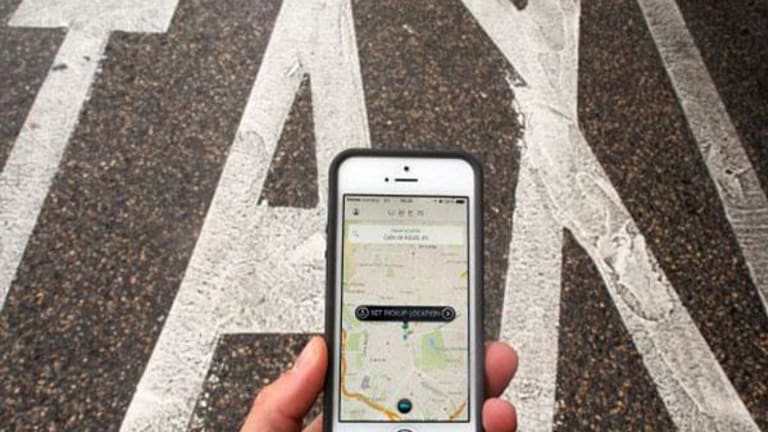 Uber Can Now Take You to 'Who' Rather Than 'Where' -- Tech Roundup
With the location blessing of a friend, Uber can now offer rides to people rather than just places.
While Uber faces its ongoing debacle surrounding self-driving car experiments in San Francisco, the ride-sharing company isn't stopping with its innovational tools. 
Now instead of users hopping onto the Uber app and choosing where they want to go, they can instead choose who they want to be driven to. 
Meaning that, Uber will now allow users to request a ride to a person, rather than a place. The feature is meant to allow users to have an easier time meeting up with friends and family. 
Rather than trying to pinpoint a friend on the go or a group that's bar-hopping, getting an exact location can sometimes be difficult to the late-comer. But as long as a user's friend accepts Uber's request for their location, the driver can drop the user off right with their friends. 
Users with the updated app will also be able to access Snapchat and custom filters right from the Uber app. One filter - and it can be accessed without Snapchat as well - is an ETA update for users' friends, to see how close you are to arriving. 
Tesla (TSLA) may need some cash. While the bears will be the first to tell you the cash-burning automaker that acquired Solar City (SCTY) , an even faster-cash-burning solar company, would need more money, the CEO wouldn't have had you thinking so.
At least not yet. 
Back in early October, Tesla CEO Elon Musk tweeted that the company wouldn't need to raise equity or debt in the fourth quarter. Well, maybe he is right, depending on how you consider the following. 
Earlier this month, the company tapped Deutsche Bank for another $500 million in revolving credit lines in two separate moves. 
Will Tesla used those credit lines? That much isn't known. Perhaps Tesla is doing it for added financial flexibility. Perhaps because of the cash-burn at Solar City, added costs of mass-producing the Model 3 and the expected costs from expanding the Fremont factory, Tesla wanted to have more funds available. 
Or maybe Musk was wrong and Tesla needs more funds. We won't know until the next earnings report. 
Inevitably though, bulls will explain why having revolving credit only means the company wants the comfort of having money available should they need it and that building a futuristic company isn't cheap. Bears will argue it shows the company's financial situation remains strained at best and more dilution and higher debt will follow. 
Share of Tesla closed at $207.70 Wednesday, down 0.52%%. 
Here on Tech Roundup, we've often times discussed the great strides technology companies are making. Be in it cloud-computing, autonomous driving or virtual reality. These are technologies that have existed in theory for many years, but only until recently have become a distinct possibility. 
One such technology garnering a lot of attention lately is deep learning and artificial intelligence. So much attention in fact that the Obama Administration recently published a report on it. 
In it, the administration highlights the numerous opportunities that both individuals and companies will experience as a result of machine learning capabilities. Operations will become more efficient, tasks will be easier.
But one thing that may not improve is jobs - and that's a concern for the economy.
While it may be great that robots could handle everything from ordering products to building them, and delivering from point A. to point B., at some point it may be counter-productive. 
What happens if machines are better at our jobs than we are? If history has been any clue, corporations will surely embrace the new technology. Whether it's on the assembly line or ordering kiosk at McDonald's (MCD) , we've seen machines replace a number of jobs. 
Granted, there are a lot of unknowns surrounding these futuristic potential. But one thing is certain and the government and technology innovators both agree: we must be careful with A.I. because despite how amazing the technology may be, it could do more harm than good if mismanaged. 
This article is commentary by an independent contributor. At the time of publication, the author held no positions in the stocks mentioned.