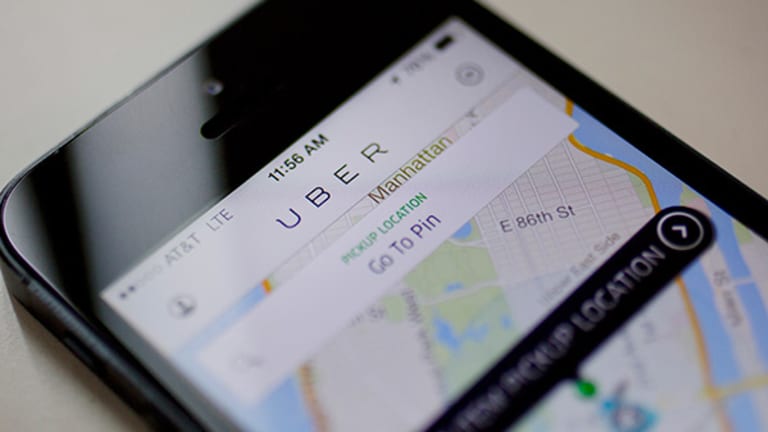 Uber Announces Deal With Spotify to Allow Music On the Go
Uber announced it would be teaming up with Spotify to allow customers to listen to their playlists wherever they take an Uber and the music is already playing.
NEW YORK (TheStreet) –– Uber announced it would team up with Spotify to allow customers to listen to their Spotify playlists wherever they take the Uber car service, with the music already playing when they get in the car.
"We're always trying to create highly evolved experiences," said Uber CEO Travis Kalanick on a conference call with journalists. "In the Uber world, I go in the elevator and get in the car and now the music is playing. For the first time, we've personalized the experience and for music lovers, it's nirvana."
Users can cross link their Uber account with their Spotify account starting Nov. 21, allowing for cross promotional opportunities between the two companies. Drivers can link their smartphone to the auxiliary output on their car and it applies to all Uber products, except for UberPOOL, and the service is optional for Uber drivers.
Spotify CEO Daniel Ek said that there are three main places where people listen to music: home -- on the go and in your car, and with the average commute being between 30 minutes and an hour, it made sense of Spotify to reach a younger, more millennial audience to get massive amounts of users in a quick fashion. "Instead of doing car integrations, we thought about next generation, and Uber is such an obvious case," Ek said on the call. Spotify currently has more than 50 million users of its streaming service.
Ek noted that it would account for all Spotify premium accounts, but there would be something coming for freemium users as well.
The partnership is initially launching in ten cities, including London, Nashville, San Francisco, Singapore, Sydney, Toronto, Los Angeles, New York City, Stockholm, Mexico City and others with more rolling out over time. Kalanick noted that in addition to allowing people to have their own customized playlists, each city would have their own customized playlist.
Financial terms of the deal were not disclosed.
--Written by Chris Ciaccia in New York
>Contact by Email.